When business users get together for a virtual meeting, they're not interested in showing off the latest dance moves or hairstyles – they want to share PowerPoint presentations, work together on spreadsheets, and collaborate on documents.
At least, that's the experience of virtual world vendor Teleplace, which counts over 100 corporations as customers – some of them big names, including Chevron, BP, Lockheed, Intel, and Fidelity. In addition, the company has a strong presence in the government and military sectors, counting the US Army, Navy, and Air Force as customers. Teleplace revenues grew 200 percent over the past year, the company reported last month. Teleplace Inc. used to be Qwaq Inc., and changed its name last September, timed to coincide with the release of the 3.0 version of its platform.
"Teleplace 3.0 is a great example of an immersive platform designed from the ground up for enterprise use," said Erica Driver, co-founder and principal, ThinkBalm, in a statement. " With the scalability and ease-of-use enhancements in this latest release, Teleplace is well-positioned to secure even more enterprise wins."
The company works with large organizations, helping them with training, project management, and operation centers, Teleplace CEO Greg Nuyens told Hypergrid Business.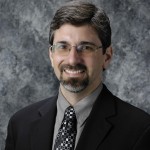 "It's about the idea of having an online workplace, and the engagement people get from being in an online workplace," he said. "People use voice, video, applications, and the three dimensional context for their workflows."
Teleplace requires that users download a virtual world client to access the shared virtual workplaces. The virtual world itself can be run on a behind-the-firewall server, or hosted externally on a Teleplace server.
The way the platform works is more like ProtoSphere than Second Life. As with ProtoSphere, a workplace can be any size, and can be linked to any other workplace through the use of teleportation portals. Second Life and OpenSim, by comparison, require that all regions be the same size – 16 virtual acres – and laid out on a map.
However, most Teleplace customers do lay out their virtual campuses in a traditional manner, allowing their users to create a mental map of the space.
"Second Life has that appealing outdoor style, and a lot of businesses have been appreciative of having that geographic correspondence," Nuyen said. In addition, Teleplace has created some large-scale map-based builds, including a model of the entire Gulf of Mexico.
However, when users fly up into the air in Second Life or OpenSim, they can see the entire world below them, and fly down to get a closer look. In Teleplace, users high in the air aren't actually looking at the entire virtual Gulf of Mexico – they are looking at a photograph of it. As they fly down, they go through a teleportation portal that takes them to a larger-scale photo – and when they fly down through that, then they teleport to the actual 3D model.
Access controls are linked to the portals, and can be connected to back-end corporate directories. Individual employees or groups of employees can be given access to particular areas on the virtual campus.
The cost for the platform is on a per-user basis, not based on the land area covered. So a 10-person pilot project would cost $7,200 for an entire year, said Nuyens.
This works out to roughly $60 per user per month. According to Nuyens, the pricing is comparable to that of Webex, the leading Web-based collaboration platform.
By comparison, ProtoSphere – which focuses on high-end, custom-designed virtual training – typically costs between $250 to $1000 per user and the total cost for a single deployment can range from five to six figures.
Second Life costs $300 per region per month for an unlimited number of registered users, or about $4,600 for an entire year, with set-up costs. Similar hosting from an OpenSim hosting company like ReactionGrid starts at $25 a month per region, and the software can run in behind-the-firewall private mode.
A behind-the-firewall version of Second Life, Second Life Enterprise, is $55,000 for an unlimited number of users and eight concurrent regions. A behind-the-firewall version of OpenSim from IBM, Virtual Collaboration for Lotus Sametime, is $50,000 for four concurrent regions, and includes back-end integration with corporate applications and directories.
The other major difference between Teleplace and the Second Life or OpenSim platforms is that the latter allow in-world creation and editing of objects. This allows end users to, say, create their own clothes or office furniture.
With Teleplace – and ProtoSphere, Olive, and other common enterprise platforms as well – the design of the world and the objects in it takes place outside the world, in commercial 3D design software. The finished objects can then be imported into the virtual platform.
However, some interaction is possible from inside Teleplace, Nuyens said.
"People can move and rotate objects," he said, and can also collaboratively  change textures — the photos pasted to the outside of objects.
Teleplace users are more interested in business functionality than in designing sets, he added. Most start with pre-built templates for project rooms, training centers, libraries and private offices.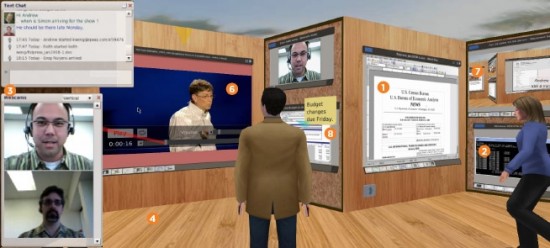 "Our customers are spending their time making sure they can pull together the applications that relate to their workflows," he said. This includes pulling in RSS feeds, database reports, Office documents, video streams and then recording the sessions.
For document collaboration, users can either put up a document that only they can edit, from their own desktop, or upload it to a central server so that other people can edit as well. For a behind-the-firewall installation, the server would be owned by the customer. For hosted deployments, Teleplace would own the server.
Uploading a document is as simple as dragging it from a desktop into the Teleplace workspace. Here at Hypergrid Business, we tried it out – and it is, in fact, that simple. No delays, no menus to wade through, just drag-and-drop and poof, it's in the workspace.
"The collaboration capabilities within Teleplace were so much more advanced than the virtual worlds technology we were currently using," said Dick Riedl, professor of education, at Appalachian State, in a statement. "That's one of the main things that attracted us to Teleplace – it  was pushing the envelope in the exact direction that we wanted to go. And, with Teleplace, it is so easy to get documents into workspaces by just dragging and dropping. Other environments aren't that easy or they don't even provide that type of capability. To build objects in Teleplace, all you have to do is create a model or something else easily in Google SketchUp or another 3D program and then just drag and drop it into a workspace."
The Teleplace servers are not currently SAS 70 compliant, which is what large institutions require of their cloud providers. Salesforce.com, for example, which is used by Merrill Lynch and many other large corporations to track customers information, has SAS 70 certification.
"We have met other requirements from military and government customers, both hosted and behind-the-firewall," said Nuyens. "We have very formal processes and protocols that say who has access to what when and in what situation."
But the majority of financial institutions have opted for a behind-the-firewall deployment, Nuyens said.
Teleplace also provides archiving capability and versioning control for the virtual worlds running on its platform.

For end users, though, the biggest difference between the Telplace platform and that of other vendors is the avatars. There's no big ecosystem of avatar and clothing designers in Teleplace, as there is with the Second Life/OpenSim platforms, and avatars are stiff and formal. Only the pre-built avatars have eye-blinks and other animations like idle hand gestures. On custom avatars, faces don't move, and there are no casual hand gestures or eye blinks. Mouth movements are not synchronized to spoken words for either type of avatar.  There is also a third type of avatar, the default starting shape, which looks like a Lego man, with a blank plastic square face and square body.
Users can use their own photos to create avatars, however, and some companies may prefer the more formal approach.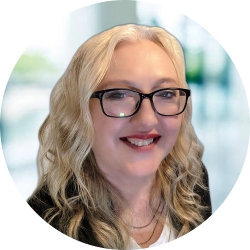 Latest posts by Maria Korolov
(see all)