Press Release: The Virtual World Web Network Reaches 25,000 Independently Developed Virtual Worlds
Webmasters Become 'Worldmasters' in Internet's Next Generation
VANCOUVER, B.C. – Virtual world developer Utherverse Digital Inc. today announced that the 25,000th virtual world was created in the Virtual World Web (VWW), a network of independently developed, interconnected virtual worlds that form the "internet in 3D."
As a prime example of what some are calling "the next generation of the internet," the Virtual World Web is a network of virtual worlds built using Utherverse's free software that function as interactive webpages and add an extra dimension of engagement for the visitor. With the VWW, webmasters become "worldmasters"—complete with their own URLs—leveraging tools provided by Utherverse to easily and inexpensively construct their own fully branded virtual world.
Launched in September 2009, the VWW saw nearly 1,500 new virtual worlds created in its first day alone. Since then, the network has posted a 25 percent monthly growth rate, logging around 50 new virtual worlds per day in its first months and rising to 150 per day in March. Riding only grassroots momentum, the VWW is now adding about 200 new worlds per day, numbers are expected to reach 250 per day before June and 5.7 million users have already registered accounts to surf the new 3D web.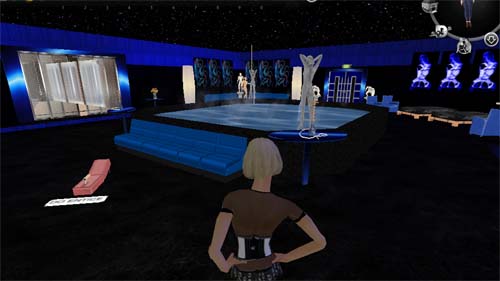 "These numbers represent an exponential growth curve that mimics what happened with web sites at the dawn of the internet," said Brian Shuster, Utherverse founder and CEO.
Shuster says the new appeal is linked to the ease with which virtual worlds are now created and a much lower cost of production. "In the past, it would cost you millions of dollars and anywhere from six months to two years to build your own virtual world. What the Virtual World Web does is hand people the tools and resources that make building their own fully-branded virtual world simple and inexpensive. It's easier than building a website—and essentially as easy as assembling Lego bricks."
For instance, the recent collapse of There.com, a popular virtual world, left many users without a virtual home. To accommodate roaming There-ians, the Utherverse team put together a replica of There.com—a four-year, $15-20 million project—in a span of two work days.
Comparing the last generation of virtual worlds to "downloading a new browser every time you wanted to visit a new website," Shuster says that the VWW is a "universal 3D web-browser that allows you to move from one world to another with a simple click of the mouse." Users have the capability to search the network (just like with the 'flat' web). Anything developers can imagine with a 2D website can be applied and amplified in the VWW.
Real-Time Feedback and Realistic Audience Engagement
While virtual worlds have developed into major centers of e-commerce, the VWW was developed with the belief that a significant portion of virtual world potential lies as yet untapped. In fact, Computerworld recently reported that Sean Koehl, a "technology guru at Intel Corp.," predicts the 3D web could overtake the flat web in as little as 5-10 years.
"Corporate events, book promotions, conventions, conferences, flea markets, live concerts, movie premiers—the list of applications that are driving the speedy development of virtual worlds goes on and on," added Shuster. "The community feeling, the extra dimension of engagement and the ability to interact realistically and gain real-time feedback are all strong pulls for the 3D web."
For more information on the Virtual World Web, visit www.TheVWW.com

Latest posts by Press Release
(see all)