Press Release: UBM Studios Introduces the Virtual Seminar Center, a 3D Environment for Conferences
Chicago, IL — UBM Studios today announced a new 3D environment to help companies take advantage of the growing market opportunities in virtual business. The Virtual Seminar Center is an interactive environment integrating webcasts, training and conferences. According to Market Research Media, the virtual trade show and virtual conferences industry is estimated to grow to $18.6 billion by 2015.
"At a time when much of the workforce works remotely and communicates over disparate geographies, businesses have embraced virtual business solutions to improve communications, increase lead generation and gain a competitive advantage," said Kate Spellman, SVP/Managing Director, UBM Studios. "Our new offering – the Virtual Seminar Center – provides businesses of all sizes an engaging experience to recruit, educate and train visitors with targeted content."
The Virtual Seminar Center is a one-stop location to recruit, educate and train attendees with targeted content and an engaging user experience which improves communication, collaboration and productivity of attendees, while also offering intelligent reporting and revenue opportunities for customers.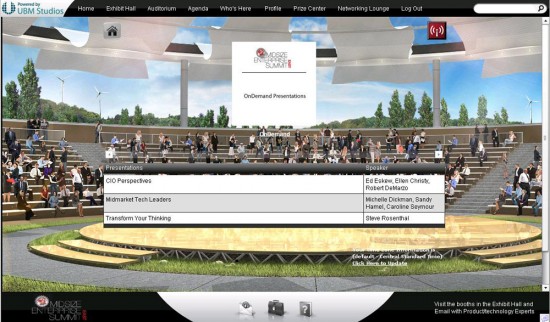 Components of the Virtual Seminar Center offering include:
Auditorium with optional group chat and a complete list of upcoming and available presentations.
Resource Library that hosts relevant materials such as presentation slides and supplemental material all in one handy location.
Help Booth for technical support.
Branding opportunities throughout each area.
Multiple options for interactivity including search, user profiles, group chat, one-on-one chat, blogging, email and survey opportunities to keep attendees participating for an extended period of time.
The Virtual Seminar Center is easy to use and does not require a download. Access to the Virtual Seminar Center is security-controlled, ensuring that only those on the registration list are able to participate.
Marketers control the entire Virtual Seminar Center experience using the templates provided. The Virtual Seminar Center can be open for a short time or can remain open for an extended period for attendees to view presentations at their convenience.
Participation metrics including participant identification, length of stay and questions asked and answered are also captured. The metrics provide behavioral data for profiling the audience and understanding the participants' areas of interest.
The Virtual Seminar Center engages audiences by including pre and post-presentation activities such as group chat, one-to-one chat, blogging, polls, surveys and more. These interactions keep the audience participating for an extended period of time, which increases their knowledge and enhances their value as a qualified lead. For example, prior to the start of a scheduled presentation, attendees can participate in a group chat. When the presentation begins, the Virtual Seminar Center automatically closes the chat and redirects the audience to the presentation. After the presentation, audiences can be routed to a group chat, blog or survey. In addition, attendees can interact with one another through one-to-one chat (video or text) and e-mail.
In addition, to measure the effectiveness of the Virtual Seminar Center, the online solution provides complete metrics and data on: who attended, how long they stayed, what questions they asked and which ones they answered.
The Virtual Seminar Center offers many business benefits, including:
An affordable communications solution
Expands audiences globally
Complements live events
Provides qualified leads for organizations of all sizes and across all industries
Targeted content can be easily shared, archived and reused
Eco-friendly solution does not require travel
Unparalleled access to real-time and post-event data for clear and measurable business value
Increases productivity for attendees
To follow UBM Studios on Twitter, visit http://twitter.com/UBMStudios, to follow on Facebook, visit UBM Studios and to follow on LinkedIn, visit UBM Studios.
UBM Studios is a leader in virtual events and virtual business solutions. A pioneer with virtual platforms, UBM Studios delivers deep expertise in live and online events that brings business value to customers. UBM Studios connects, educates and enables virtual communications through a portfolio that fits every budget. UBM Studios is the only virtual event provider to offer platform, content, audience recruitment, reporting and social marketing and gaming. UBM Studios virtual events include Virtual Trade Shows, Virtual Career Fairs, Virtual Seminar Centers, Virtual Resource Centers, Virtual Product Launch, Virtual Business Continuity, Virtual Corporate Meetings, Virtual Sales Meetings, Virtual Focus Group Centers and Virtual Training. UBM Studios delivers a complete global communication solution in Asia, Europe and North America in industries including, health, finance, technology, building and education.
About United Business Media Limited
UBM (UBM.L) focuses on two principal activities: worldwide information distribution, targeting and monitoring; and, the development and monetisation of B2B communities and markets. UBM's businesses inform markets and serve professional commercial communities — from doctors to game developers, from journalists to jewelry traders, from farmers to pharmacists — with integrated events, online, print and business information products. Our 6,500 staff in more than 30 countries are organised into specialist teams that serve these communities, bringing buyers and sellers together, helping them to do business and their markets to work effectively and efficiently. For more information, go to www.ubm.com