Despite rumors of its demise, the Australian virtual worlds company VastPark is not dead — in fact, it's recently seen quite an uptick of interest.
In April, the company won a prestigious contract from the USDA under which it and partner Assyst will build a virtual world and social network for the U.S. government's vGov initiative. The company also opened a US subsidiary, VastPark US, with offices in Arlington, Virginia.

"You may have thought we were dead, but we were actually in a backroom, working," said Joy.
The company reported "significant profit" in its last tax filings, VastPark chairman Bruce Joy told Hypergrid Business.
"And this year has been the best year we've had so far," he added.
VastPark currently has 20 employees, and is privately owned. However, the company is in the process of getting outside investment that can help the companies significantly expand its operations, Joy said.
The company currently has less than 20 customers, he said, including "several" in Fortune 100 companies. He could not disclose their names.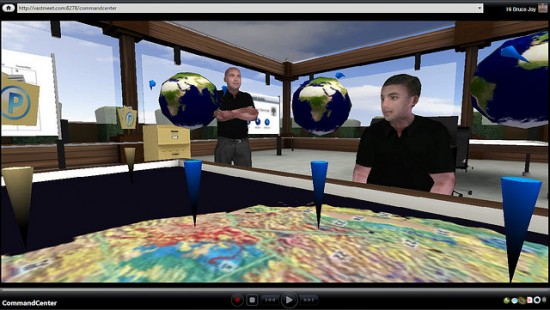 So what exactly is VastPark and how does it compare with other platforms?
The closest competitors that VastPark has are ProtonMedia and Teleplace. Like the latter two companies, VastPark serves mostly large enterprises. Its virtual worlds need to be designed by professional 3D artists, and, just as with the other two companies, there is no third-party marketplace for products and tools that users can go, get, and install in their worlds. However, VastPark does have partners it works with who can do installation and design for clients.
Like these two companies, VastPark's sofware runs on a server behind the firewall, and can be integrated with corporate directories and document repositories. The platform supports in-world collaboration on documents, as well as all the other standard features of 3D environments.
Also like those companies, VastPark has a room-based geography. That means that users start in a room — which can be any size. If they want to go somewhere else, they can teleport to a different room. Any room can be connected to any other room, and a room can be big enough that it looks as though it's outdoors — but users will eventually hit a wall if they walk far enough.
By comparison, Second Life and OpenSim have a grid-based geography. You start on a particular region on a grid-like map, and if you want to go to another region, you can walk to it, or fly to it – or teleport to it. In Second Life and OpenSim, each region is a square sixteen acres in size — or 256 meters by 256 meters, with the squares arranged like the squares on a checkerboard.
Having a room-based geography means that you can be very creative in how places are connected with one another. However, if the connections are too complex, users can also get lost more easily, and will have problems constructing a mental map of the complete world.
One significant difference between VastPark and these other two enterprise platforms, however, is that VaspPark is also available as a free, open-source download.
The idea, said Joy, is to jump-start the use of the platform by allowing easy access for universities, developers, and small businesses.
The commercial version includes the same basic virtual world server software, but adds additional management features, making it easier for companies to handle large, complex worlds and multiple simultaneous deployments.
Pricing
For enterprise clients, the commercial platform is free for 10 users or less, and $300 one-time license fee for between 11 and 50 users, plus a $75 annual fee. Companies with extremely large numbers of users can get a volume discount, Joy added.
Additional services, such as hosting, building, development, and design services are available at additional cost from partners, he said.
A VastPark virtual environment comes in two parts. The first is pre-loaded by the user when they first install the software, and includes the basic environment and the objects in it. The second part is downloaded from the server, and can be easily changed. Pre-loading part of the environment means that it loads faster — users don't have to wait for the walls, buildings and textures to load, as they do in Second Life and OpenSim.
This makes it a good fit for companies with large complex worlds with mostly static content.
It's possible to create and move simple objects from inside the world, but that requires that the platform be set up to allow that kind of editing, Joy said. This setup work needs to be done by professional Microsoft .Net programers, or by one of VastPark's partners.
There is also no in-world customization of avatars, which need to be created through an external platform such as Evolver.
VastPark is not a plug-and-play kind of system, he added.
"You have to think of our platform as very much a developer's platform," he said.
In fact, it is that heavy dependence on developers that most sets VastPark apart from its competitors. Clients are expected to work with VastPark's partners, rather than with VastPark directly, in creating and deploying their virtual environments.
"Our partners are using our platform to develop on, and they can made additional revenues from services and plugins," said Lori Kavle, president of VastPark US.  "Our partners love our strategic model because it allows a whole new revenue model for them."
But by keeping basic functionality out of the core server platform, VastPark doesn't just create money-making opportunities for its partners — it's also creating implementation delays and additional costs for enterprise customers.
According to Joy, however, the platform's flexibility means that customers can get the virtual world customized to a very high degree to meet their needs.
"If you want to write a new plugin for the platform that could radically change how the platform works — such as bringing in your own avatar system — it's completely limitless," he siad. "You just have to be a .Net developer, and there are millions of .Net developers out there, and one in every enterprise that's a .Net shop."
"One of the reasons that we did win the vGog contract is our open architecture," added Kavle. "The governments looks at us as a highly extensible platform."
The other reason for the win, she said, is that VastPark comes with an integrated social network.
"The vision of the federal consortium  Federal Consortium for Virtual Worlds] — and the government as a whole — is that it's not just about jumping into a virtual world and going into a room," she said. "The goal is to have a social network were people can work online and offline and continue their work in a virtual world as an extention of the whole social network. It is a way to pull people into virtual worlds instead of pushing them into virtual worlds."
VastPark currently uses a standalone viewer, which users have to install separately. The company is working on a Web-based browser, Joy added, but is waiting for Web standards to catch up.
There is also no cross-world teleportation, where a user can take an avatar from one company's world and teleport that avatar and its belongings to another company's world. (This is currently possible in OpenSim through the hypergrid standard, and more than 50 public worlds — and an uncountable number of private grids — are now connected.)
The VastPark platform does come with some pre-built virtual environment templates, said Kavle. They include conference rooms, an auditorium, an operations center, an apartment, a corporate headquarters with a lobby, and two break-out rooms.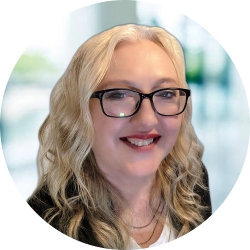 Latest posts by Maria Korolov
(see all)