Press release
Shaker Recruitment Advertising & Communications has strategically partnered with InXpo to provide companies with innovative opportunities to attract talent by hosting their own Virtual Career Fairs.
The mutually beneficial relationship enables clients to capitalize on Shaker's nearly 60 years of recruitment expertise and the advanced technology resources provided by InXpo, the leading provider of real-time virtual events.
"We're very proud to have partnered with InXpo," says Tina Krater, Sales Director.
"Shaker continually searches for innovative ways to leverage technology for recruitment and retention. By capitalizing on the strength of the InXpo product, we are able to provide an easy, convenient and cost-efficient means of interaction between recruiters and jobseekers."
A sign of the migration toward increased online recruiting efforts, Virtual Career Fairs simulate the physical/on-site career fair in an online environment.
"Because this online career fair is managed in a completely virtual environment, HR departments can cut costs of traditional, on-site events while moving toward more environmentally-friendly recruiting methods," continued Krater.
"InXpo is extremely excited to partner with Shaker in this endeavor. While InXpo has the technology and expertise to produce Virtual Career Fairs, it is the experience and credibility of an organization like Shaker that ensures the final success of the event," said Drew VanVooren, President of InXpo.
Virtual Career Fairs also incorporate elements that parallel job boards and social networking sites. Individual booths promote a company's career opportunities similar to the customary on-site career fair and allow jobseekers and recruiters to interact via instant chat or personal message. Recruiters can also collect resumes from qualified jobseekers.
For more information on Virtual Career Fairs, please contact Tina Krater at 708.358.0437 or at [email protected].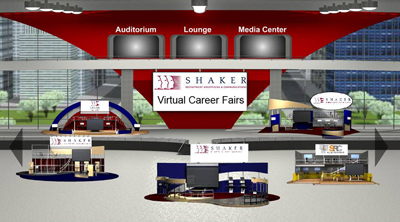 About SRAC
Shaker Recruitment Advertising & Communications helps organizations realize their business goals by connecting them with top talent through employer branding, employee communications, interactive media solutions, campaign development, and collateral materials. The second largest privately held firm of its kind, Shaker is headquartered outside Chicago, with offices in New Jersey, Florida, and New York. For more information, please visit http://www.shaker.com.
About InXpo
InXpo is the leading provider of privately-branded virtual events, including Virtual Trade Shows, Virtual Career Fairs and Virtual Corporate Events, as well as Audio and Video Webcasts. These virtual solutions dramatically reduce travel time and related costs, in addition to making the world a greener place to live. InXpo's Virtual Events provide Publishers with new online revenue opportunities and Corporations with the ability to generate leads, communicate, educate and network by connecting more effectively with their communities. For more information, visit http://www.inxpo.com.

Latest posts by Press Release
(see all)