Press Release: Cruise Shipping Virtual Launches Sustainability Event
Attendees Call It a Success
PRINCETON, N.J. — Cruise Shipping Virtual, an interactive live online event, closed on Tuesday with attendees calling the eco-centric event a success.  This is the second virtual event organized by Cruise Shipping Miami and the first to focus solely on the topic of sustainability and the cruise industry. For this groundbreaking event, Cruise Shipping Miami partnered with Sustainable Travel International to spotlight topics including greening of the supply chain and sustainable tourism.
Attendees to the event had access to two webinars, opportunities to meet with suppliers, and network with industry professionals.  Registration for the event included 435 cruise line decision-makers, suppliers and members of the media with close to 200 unique visitors attending on September 28.  The good news for those unable to participate on the live day, they can still attend via on-demand access until December 28, 2010.
"We have a very strong conference program during our live event in Miami and felt the next step was to bring this type of information to the virtual world. We are very pleased with the support we have received from the industry about this new platform and are looking forward to expanding our virtual events," said Marilyn McHugh, Brand Director, Cruise Shipping Miami. Â "The webinars drew in a large audience who were fully engaged and interacted via live Q&A," McHugh stated.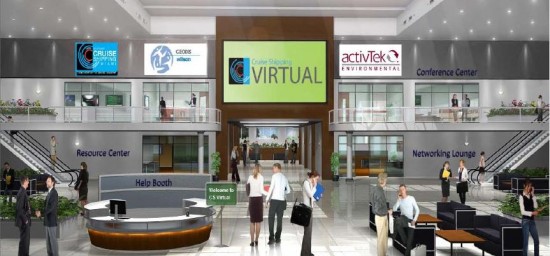 The day opened with the webinar "Greening of the Supply Chain"  in which  industry experts and leading vendors shared a variety of green solutions and doable options to educate the viewer on how to integrate sustainable supply chain management practices into their operations or refine their existing approach.  The panel included Michael Jones, Vice President –Supply Chain from Royal Caribbean Cruises Ltd. who shared many examples of what Royal Caribbean is doing. He emphasized the importance of this topic by stating "'Why go green? More so now than ever, our customers are aware of environmental issues and they demand change, and we demand change from our suppliers."
Other panelists included representatives from suppliers, Konica Minolta which sells printers, scanners, copy and fax machines, who has a '360-degree approach' to greening its operations and Ecospec who spoke about their CSNOx scrubber which removes sulfur dioxide, nitrogen oxide and carbon dioxide from ships' exhaust gases without using harmful chemicals.
The second webinar, "Sustainable Tourism 101-Entering the World of Green Travel" was led by Brian Mullis, CEO of Sustainable Travel International, a recognized expert in sustainable tourism development and destination stewardship. This session focused on the growing market of conscientious consumers and the global movement toward sustainable travel. Some of the topics it covered were carbon offset programs and "voluntourism".
"I was able to join the seminar and would like to commend you for this innovative way to bring together leading cruise lines and suppliers," said Gustavo Ruan, Director Business Development, Unisource Global Cruise Development.
Immediately following the webinars many of the attendees visited the sponsor's booths which included Geodis Wilson, ActivTek and TeakDecking to download and view their collateral as well as the Networking Lounge to participate in chats and share information via social media platforms.
Although the live event closed yesterday, the webinars and sponsor suites are available to view via on-demand access through December 28, 2010.  To access the on-demand version visit   https://presentations.inxpo.com/Shows/UBM/CSM/Registration/registration.html
Cruise Shipping Virtual's next event is scheduled for June 2011. Cruise Shipping Miami, the international exhibition and conference for the cruise industry takes place March 14-17, 2011 in Miami Beach FL.
About UBM Live
UBM Live is a wholly owned subsidiary of United Business Media plc (LSE: UBM) a leading provider of business information services to the maritime, travel, pharma, technology, health + beauty, food ingredients, and property industries. UBM offers services in trade shows, online, news distribution, and publishing to customers across the globe. Its brands are represented in more than 30 countries and are organized into specialist teams that serve their business communities helping them excel in their market by working effectively and efficiently. For more information about United Business Media, go to http://www.unitedbusinessmedia.com.
About Sustainable Travel International
Sustainable Travel International ( www.sustainabletravelinternational.org ) is a globally recognized non-profit organization whose mission is to promote sustainable development through responsible travel by providing programs that help travelers, businesses and destinations protect the environment, preserve cultural heritage and contribute to economic development.

Latest posts by Press Release
(see all)