My local farmers market had a "Vote 4 Your Favorite Booth" contest.  While the contest was active, I noticed that the fruit vendors were much more engaging and the amount of free samples increased dramatically.  The fruit stands had become more customer-friendly as a result of the competition.  This was a great thing.
I immediately thought – virtual trade shows are a lot like farmers markets – how about creating a similar contest?  Let's consider a "Vote For Your Favorite Booth Contest" at your next virtual trade show.  The benefits:
Attendees Take Notice
The contest causes attendees to take notice, especially if you offer up prize(s) for voting.  The contest provides attendees a framework (and context) for their booth visits.  Now, when they enter any exhibitor booth, they are paying more attention to what's there, to judge the current booth to other booths they visit.  Ultimately, they will need to determine their top vote, which requires a certain level of engagement and awareness as they move from one booth to the next.  And that's a good thing for exhibitors.
Exhibitors Boost and Optimize their Presence
Ever sell a home or condo and host an open house?  I bet your home was de-cluttered and nearly spotless.  And I bet some of you baked cookies for the occasion.  A booth contest is a lot like the open house: the host knows that its visitors will be evaluating the space.  This results in:
More captivating and refined booth imagery
Booth content that aims to please (the visitor)
A higher level of booth staffers
More engagement from booth staffers (just like at the farmers market)
With everyone "raising their game", this means that exhibitors win and attendees win as well.
SaaS: Sampling as a Service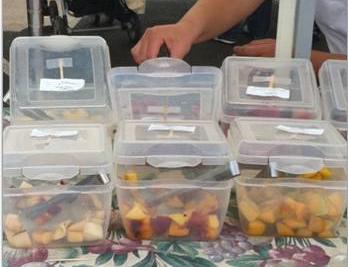 In the picture above, a fruit stand placed a large assortment of samples in labeled bins, allowing visitors to sample for themselves. I call this Sampling as a (Self) Service!  The idea here is to allow "prospects" to sample your "products" (on their own) and then have a "staffer" come by to see if they have any questions.
The same could be done in a virtual trade show. Place your products in your virtual booth and allow visitors to take them on a test drive.  Let them do their thing, but check in with them from time to time to see if they need assistance.
Logistics
Here's how the booth contest could be run:
Heavily promote the contest prior to the event
Educate and inform exhibitors on the ground rules
Create meaningful incentives for attendees to vote
Announce the winner two-thirds of the way through the event. This leaves the remaining one-third of the event for the winner to receive the benefits (traffic to their booth)
Create a badge or logo that the winner can place on their web site and share via social networks
Conclusion
The virtual booths at some events can be underwhelming.  A contest can encourage and motivate the exhibitors and create a win/win/win for attendees, exhibitors and you.
(This article reprinted with permission from It's All Virtual.)
Latest posts by Dennis Shiao
(see all)