Press Release: Teleplace to Showcase 'Last Mile' Enterprise Social Collaboration Successes
New Customer Program Highlights Immersive Microsoft SharePoint, Mobile Device Interactivity, Enterprise-Class, Cloud Collaboration
REDWOOD CITY, Calif.–Teleplace, Inc., the leading provider of enterprise-class immersive collaboration and learning solutions, today announced a new program designed to showcase how customers are solving the challenges of the last mile of enterprise social collaboration. The Teleplace Showcase Customer Program is open to enterprise-class organizations that are deploying Teleplace to cost effectively bring business-critical people, information and resources together to improve organizational effectiveness.
"Success in the 'Last Mile' requires collaboration solutions that bring together the right people, processes and technologies, and mimic the face-to-face environments people are accustomed to working in," said Anthony Nemelka, president and CEO of Teleplace. "The Teleplace Showcase Customer Program will demonstrate how large commercial and government customers are solving 'Last Mile' challenges with real-world, immersive deployments."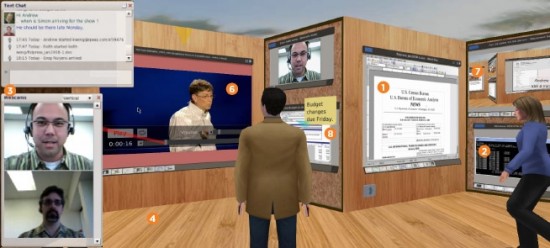 Organizations, with existing or new projects, that are deploying Teleplace for one or more of the following use cases are eligible for the program.
Immersive interactivity while using Microsoft SharePoint 2010, Microsoft Office or mobile devices.
Enterprise-class collaboration solutions providing reliability, availability, scalability and security, or hosted, cloud-based, software as a service offerings.
Participating organizations will receive a number of benefits including a dedicated Teleplace project team to assist them with their deployment, early access to new Teleplace releases, and a formal engagement process to provide feedback on product enhancements and development priorities. In addition, customers will have the opportunity to work with Teleplace to promote the success of their 'Last Mile' solutions.
To discuss joining the Teleplace Showcase Customer Program, please contact Teleplace at (650) 331-1437 or email the company at info@teleplace.com.
About Teleplace
Teleplace, Inc., www.teleplace.com, creates enterprise-class immersive learning and collaboration solutions to help large-scale, highly dispersed commercial and government organizations address their most advanced learning, training and collaboration needs. Teleplace delivers the reliability, availability, scalability, security and integration capabilities required by the world's largest enterprises, including leading firms in the financial services, manufacturing, energy, technology, higher education, healthcare and government sectors.

Latest posts by Press Release
(see all)