Press Release: Club One Island opens its doors to the public for access to revolutionary digital weight loss program
Island Holiday Party is the healthiest party of the season, and a first in the 3D world
SAN FRANCISCO and SECOND LIFE – The holidays just got a whole lot healthier. Already credited with bringing weight loss into the digital age, Club One Island, a weight loss and behavioral change program in the virtual world of Second Life, announced today what may be the world's healthiest holiday party.  Opening Club One Island's doors to the general public for free through New Years, the Island Holiday Party will introduce people to the virtual realm while inspiring them to de-stress, stay healthy, and have fun through the holiday season.  It's the only party you're likely to go to that has zero calories.
Club One Island is a visually stunning and socially friendly interactive weight loss community in the online virtual world of Second Life.  Using the Island, Club One has proven that you can lose real weight by learning in a 3D online world.  In control tests, participants at Club One Island lost more weight than people exercising in the real world.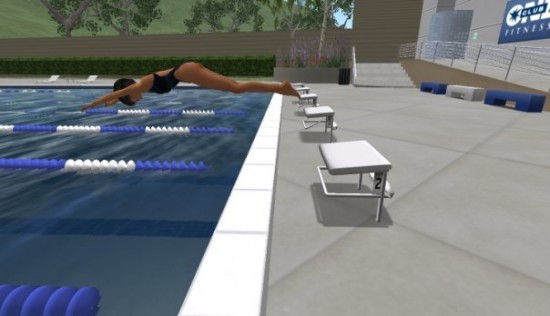 Holiday weight-gain has become one of the most predictable side-effects of an epidemic of overeating. The season's celebrations and familial obligations drive many to overeat and under-exercise; even those that exercise regularly report packing-on a few pounds because of the interruption of their daily routine.
Club One Island, developed by fitness and behavioral change experts, was designed to break this cycle. Delivered in the powerfully immersive environment of Second Life, the Island combines cognitive behavioral theory, gaming, social networking and community building.  Anyone can succeed at Club One Island, and most Island participants are seeing a virtual world for the very first time.  According to Biray Alsac, a fitness professional, "[T]hose who engage in virtual activities and imagine themselves participating in these behaviors will ultimately make a smoother transition into real world fitness."
Having already achieved proven results with its 12-week virtual programs, the creators of Club One Island asked a single, basic question: What if we could dodge those extra pounds in the first place? And the most notoriously difficult time to avoid weight gain is the Winter Holidays. Starting November 13th, 2010, Club One Island opened its doors to the public with a special program of events designed to introduce the Island's benefits. Each evening for 49 days the Island will offer free access from 4 – 10pm PT. There will be dance parties, ski lessons, volleyball tournaments, casino night and more.
Access to the Holiday Party is granted to any and all, 13 and up, with internet access, ensuring a safe and supportive environment for users to voice their struggles and find solutions within the comfort of a group. Like any great party, word is spreading fast. There are a host of ways to cash-in on the buzz, including a blogging contest, a Facebook "Like" contest and $50 off the full pre-paid package program fee for anyone who refers a friend that joins the full pre-paid package program.  Best of all, whether participating in the contests or rocking out at the party, it's absolutely free.
For more information visit, www.cluboneisland.com, www.facebook.com/cluboneisland, and http://twitter.com/cluboneisland. Or contact us at cluboneisland@clubone.com.

Latest posts by Press Release
(see all)