Press release: Fashion Research Institute Oversees Another Round of the Science Sim Land Grant Program with Intel Labs
New York, NY  – Fashion Research Institute has been collaborating with Intel Labs since 2009, helping to push the limits of content development, and overseeing the Science Sim Land Grant Program. The program consists of "supersized"3D volumes called regions, which can support 100,000 primitive units. These regions are awarded for a six-month period to educators, scientists, and researchers who wish to explore using OpenSim for their work, but who have not yet managed to have a presence in OpenSim.  These regions are provided for six months, with the current program scheduled to end June 30, 2011.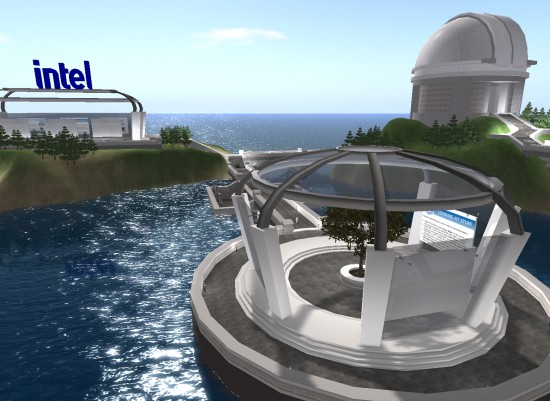 The following are the 2011 award recipients, in alphabetical order:
The Abyss Observatory
The Abyss Observatory is a museum of earth science, undersea technology and also Sense of Wonder for the mysteries of Earth & Life in 3D virtual world, established mainly by Japan and US volunteers, supported by SciLands, NOAA, JAMSTEC, Open University UK and Science Circle.
"Earth system science research fields are spread world-wide and far from human habitation.  To gain a better understanding of global issues, visualization in immersive virtual world is powerful tool.  Our students can develop observation methods of virtual environment phenomena or law of physics easily, cost-effectively and safely, " says Hajime Nishimura of JAMSTEC.
IDIA Lab: Institute for Digital Intermedia Arts at Ball State University
The Institute For Digital Intermedia Arts is an interdisciplinary design laboratory exploring the intersections between art, science and technology – developing solutions in virtual reality, interactive interface, hybrid worlds, games, simulation and human computer interface. Academic and industry partners engage in intermedial arts projects, collaborating through this project-based learning and research center – investigating the forefront of discourse in emergent media design.
John Filwalk of IDIA Lab says, "We are honored to participate in ScienceSim – contributing our design and research approaches to virtual worlds, mash-ups and hybrid reality within the creative and scientific. We will explore broad concerns within human interface with new technology and media. We are developing rich and integrated immersive environments – employing multi-directional interaction with 3D interface to data, information, and media. We are eager to both learn and collaborate with the ScienceSim development community."
Meta-Institute for Computational Astrophysics (MICA)
MICA is the first professional scientific organization based in virtual worlds. Â Its goals are to explore how the immersive VR technologies can be best used for science, scholarship, and education, and to promote the development of these technologies and exchange of ideas in the academic community.
"Many of us who took this technology seriously as a potential scientific collaboration and communication platform are convinced that the 3-D interface is the future of the Web – or whatever comes after the Web.  It will change the ways in which we communicate, collaborate, and educate.  We also think that the immersive, collaborative data visualization and exploration will be a powerful new tool for science, and many practical applications beyond the academia," said George Djogovski, Cal Tech.
Science Circle
The Science Circle is an alliance of scientists from various disciplines dedicated to connect scientist and students worldwide. We use digital mediums like Second Life® to hold seminars and we are starting in 2011 with various courses for our student group.
"The Science Circle wants to offer our members the possibility to discover OpenSim. Like MICA we are convinced that 3D platforms based on OpenSim are a great tool to offer education. The Science Sim Land GrantPprogram is a great initiative that enables us to do that," says Agustin Martin on behalf of the Science Circle.
About Fashion Research Institute, Inc.
FRI is at the forefront of developing innovative design & merchandising solutions for the apparel industry. Â They research and develop products and systems for the fashion industry that sweepingly address wasteful business and production practices.
About ScienceSim
ScienceSim is part of an evolution toward online 3D experiences that look, act and feel real. Sometimes dubbed the "3D internet," Intel Labs refers to this technology trend as immersive connected experiences, or ICE. ScienceSim is differentiated from most virtual world environments by its open source architecture. ScienceSim leverages open source building blocks (installation utilities, management tools, client viewers, etc.) based on OpenSimulator (OpenSim) software.

Latest posts by Press Release
(see all)