With the recent growth of OpenSim grids, both public and private, and growing demand for both low-end starter items and high-end content, content creators have recently launched several Websites to distribute both free and commercial products for OpenSim.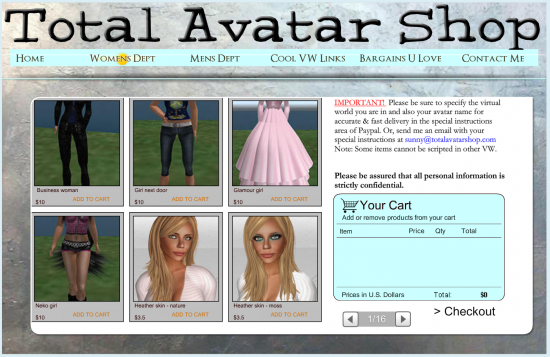 Total Avatar Shop is a commercial destination for OpenSim users looking for high-end, designer clothing and hair by well-known Second Life designer Sunny Whitfield. Prices are in US dollars, starting at $1, and payment is by PayPal.
Purchases are delivered automatically to avatar accounts on InWorldz, Alpha Towne, Second Life, Virtual Worlds Grid, OSGrid, My Open Grid, New World Grid, and Virtyou, but she will deliver to any grid — including private company and school grids.
"Once I get an order from the online store I get in touch with the person via email and find out where to go in a virtual world for delivery," Whitfield told Hypergrid Business.
Usually, she will simply go in-world and send the boxed-up purchases to the buyer's avatar. However, she will also deliver to private grids or even minigrids running on USB sticks.
"I get the URI information and just add the grid to my Imprudence viewer," she said. "Then I go to the person's sim or a sandbox and do the importing or uploading. Other times we will set a meeting time where I can personally give them their items. So far, everyone has been very happy with the service. I've even delivered to people's private sim –since sim on a stick is becoming popular."
Since she has a Facebook account, she can deliver content to people's private Kitely worlds as well, she said.
The entire delivery process isn't automated, she added. "It's all very personal, which I think people like."
People who get their purchases delivered to OSGrid, New World Grid, AlphaTowne or another hypergrid-enabled world can also take their goods to their own grids.
"I don't see why someone couldn't take their items to their private grid," Whitfield said.
Now that Whitfield has figured out how to sell in OpenSim, she's willing to help other designers learn how to do it as well.
Content creators can also sell through her online store, she added.
"I would like to … provide a place for other designers to sell their items on my site," she said. "Like a hypergrid marketplace. I think that would be a great new way for more people to get products out to other grids. I could set up a page for a particular designer, they would give me their photos, description and prices so I could add it to their page. Once an order came in I could email the designer so they can prepare the delivery."
OpenSim users who want to visit her stores in person can find them on the Decades region on InWorldz, and the Sunny Island region on AlphaTowne. She also has a store in Second Life.
Folks who want to see the regions for themselves can visit them instantly in Kitely, she added. The link to the Kitely world is blue icon of the white glasses, but a Facebook account is currently required for access.
All items on the site are distributed under a Creative Commons license, and are free to modify and customize.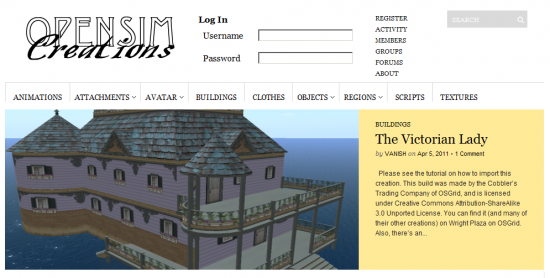 In fact, anyone can share their creations here by following these instructions. You can also watch a video tutorial on how to export your objects and share them on OpenSim Creations.
The site can be used by people who like creating and sharing content under the Creative Commons license, or professional designers giving away freebies or samples from old collections in order to gain brand recognition or invite people to their commercial sites.
For free clothing, textures, animations and scripts, check out Fleep Tuque's FleepGrid Shop.  All items were either created by Tuque, or were distributed under opensource or Creative Commons licensing. Purchases are available as IAR and OAR files, which means they can only be used in OpenSim, and only by users with OpenSim console access — or OAR and IAR upload options provided by their hosting companies.
The site currently requires registration, and users have to go through a lengthy checkout procedure before they get to the downloads. Products are distributed under a Creative Commons license, allowing users to use, modify, and redistribute the products as long as they are not sold, or used to create products for sale, and as long as Fleep Tuque is credited for the work.
What this means in practice is that users who upload the OARs or IARs should double-check that there's a link to Fleep Tuque's website in the object's description, but then can share the objects with their friends, colleagues, fellow teachers or students, and can use the objects on any grid they like. They can also re-export the objects using Imprudence and upload them to Second Life, InWorldz, Avination or other closed grids — again, checking to ensure that Fleep Tuque's credit line stays in place.
The scripts are also available at Fleep Tuque's SL and OpenSim script archive.
OSGrid manager Michael Emory Cerquoni — also known as Nebadon Izumi in world — is sharing free IAR inventory archives on Nebadon 2025. There's also a category for OAR archives, but no content yet.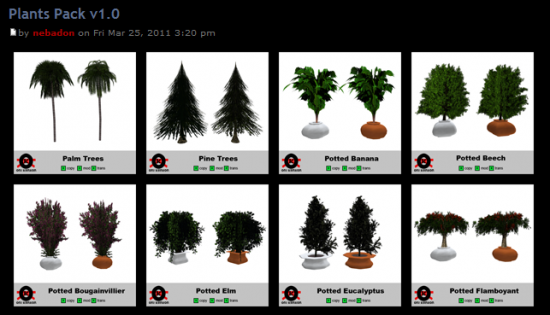 OSAvatars has a large collection of simple hair and clothing. The download links weren't working yet when we last checked, but you can download the whole spring 2011 collection as an IAR here.
There is also a large IAR is available from the Diva Distro download site, and contains a very broad collection of clothing, accessories, and other objects useful to new grid owners.
MyOpenGrid's online store also has a selection of free OAR files for people to download, at its MyOpenSim Hypergrid Store.
And OpenSim Worlds is a self-serve clearinghouse for OpenSim OAR files. It is currently home to ten OARs, including the Apollo 11 Moon Experience, the CSI Virtual World and the Mars Simulator from Greenbush Labs.
OpenSim Worlds is also home to a Faerie Castle, from Jessica Random, which is a good-sized OAR file. It has castle on an island with a hidden cave under the castle and waterfall behind, and plenty of trees and mushroom groves. To upload the OAR to Kitely, I had to change the file extention to just ".oar" but then it loaded well — though it is such a big region that it took a while to rez on my computer — changing my preferences to the lowest graphics setting helped a lot.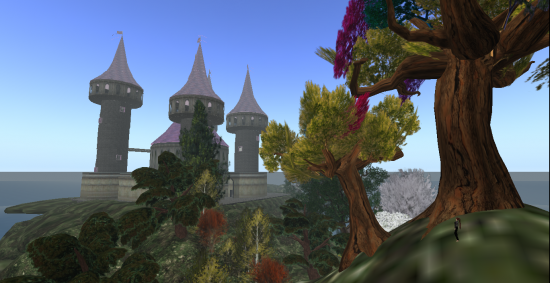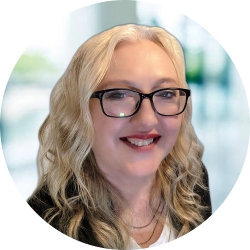 Latest posts by Maria Korolov
(see all)