Press Release: SAIC Showcases On-Line Interactive Virtual Environment Software Platform at ITEC 2011
Company to demonstrate virtual world technology for collaboration, simulation and training
Cologne, Germany — Science Applications International Corporation (SAIC) [NYSE: SAI] will demonstrate how its On-Line Interactive Virtual Environment (OLIVE) three-dimensional (3-D) software platform can be used for collaboration, simulation and training at ITEC 2011 May 10-12 at the
Koelnmesse in Cologne, Germany.
ITEC is Europe's premier exhibition and conference for military training, education, and simulation technology, providing a forum for industry experts to discuss issues of key importance to the global training community. ITEC 2011 will be centered on four themes driving the conference agenda: Cost Effective Training – The Human Factors; Systems and Technology; Military Simulation and Training Futures; and Training for Current Operations.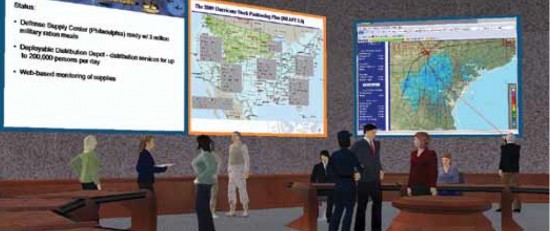 SAIC will feature its enterprise-grade OLIVE software platform in a series of scenarios that engage visitor participation in the virtual world and display procedural training and collaboration features. Demonstrations will include operation of a small unmanned ground vehicle; hospital emergency room medical team response; command and control; and geo-specific, custom terrain databases inside OLIVE.
"SAIC's OLIVE virtual environment offers next-generation training solutions for distributed, multinational armed forces across the globe and integrates with live and constructive training systems for complex exercises, rehearsals, and military operations," said Beverly Seay, SAIC senior vice president and business unit general manager. "OLIVE is part of SAIC's portfolio of end-to-end advanced modeling, simulation, and training solutions in our SimInsight™ platform of simulation products and services. The SimInsight™ platform illustrates our ability to integrate advanced capabilities into turn-key, customized solutions, while our service-based architecture product line demonstrates how we see the future of modeling and simulation."
For more information on SAIC's OLIVE demonstration at ITEC 2011, please visit SAIC located at Stand E-100 or visit www.saic.com/itec.
About SAIC
SAIC is a FORTUNE 500® scientific, engineering, and technology applications company that uses its deep domain knowledge to solve problems of vital importance to the nation and the world, in national security, energy and the environment, critical infrastructure, and health. The company's approximately 43,000 employees serve customers in the U.S. Department of Defense, the intelligence community, the U.S. Department of Homeland Security, other U.S. Government civil agencies and selected commercial markets. Headquartered in McLean, Va., SAIC had annual revenues of $11.1 billion for its fiscal year ended January 31, 2011. For more information, visit www.saic.com.

Latest posts by Press Release
(see all)