Press release: Brandman University Research Study Shows Companies Can Better Embrace Virtual Work Force as a Competitive Advantage
Managers eager for workers to understand collaboration tools, but still rely on face-to-face contact for building trust
IRVINE, Calif. — While businesses increasingly play on a global stage and a work force spread across geographies is the norm, a newly commissioned study conducted by Forrester Consulting on behalf of Brandman University shows conflicted opinions on the merits of a virtual work environment. While virtual teams are indisputably on the rise, companies may be underestimating the competitive advantages a distributed work force presents as they continue to view building trust and accountability as barriers to embracing this model as a key business strategy.
The study, "Virtual Work Environments in a Post-Recession Era," conducted on behalf of Brandman University by Forrester Consulting, included senior leaders and hiring managers in America's Fortune 500 and large companies (5,000 employees or more) who are either actively or gradually hiring new employees. The survey revealed strong adoption of virtual teams, defined as a group of people working together from disparate locations on a specific project, with 40 percent of survey respondents saying that 40 percent or more of their company's employees work in virtual teams today, and more than half (56 percent) expect virtual teaming to increase in the next one to three years.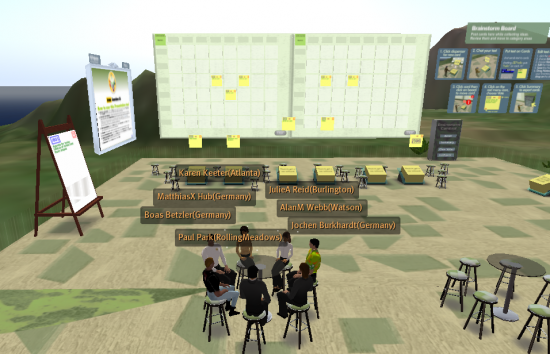 However, the majority did not view virtual teaming as an important strategy to enable growth opportunities in new markets (30 percent), provide employee flexibility and job satisfaction (35 percent) or promote an environmentally friendly business (15 percent). Respondents said their companies primarily engage in virtual teaming as a way to reduce travel and real estate expenses (61 percent) and recruit high-quality talent regardless of geography (59 percent).
"The research suggests that senior leaders and hiring managers accept that a global economy demands virtual teaming, but we believe they may be short-sighted on its benefits," said Charles Bullock, vice chancellor of academic affairs at Brandman University. "Right now, companies primarily view virtual teaming as a way to cut travel and real estate costs, but innovative companies can leverage virtual teaming as a competitive advantage when the organizational culture promotes trust and communication, and incorporates an array of interactive technologies to foster better collaboration."
Managers Still Rely on Personal Contact to Build Trust
Fueling views about the business merits of virtual teaming is continued concern about establishing accountability with distributed workers, as more than half (57 percent) of respondents said earning trust was a challenge for managers of virtual teams. Other key concerns for managers included:
Effectively communicating with remote employees (49 percent)
Managing projects and deadlines successfully (43 percent)
Creating consensus during decision-making (43 percent)
Respondent interviews showed that missing intangibles such as cultural or body language cues and the absence of "water cooler" or more informal communications are key factors that impact trust. As a result, managers must find other avenues to establish rapport, through the use of social media or employee portals.
Employee Expectations vs. Company Investment in Collaboration
More than 70 percent of respondents said that having an understanding or proficiency in collaboration technologies are a must for employment consideration. But overall, only between 7 and 43 percent of respondents plan to invest in specific collaboration tools, demonstrating a gap between expectations and action. Of those that did plan future investments, more than 40 percent will spend on video and web conferencing, while less than 20 percent said their companies would invest in tools such as instant messaging, blogs, wikis or social networks, which can facilitate collaboration and drive trust.
How Can Employees Get Ahead?
Based on the research findings, it's clear that today's employees will compete on a dynamic playing field defined by an ability to work effectively in a growing virtual environment.
To be competitive in this environment, the study identified several skill sets as integral for employee success in a virtual working environment, including:
Solid communication skills (61 percent)
Ability to self-pace and work independently (53 percent)
Accountability (51 percent)
"The workforce of the future must adapt to what was previously a subtle move toward a borderless office and is now accelerating with a post-recession economy and steady adoption of collaborative business technologies," said Bullock. "Traditional leadership and management skills are the price of admission to being competitive in business today. Leaders also need a range of technical and collaborative skills to get ahead in an increasingly virtual business world."
As a university focused on career development and advancement for working professionals, Brandman recognized a gap between higher education training and preparing the workforce for success in a virtual world. This year, Brandman rolled out a new curriculum model known as iDEAL (Instructional Design for Engaged Adult Learning) across its entire system of 26 campuses and online degree programs.
The university designed iDEAL to mirror the workplace environment by blending traditional instruction with independent self-study using virtual collaboration groups and technology tools to make students proficient in a virtual working environment. Students complete assignments in virtual teams, engaging through discussion boards, wikis, blogging and video conferencing. Instructors evaluate performance based on traditional inputs, as well as online engagement, team participation, communication, project management and overall effectiveness in completing projects. Requiring productivity in a virtual team ensures graduates can deliver results in a distributed work environment.
To learn more about preparing the workforce of the future through the Brandman iDEAL and see expanded results from the "Virtual Work Environments in a Post-Recession Era" study, please visit www.brandman.edu/research.
Research Methodology
Findings were gleaned through online surveys conducted between December 17 and December 30, 2010 with 135 senior leaders and hiring managers in America's large and Fortune 500 companies (those with at least 5,000 employees) who are actively or gradually hiring new employees, as well as through a series of telephone interviews conducted in January 2011.
About Brandman University
Brandman University is a private, non-profit institution accredited by the Western Association of Schools and Colleges (WASC). Established in 1958 and a part of the Chapman University System, Brandman blends a legacy of academic excellence with progressive, innovative curriculum and strong support services designed for working professionals. Solely dedicated to the working adult, Brandman provides a liberal arts educational foundation by using technology that engages learners. The university serves more than 10,000 students in 200+ undergraduate and graduate degree, certificate, credential and professional development programs in arts and sciences, business, education and health, offered online and at 26 campuses in California and Washington. For more information, visit www.brandman.edu.
About Chapman University
Founded in 1861, Chapman University (www.chapman.edu) is one of California's oldest, most prestigious private universities and is home to more than 4,000 undergraduate students and 1,500 graduate students at its home campus in Orange, California.

Latest posts by Press Release
(see all)