Students show more interest in class and have better learning outcomes when 3D technology is used, according to the Boulder Valley School District.
Focused and attentive
Students focus on the content more and paid more attention in all the classrooms using 3D technology, reported Len Scrogan, director of instructional technology at the Boulder Valley School District, at the InfoComm conference in Orlando, Florida this June.
Scrogan is also Adjunct Professor at the University of Colorado at Denver and Health Sciences Center.
Teachers also reported fewer disruptions, he added, and students said they preferred the learning experience they had with 3D environments.
"It provided better visualization than a text book," one student said, describing a 3D cellular imaging experience. This was a typical student response, particularly in astronomy, biology and chemistry classes, Scrogan said.
Altogether, the study covered eight math and science classrooms in middle school and high school at the Boulder Valley School District in Colorado. The study covered all types of students –typical, gifted and those with behavioral problems and learning disabilities, he said.
"We used Texas Instruments 3D-chip-ready Vivitek projectors, 3D glasses from Expand 3D, and software from Designmate, Cyber Anatomy, Bio Interactives, JTM, Eon, and Navtek," Kristin Donley, the school district's Science Research Seminar coordinator, told Hypergrid Business.
Better learning
Students in the study showed significant improvements in their ability to retain what they learned.
Typically, two weeks after the material is covered students only retain between 20 and 30 percent – unless the subject was revisited in the meantime.
However, the students in the 3D group had a 49 percent retention rate, according to the case study.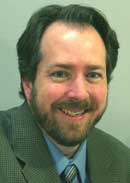 One reason is that 3D tools offer a view into the real world that students may not have been able to visualize before, said Brad Shimmin, an analyst at Current Analysis, a Washington, D.C.-based research firm.
"For example, in a classroom setting, a science instructor can show students a 3D rendering of the solar system to more easily explain the relationships between the planets, moons and other bodies, and illustrate visually how they move relative to one another from different perspectives," said Shimmin.
"Some topics are just easier to teach if you can visualize it in 3D," said Chris Chonnock, founder and president of New York-based instructional materials provider Insight Media.
Latest posts by Miriam Pia
(see all)