Press release: Second Places announces the Launch of the first Private Virtual World hosted on the Unifier Platform
Cheshire , U.K. – Second Places, a leader in development of virtual worlds, today announced the first private virtual world hosted on the Unifier platform.
The secure private world is for kids aged 3-18 and not accessible to the public.
This immersive environment has three locations:
CANVAS – Children's Art at the National Virtual Arena of Scotland

"The curriculum of learning aims to achieve a transformation in education in Scotland, through the totality of experiences and nothing gives children a better experience than interaction," said said Mark Duffy, managing director of Second Places.
CANVAS takes art from Scotland's 32 Local Authorities and places them on a virtual island, where kids from throughout Scotland log in through Glow, the world's first national intranet for education, and have the ability to visit art work from other children, all from the comfort and safety of their classroom or home.
In total there are 1,024 pieces of art on display, as well as a central gallery which will show themed art exhibits or have an expert do a demonstration, or curate a walk and talk.
Linlithgow Palace – Recreated
Presently a ruin, destroyed by fire in 1746 was once one of the principal residences of the monarchs of Scotland. Second Places have recreated the palace to its grandeur at its pinnacle, when Mary, Queen of Scots would have visited.
As well as beautiful detailed rooms, visitors will find information points telling stories and providing historical information about the model.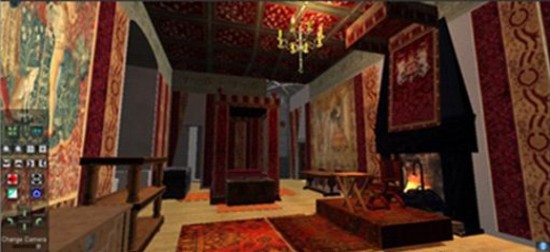 About Second Places
Second Places was established in 2009 and has over 30 clients using private virtual worlds for collaboration, exhibits, education and immersive envirouments for training and simulation. Unifier is a Web-based virtual world platform, designed in such a way that it integrates into the clients' already created web site and user registration system.

Latest posts by Press Release
(see all)