Russia's Virtual Spaces LLC has released a new education-focused virtual world platform, vAcademia, that allows for both traditional 2D and 3D recordings.
The platform, which is now in beta, is being used by Mari State Technical University in Yoshkar-Ola, a city in western Russia. Â Although primarily used by Russian institutions right now, the viewer interface and the Website are both in English and available to international organizations.
The platform is free until the end of the year while in beta.
For lectures and discussions
The vAcademia platform is a proprietary system, that feels more like Open Wonderland than OpenSim. It is fully mesh-based, with a single large island that's home to 70 different meeting and classroom setups.
Users have only a limited ability to customize avatars. There's a choice of six avatar bodies with three different avatar heads each, and a small selection of clothing. Pre-set gestures include agreement, disagreement, applause, waving, shrugging shoulders, laughing, cheering, hurray, and looking at watch.
"We're planning to add face animations and increase the wardrobe," said Alexei Gerasimov, head of Virtual Spaces.
Instructors setting up for new lectures can also choose from a menu of objects that include 10 different types of chairs and a white board.
There is no in-world building or editing, and users cannot modify their appearance or clothes beyond what is built into the platform, which is standard for enterprise-oriented environments.
The environment supports voice — form the point of view of the camera — with automatic lip synching. Voice volume decreases with distance, and cuts off automatically when an avatar leaves a lecture hall. There is also background noise, which is directional from the point of view of the camera.
The fixed environment means that vAcademia is not well suited for simulation-based learning. This isn't the platform you pick to create interactive learning environments. However, it could be a good fit for lecture-based classes, discussion groups, and classes such as sales training where students play different roles.
Built-in tools include application sharing, screen sharing, remote desktop control, Webcams, laser pointers, and in-world drawing tools. There's also a Twitter-like backchannel.
"In education, you have to show not just a browser screen, but also other third-party applications," said Gerasimov. Â "And we decided to do it with a unified approach."
There's also a built-in proprietary learning management system optimized for vAcademia, as well as a Moodle interface.
A walk back through time
The one thing sets vAcademia apart from any other education-focused virtual environment is the ability to make 3D recordings of events.
You have to experience it to believe it, but replaying a 3D recording of a class is like going back in time. Your avatar can walk around the recorded environment — you can see the professor lecturing, the students asking questions — but they can't see you. If you attended the class, your present-day avatar can meet your past avatar — but won't be able to interact with it. You can jump up and down in front of the professor and yell "boo" and he won't be able to see and hear you. Because, you know, he's just a recording.
You are able to interact with other people visiting the recording at the same time you are. You can take a field trip with your students, for example, to view the great lectures of history — if they were conducted on the vAcademia platform and recorded — and answer your students' questions.
You can also record your visit to the past and replay it later — now the recording will have both the original lecturer and audience, and your group in it.
"It's like a time machine," said Mikhail Morozov, head of the multimedia system lab at Mari  State Technical University. "Except in a time machine, you're not supposed to meet yourself. Here, you can meet yourself without any fear."
There are also automated 2D recordings, which can be watched on the vAcademia website. These recordings can be embedded into blogs and webpages. Viewing live lectures on the Web in 2D is not yet available, but is under development.
The 2D recordings consist of the audio of the lecture, as well as a series of still photographs.
"We use a set of pictures from different cameras — Â cameras for every whiteboard, a camera for the lecturer, a camera for the classroom," said Morozov. "Each time there is a new event, there's a new picture. If there's a new slide on one of the whiteboards, a new application on a white board, or the lecturer or an audience member says something. A simple video can not give full information about all the learning activity."
Unlimited space
The entire vAcademia virtual environment fits on an island 600 meters by 600 meters — or about the size of five and a half regions in Second Life or Opensim. Each auditorium or lecture venue can hold up to 50 people.
Although there are only 70 locations in vAcademia, multiple lectures can be held in the same location.
"There are no limits on total users,"  Gerasimov told Hypergrid Business.
The way it works is that only the first lecture is visible to folks who walk by. All other lectures are conducted in a parallel dimension, and students and instructors teleport straight in from the website.
Auditoriums that don't have classes scheduled play back recordings of previous lectures.
"If you walk around, there is always something happening," said Gerasimov.
Web browser on the agenda
Today, the vAcademia environment is accessible via a standalone, downloadable viewer.
In the future, however, there will be a browser-based viewer as well.
"We're looking at Unity 3D as a possible platform," said Gerasimov.
"But there are new options as well," added Morozov. "OpenGL is currently being developed, and we might move in that direction."
OpenGL is a standard that will allow 3D environments to run in the browser without any plugins, but not every Internet browser currently supports it.
Global outlook
The platform launched in July, and currently has 600 registered users, most from Russia.
"We're in beta testing," said Gerasimov. "We're working in Russia before taking it to the global market."
International universities are invited to come and try out the platform immediately, however, since the interface is already in English, added Morozov. "We would be interested in seeing them."
One foreign university that already tried out the platform is the Norwegian University of Science and Technology. Mikhail Fominykh, a graduate student in the department of Computer and Information Science gave a lecture titled Collaborative Work on 3D Content in Virtual Environments.
So far, only Morozov's Mari State Technical University — which originally developed an early version of the vAcademia platform — is a full academic partner. However, the Moscow Academy of Sciences expressed an interest in conducting university philosophy classes using the platform, Gerasimov said.
Other colleges have individual instructors stopping by, he added.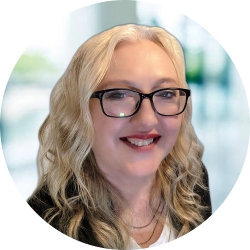 Latest posts by Maria Korolov
(see all)