First of all, an apology.
In May, we wrote that Redwood City, California-based virtual worlds company Teleplace, Inc. open sourced its platform in order to grow its market — and that the company would continue to offer paid hosting and support, and continue working on new features.
At least, that was what Teleplace CEO Tony Nemelka told us.
But what happened instead is that, that very same month, the company laid off most of its staff, outsourced its support, and began taking other steps to shut down the company entirely.
Last week, vendors got notices that the company was liquidating, and the company's website was no longer active.
Teleplace is now dead, completely dead, an ex-company. Its metabolic processes are a matter of interest only to historians.
But it's software continues to live on as OpenQwaq — and, even better, development is continuing.
Since Teleplace released its software as open source, any vendor has been able to run it on their servers and offer hosting to customers. But the vendor that has been doing the most is 3D Immersive Collaboration Consulting, LLC, or 3D ICC.

"We have advanced the baseline beyond where Teleplace had OpenQwaq," 3D ICC CEO Julie LeMoine told Hypergrid Business.
For example, Nemelka told me that Teleplace had a Web viewer in the works — normally, users have to download separate software.
Well, 3D ICC actually built the viewer, LeMoine said, and it's already available to customers as a proprietary browser plugin for Internet Explorer.
"OpenQwaq is still in place and well due to the work 3D ICC is doing," she said.
In addition, 3D ICC has begun to provide support and hosting to many former Teleplace customers, and has added new customers, she said.
"We are the Red Hat to OpenQwaq, if you will," she said.
Prices and services
3D ICC provides fully hosted OpenQwaq environments for its customers, both shared and dedicated. In addition, customers can also download the software and run it on their own servers.
3D ICC also provides support.
And the prices are 40 percent of what Teleplace used to charge, she said.
Which, according to what Teleplace told us, was $50 per user per month for the hosted version and $100 per user per month for support for the on-premises software — according to Nemelka, much more support was required when companies ran the software themselves, instead of letting Teleplace do it.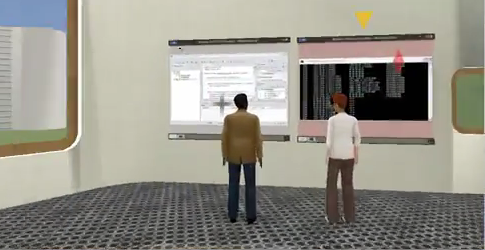 She liked it so much she launched a company
LeMoine originally learned about Teleplace while she was a vice president for advanced collaboration and engineering research at Fidelity Investments.
"I worked with every immersive world an enterprise could work in — from Project Wonderland [now Open Wonderland] to Second Life to ProtoSphere."
She decided she liked Teleplace's system the best, she said.
Teleplace is a high-end product, designed for enterprises, and includes many back end features needed by large companies, such as support for corporate directories and Sharepoint integration. In addition to Fidelity, customers included Chevron, the U.S. Department of Agriculture, the U.S. Department of Veterans Affairs, the U.S. Navy and the U.S. Air Force, and Stanford University. According to Teleplace, there were hundreds of enterprise customers.
LeMoine herself has a long history of working on enterprise technology. In addition to her recent five-year stint at Fidelity, she was president and CEO of UCHow, Inc., a collaboration software company, for six years.
And LeMoine's high-tech background goes all the way back to ARPANet — she established security standards, guidelines and protocols while at MITRE in the late 1980s and in the 1990s. MITRE manages federally funded research and development centers for the defense department.
And she's not the only high-powered staffer at 3D ICC.
Ron Teitelbaum, formerly the immersive 3D virtual world specialist at Teleplace, is now the 3D immersive collaboration expert at 3D ICC. Andreas Raab has also moved over — he used to be a system architect at Teleplace.
They also have David Smith on the board of advisors, the guy who originally created the Open Croquet platform that Teleplace built upon.
3D ICC is a completely separate company from Teleplace, LeMoine said. However, as a result of providing support service to Teleplace customers behind the scenes, those clients were already familiar with its services when Teleplace closed down.
And 3D ICC won't be brought down by the same issues as Teleplace was, she promised. "We don't have any funding problems at all."
"Teleplace missed a round of funding, and when you're that size, and you miss a round, you close the doors," she explained. "It was a glitch. It was a funding glitch. They were a good company, they had customers. It was such a horrible thing to happen."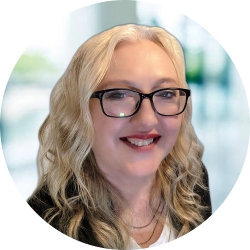 Latest posts by Maria Korolov
(see all)