One of the founders of the OpenSim project, Adam Frisby, is now focusing his efforts on the Unity platform — because it can scale better, the viewer runs on multiple devices, and it has better graphics.
His former firm, DeepThink, has been acquired by the Sine Wave Company, which is now focusing on building large-scale virtual worlds.  One high-profile project the team has completed is Gojiyo, India's largest virtual world with over a million users.
Gojiyo is an immersive social world, similar to Second Life, with such locations as a tropical beach, a ski slope, and the moon surface. Users can earn in-world currency by completing quests. However, unlike Second Life or OpenSim, there is no in-world content creation capability.
A matter of scale
While Adam Frisby is one of the founders of OpenSim, he now primarily works in the Unity 3D platform.  According to him, the main reason has to do with scaling, as Sine Wave has recently been doing some very large projects.
"These projects have lots and lots of users, and getting that many users into an OpenSim environment is very costly, and from a hardware perspective, you need a lot of servers to maintain it," Frisby told Hypergrid Business. "You also need to have full-time support staff keeping everything running smoothly."
With OpenSim, it is a struggle to put more than sixty avatars into a single region, he added.
"On an overall grid environment, you're going to be capped out at around a thousand concurrent," he said. "There have been projects we've been doing that have requirements that exceed this significantly."
At the time of this writing, the Gojiyo platform had 1,167,092 registered avatars, and counting.
… And a matter of graphics
Unity doesn't just scale better than OpenSim — it also has better graphics, said Frisby.
OpenSim is dependent on the Second Life viewer, which Frisby said was graphically dated.
"It is difficult to do anything too impressive with it," he said. "You're limited to what can be stuffed into the properties, the objects that Second Life supports."
However, Unity has no such limitation, and the platform offers rich and vibrant graphics as a result, he said. In addition, Unity is capable of client-side scripting, client-side interfaces, and client-side physics for realistic simulations. Not to mention the fact that it can run on mobile devices.
"One of the biggest advantages of Unity is this right-to-deploy-anywhere philosophy, where you can switch between deploying on the web, to deploying on the desktop, to deploying on consoles, on mobile devices, with relative ease," Frisby said.  "You can build something with one platform, and have most of it work when you switch to another platform."
Unity's presence is only growing, largely due to its flexibility.  Millions of people already the Unity plug-in, and a Flash export option is on its way, which will make it even more accessible.
Crowded field
Sine Wave isn't alone in its interest in Unity.
ReactionGrid, another pioneering OpenSim vendor, offers its own Unity-based virtual world platform, called Jibe.
And, last year OpenSim hosting company Second Places released a platform called Unifier.
Other vendors offering immersive Unity-based virtual environments are HostaVirtualEvent's TPLD  and Hyperfair Inc., both of which focus on the corporate events and meetings market. Using the Unity platform with cloud computing enables them to go big, with a single room able to host up to 500 avatars.
Now that Unity environments can be exported to Flash — which means that users no longer need to download the Unity plugin, since almost everyone already has Flash — interest in this platform is likely to grow.
But, back to Frisby and Sine Wave.
It all started in Second Life 
Sine Wave started out doing motion-capture animations in Second Life, selling mainly to individual consumers.  The company has developed a total of 14,000 virtual products, with an emphasis on dance moves, and has sold several million items.
Meanwhile, Frisby's DeepThink was operating regions in Second Life, working on OpenSim-related consulting projects, and doing other virtual worlds-related development work.
Frisby was also one of the founders of the OpenSim project itself, an open source alternative to Second Life, and of the OSGrid, OpenSim's single largest virtual world and its main testing ground.
Last year, the Sine Wave Company bought DeepThink's assets, and brought Frisby on board to focus on designing custom worlds for corporate and institutional clients.  Many of them are media and advertising companies who want something cool, fresh, and interactive.
"A lot of our virtual worlds have gotten embedded inside web pages," Frisby said. " There are not too many people doing that, so we've got the ability to sort of stream down the entire world, as you go, similar to how a Flash file works, but we give it a little more sophistication."
While most of their work is now done in Unity, Sine Wave still builds customized environments in OpenSim for some corporate clients, and continues to build and release Second-Life-based virtual products for individual consumers.
Sine Wave also offers OpenSim hosting through SimHost, which was also acquired from DeepThink. SimHost offers individual regions on OSGrid and other open grids, standalones and mini-grids, and full private grid hosting and management.
"We're a managed provider," Frisby said.  "But customers still have the flexibility to make their own changes and add new regions to a configuration."
The company has offices in London and Shanghai, and is opening up a new one soon in Los Angeles.
While the Chinese market isn't a big focus for Sine Wave, the Shanghai office allows the company to take advantage of the cheaper rent and labor costs — and also gives the company access to China's talented young programmers.
"We can get a lot of skilled software developers there, more easily than we can elsewhere," Frisby said.
The road ahead
Sine Wave is now working on some projects that will position them at the juncture of the arts and technology, said Frisby, almost all of which are based on the Unity platform.
Resonance Live is a music-based virtual world, with performances from bands all over the globe, which has already had over 500 events with such artists as Rebecca Saforia and Jamie Parnell. Some individual events have had over 300 or 400 attendees.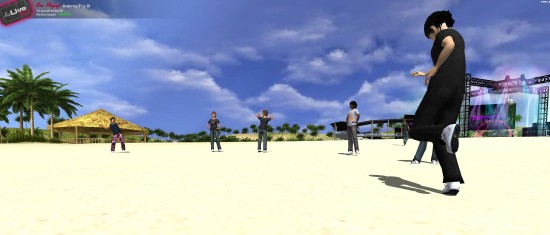 Gallery 1 will be a 3D art gallery and social space for artists, which will contain 500 of the world's most important works of art.
Sine Wave has also recently completed an animated TV series in cooperation with System Ada Animation Studio, called "Legacy of the Gifted."
"We're working like crazy at the moment," said Frisby.
Latest posts by Alexander Gladstone
(see all)