Architect Jon Brouchoud, founder of Arch Virtual, is mostly known for his custom virtual architecture work, but he also sells pre-made regions on his website.
Now, he's found a way to goose the sales of his $60 sims — by offering virtual previews on Kitely.
"I've had prefab OpenSim elements for sale on my portfolio site, and had recently received an order request for one of the sims I don't sell quite as often," Brouchoud told Hypergrid Business. " To be sure I was sending the right one, I loaded it up in Kitely and sent access to the buyer to preview it. "
Kitely is an on-demand OpenSim grid where regions are loaded up only when they're needed. In addition to its low prices — regions start at just 10 cents a month — Kitely is also known for its radically simplified user interface. You can visit Brouchoud's Element 1 prefab here. The first two hours in-world are free each month, after that, Kitely access costs around 20 cents per hour.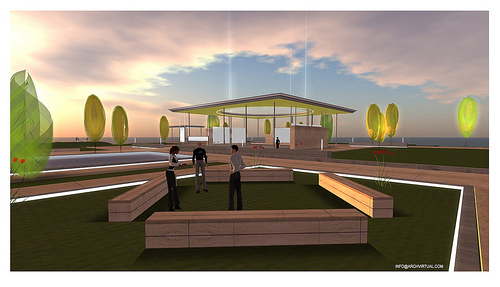 "That's when it dawned on me that Kitely is a perfect tool for selling these prefabs, given the ease of access, flexibility and exposure it gains there," Brouchoud said. "After posting Element 1 there, I received two additional order requests almost immediately. Â I'm now inspired to add a few more sims to the Element series."
Brouchoud isn't the only one distribution OpenSim regions through his website. The best-known designer, Linda Kellie, currently has a dozen regions, in the form of OAR files, available for free.
But while Kellie's regions are designed for social users, with attractive landscapes, buildings, activities, and clothing and other avatar accessories, Brouchoud is targeting the enterprise market, with easily configurable meeting spaces and venues.
"The main idea with the Element series is flexibility," he said. "I built each component around maximum flexibility, so buyers can easily configure the regions to add or subtract modules depending on their needs. Â Element 1, for example, features open-air pavilions with kiosk displays inside. Â Each pavilion can contain a classroom, exhibit space, or meeting hall or contain categories of content on a sim."
But he doesn't ignore the esthetic aspects, either.
"I also love the sky and water in OpenSim, so these builds are designed to really embrace those features as an integral part of the experience," he said.
The license terms for Brouchoud's OAR files are extremely flexible.
"People who buy these prefabs can use them any way they like — on Kitely, in private grids, in closed commercial grids or they can pull them into Second Life if they wish," he said.
Kitely offers one-click OAR uploads, as do some OpenSim hosting providers. Closed commercial grids will usually require customers to file a support ticket if they wish to upload an OAR. Second Life doesn't currently support OAR uploads, but individual objects can be exported via the Imprudence viewer and then imported into Second Life.
"They are also free — and encouraged! — to modify the builds, and take as many backup copies for their own use as they wish," Brouchoud added.
The license does not allow for resale or distribution of the OARs, but the option is available on request.
"I would definitely be open to working with anyone who wants to modify and resell these regions," Brouchoud said. "They are encouraged to contact me directly to negotiate an agreement."
There's also a discount available for the next two weeks, he said.
"As a special offer to Hypergrid Business readers, anyone who buys an Element prefab through March 15 can get a second one for half price," he said. " That's two full regions for $90. Â They just need to tell me they read it here in Hypergrid Business to cash in on this deal."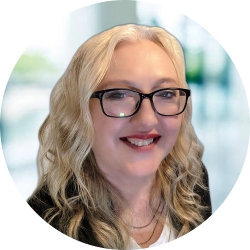 Latest posts by Maria Korolov
(see all)