The premise: There's something addicting about putting together a virtual train set, getting the scenery just right, assembling the train itself. Even better is when you get to share it with people, or see how your set stacks up against others. This creates a business opportunity for a company — either a new startup, or an existing brand name in this field — to create a virtual world for train aficionados.
The business
Customers would rent large swathes of low-prim, no-border-crossings landscapes on which they would lay train tracks, place their trains, and design other landscape elements. Central plazas would showcase stores offering all necessary materials, have a gallery of snapshots showing off the best builds, serve as a starting point for group tours, and be the place where everyone comes for competitions. The grid could be closed, to protect the train designs, or it could be open to the hypergrid, with the key scripting functionality running server-side, in the form of OpenSim modules. Another option is to keep all proprietary materials no-transfer, and filter hypergrid exports so that they cannot be taken off-grid. Hypergrid access would allow users to easily teleport to their personal homes on other grids, saving them the trouble of creating new avatars. It would also allow them to bring in unique objects — plants, windmills, waterfalls — to make their builds stand out. Registration with the US Copyright Office would protect the grid against intellectual property rights infringement lawsuits, while creating a mechanism to take down infringing content if it is brought it by customers. Hypergrid access would also allow the formation of an outside vendor economy, selling add-ons and scenery elements for virtual train enthusiasts, and allow the grid to bring in audiences for its competitions and tours from around the metaverse.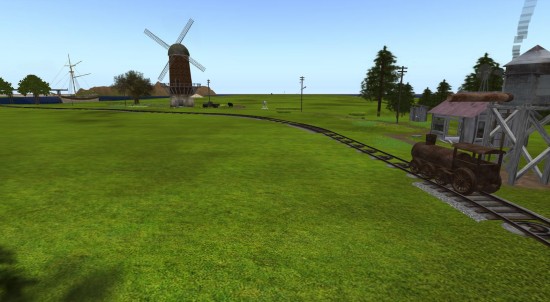 The revenue streams
Customers would pay for land rental, for the trains and other materials they buy on the grid, for non-player characters such as train conductors and ticket takers, and for registration fees for competitions. If events are open to the public, additional revenues could be gained from the sale of souvenirs such as T-shirts or small model train sets that visitors could take home with them. Third party vendors could also pay license fees to sell branded content, or to sell objects designed to work with the grid's proprietary script modules. Land prices could be kept extremely low by only activating a customers' land only when the customer is online, or when a tour group or judging panel is scheduled to visit that particular train build.
Scalability
If the grid gets particularly large, given OpenSim's existing infrastructure, scalability issues will start to arise. If the grid is hypergrid-enabled, however, it can be split up into multiple kingdoms running on the same proprietary modules, and linked by hypergrid teleports. In addition, Intel's recently-contributed Distributed Scene Graph functionality will allow to grid to hold more than 1,000 visitors in a single location, allowing for large gatherings during major competitions.
Competitive advantage
The grid will benefit significantly from first mover advantage, since people who invest in virtual land, train sets, and other equipment would lose a substantial chunk of that investment if they move to another virtual train grid. In addition, the grid would have a technological head start in developing realistic and efficient train movement scripts, and a marketing head start in promoting its brand identity.
Risks
One major risk is that a train building community will arise on its own, sharing open-source or publicly-available commercial train scripts. For example, once Kitely enables megaregions, it could become home to a large virtual train community. Another possibility is that easy-to-set up versions of OpenSim like the New World Studio inspire people to create large virtual train sets that they run on their home computers, and a virtual train community arises on the hypergrid, with people visiting each other's home-based builds. There will still be opportunities for individual merchants to sell train-related merchandise, and for a grid to hold train-related competitions and other events, but the potential scale of the business would be much smaller, and there will be a great deal of competition.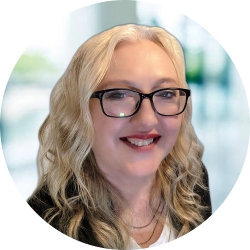 Latest posts by Maria Korolov
(see all)