A major spring cleaning on OSGrid — followed by an outage a couple of weeks later — played havok with the grid's total region counts over the past four weeks.
About three weeks ago, the grid dropped from more than 11,000 regions to just around 6,000 regions as a result of a long-overdue housekeeping. It regained almost 3,000 of those regions, getting to over 8,000 regions last week as people reconnected their sims. Then a database problem last week took the grid offline on Friday, and region counts dropped to the 6,000-range again. Today, OSGrid has a total of 7,580 connected regions.
OSGrid allows people to connect home-based regions, many of which are not up all the time. When the regions are offline, the grid continues to keep these regions on the map, so that other users don't come in and take their spots. These reservations are typically cleared if a region is offline for a certain amount of time — though the region itself is not deleted, and remains on the owner's home computer until its reconnected again.
OSGrid hasn't been conducting regular cleanings, however, and a lot of dead regions have accumulated on the map.
After each such major cleanup, many region owners realize that they have lost their map positions and connect their regions back to the grid, causing region counts to rise quickly immediately after a big purge.
Meanwhile, mostly as a results of OSGrid's cleaning, the total number of regions on OpenSim's top 40 public grids is now at 18,926, down by 4,305 regions from last month's peak of 23,231.
Active user numbers continued to rise, however. There are now a total of 16,289 active users on the top 40 public grids, up from 15,504 last month.
InWorldz most popular
InWorldz remained OpenSim's most popular public grid, with 5,596 active users, a gain of 539 actives. OSGrid was in second place with 3,873 active users, gained 355, and Avination was in third with 2,939 active users, having lost 114 since the month before.
Island Oasis climbed to fourth place this month, with 417 active users, a gain of 128 users since this time last month. ReactionGrid was in fourth place, with 387 active users — a gain of 52. Kitely gained 127 new active users, for a new total of 327 active users, putting it in fifth place.
Kitely was also the single biggest gainer of regions this month, growing by 186 regions to a new total of 1,636, making it the largest commercial grid by land area.
Kitely differs from other commercial grids, however, in that it charges not by region but by use time.
For example, for $50 a month — a little less than what a commercial grid typically charges for a region — Kitely users get 30 regions, each with a maximum capacity of 100,000 prims and 100 avatars, plus up to 250 hours of use time a month, 50 of which can be shared with visitors. Kitely also has a free plan, which comes with one free region and two hours of use a month. As a result, Kitely users will, on average, spend less time in-world, but own more regions, than users of other commercial grids.
InWorldz was the second-largest commercial grid, with 897 regions, a slight drop of five regions since last month. The German-language The Other Universe was third with 715 regions, and Avination was in fourth place with 554 regions, a drop of 33 regions since last month.
InWorldz continues to pull away from Avination in both active users — which, in turn, helps bring in new members looking for busy communities — and in land, where the grids make their money.
Grid updates
Several new grids have been added to our database this month, including Singularity, Carohome5, EUITOP, Danni Land, Faaborgs, Uniminuto, Laeifgareth, Troppo Club, Night4 Life, Our Own Designs, B2World, Quest University Grid, Metaverse Concept, Miki Kiti Tiki, Pleasant Retreat, Shinland, Yeah Right, My3dLife, A Virtual World, UoBGrid, Worlds End, AviWereld, Carpathes-Grid, GstarCAD, Cyber Wrld, and bitzend.
For the most part, these are small grids run by companies, schools, and individuals. Most of them are accessible to the public, however, via hypergrid teleport.
We're noticing that many of the grids start out by loading some — or all — of Linda Kellie's excellent free OARs. Not that there's anything wrong with that! I'm sure, over time, the grids will begin to differentiate themselves and develop their own identities, and starting with her OARs is a big improvement over starting with empty land.
We took AlphaTowne off the list this month, and its 344 regions and 213 active users, because we haven't been able to access the grid to login directly, or via hypergrid teleport, and its Facebook group hasn't been updated in over a year. The website continues to report changing statistics — the "Login last 30 days" number is different this month than last month, but I suspect that these are not actually valid numbers.
We also stopped tracking Your Alternate Life's active user counts, which were unusually high compared to their registered users. It turns out that the hosting company's statistics counted active users not only on that grid but on the other — private — grids that the company managed.
Elsewhere in the metaverse
If there's a public grid we're not tracking, please email us at editor@hypergridbusiness.com. There's no centralized way to find OpenSim grids, so if you don't tell us about it, and Google doesn't alert us, we won't know about it.
However, there are statistics for one popular version of OpenSim, the Diva Distro, a four-region, hypergrid-enabled, pre-configured minigrid.
The Diva Distro has been downloaded 1,119 times over the past month, a record high. The total number of Diva Distro downloads now stands at 112,298. This does not mean that there are twelve thousand mini-grids out there, however — someone might download the software but never use it, or download it once and use it to set up many grids. And it doesn't include the Diva Distros used as part of the popular, and super-easy, New World Studio distribution of OpenSim.
Diva Distro is also part of Sim-on-a-Stick, a version of OpenSim packaged to run on a USB stick. According to Sim-on-a-Stick creator Ener Hax, the USB-friendly OpenSim package has been downloaded 929 times over the past month, bringing the total of these downloads to more than 8,100.
Meanwhile, according to data from The Hypergates, the number of hypergrid travelers increased by 98 travelers, to 4,116, compared to the previous month, another record high. The total jumps made has decreased however, by 1,231, to just 2,038 jumps made since mid February, possibly as a result of database issues on the network. There are a total of 36 grids currently on the network, a drop from last month's 45.
Not all hypergates are part of The Hypergates network — anyone can create their own hypergrid by dropping a script on any object, such as our touch or walk-through single-destination hypergate script. In addition, many people do hypergrid jumps without using any gate at all, simply by typing a hypergrid address into Map-Search. There is currently no way of tracking that traffic.
Our own Hyperica directory now tracks 73 grids that are accessible via hypergrid.
Meanwhile, Second Life lost 351 regions this past month, according to data from Grid Survey. Second Life now has a total of 30,150  regions, a decline of 1,735  regions from this time last year. The last time Second Life had so few regions was in January of 2010.
March Region Counts on the Top 40 Grids
We are now tracking a total of 258 different publicly-accessible grids, 143 of which were active this month. SpotOn3D and OpenLifeGrid did not release their numbers this month.
The raw data for this month's report is here.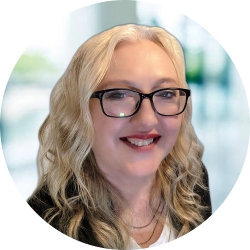 Latest posts by Maria Korolov
(see all)