Companies interested in the cost-savings and productivity benefits of immersive virtual environments but put off by the cartoony avatars may soon have another option, according to LA-based Integrated Virtual Networks.
IVN's patented "Silhouette" technology uses standard cameras to capture the user's image, isolates it from the background, and converts it into a live, 3D avatar.
Company spokesman Craig McAllister told Hypergrid Business that the company has been in quiet development mode for the past three years, but is now ready to go public, and is now looking for investors and business partners.
Rollout plans
The platform will go live before the end of the year, McAllister said. "But it could be sooner."
The Silhouette avatars are currently only available for use with the company's own Nexos virtual environment — a pre-built, 3D business park.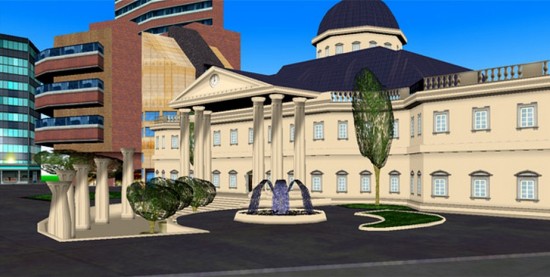 The company is open to licensing the Silhoutte technology to other virtual environment vendors — enterprise-focused firms like Protosphere, or gaming or virtual education companies. Integration with open source environments like OpenSim and Open Wonderland is possible as well.
"It's all doable," he said. "We can pretty much do whatever the market dictates."
Pricing is still to be determined.
Image quality
In the demo video, movements, gestures and facial expressions are rendered quickly — but there is sometimes a white edge around the avatars.
This will be cleaned up before the final release, McAllister said.
"But for the video, we wanted to make sure that the line was visible," he said. "We wanted it to be very clear that this is being done in-world. This is not a produced thing."
He added that the image capture technology works with standard technology — a high speed Web camera and broadband connection, and a video card with 3D graphics acceleration.
McAllister said that he's sat in on meetings with half-dozen simultaneous attendees, but couldn't say what the maximum capacity of the platform was, though this information will be available later as well.
Two types of avatars are available on the platform — a full-body avatar, which can be either sitting or standing, and a head-only avatar which can be combined with a computer-generated body.
Unlike traditional video conferencing, this technology creates the feeling of sharing a common space with the other attendees, and also creates the illusion of eye contact.
And, unlike cartoon-style avatars, facial expressions and gestures are accurately transmitted in real time, which can be important not only in business meetings but other contexts as well, such as virtual therapy and counseling sessions, poker games, and virtual education.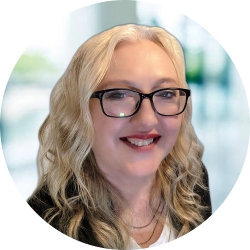 Latest posts by Maria Korolov
(see all)