The number of small OpenSim grids continued to climb this month, as companies, schools and individuals continued to strike out on their own. We're tracking 285 grids, of which 169 are currently active — an increase of 26 grids from last month's 143 active grids.
Meanwhile, the top 40 public OpenSim grids now have a total of 20,159 regions, a gain of 1,233 regions over last month's 18,926. Last month saw a major housekeeping at OSGrid, the largest OpenSim grid, which resulted in more than 4,000 regions losing their map reservations because their owners hadn't connected their regions in a while. Now some of these regions are starting to come back.
The three biggest region gainers this month were OSGrid, which gained 1,149 regions for a new total of 8,749 regions; Kitely with 98 new regions for a new total of 1,734 regions, and InWorldz, which gained 28 regions for a new total of 925 regions.
Another 13 grids gained 15 regions or less, and the rest showed either no growth or lost regions.
Popularity contest
InWorldz continued to hold onto its position as the most popular grid, with 5,572 active users last month. OSGrid was second, with 3,961 active users, and Avination continued to drop, with a third place standing of 2,600 active users.
InWorldz and Avination are both closed, commercial grids competing for roughly the same types of customers — people looking for a commercial grid with no hypergrid access and strong content protection. They have roughly similar land prices and terms of service and both appeal to merchants and users looking to branch out from Second Life for the first time.
Avination gained a lot of ground early last year as a result of a major marketing campaign and active in-world casinos, but has since then been hemorrhaging both users and regions. There's even a section on the Avination forum titled "Not Leaving" — but, as of this writing, it hasn't been added to since last October.
The showdown between InWorldz and Avination is interesting because it illustrates the question of whether multiple closed commercial grids can co-exist without a narrow, special-interest focus like a niche social group or a proprietary role playing game. Since closed grids are not hypergrid-enabled, users cannot send instant messages from one grid to another, travel to visit friends on another grid, or pass content back and forth. Instead, if a user wants to belong to both grids, they have to outfit and maintain two avatars, two sets of friends. Newcomers looking to join just one grid will tend to pick the bigger, busier one, or the one where their friends are – which also is more likely to be the busier grid. Thus, over time, one general-purpose social grid may tend to gain users at the expense of its competitors.
Here are the ten most popular grids this month:
InWorldz: 5,772 active users
OSGrid: 3,981
Avination: 2,600
Island Oasis: 428
3rd Rock Grid: 418
ReactionGrid: 413
Kitely: 348
GermanGrid: 258
Speculoos: 218
The Other Universe: 199
Kitely adds features, users
The on-demand Kitely grid continued to roll out new features while adding new users and new regions this month. Following on last month's rollout of Twitter and email login methods, Kitely added in-world teleports and support for multiple viewers over the past four weeks.
Kitely is unique among the commercial grids not only for its on-demand pricing — and a whole region at the basic free level — but it's ease of use and its combination of content security and one-click backups. Kitely uses content filtering to allow only copiable and transferable items to be saved into OAR files, and plans to expand the same filtering to hypergrid teleports.
As a result, Kitely has proven to be attractive to content creators looking for easy-to-use access controls, and large amounts of inexpensive land, as well as for groups who only need to be in-world for occasional meetings.
For example, the Coalition of Photographic Arts just began building a virtual gallery that will present the works of 112 photographers, most of which have never used virtual worlds before, according to Kitely CEO Ilan Tochner.
"Another big project currently using Kitely is the Virtual Titanic world by Virtualbelfast," he said. "The world was created for the 100-year anniversary of the construction of the Titanic and was featured on the Designing Worlds show and in a local newspaper in Belfast, Ireland."
Several education-related groups have also started evaluating Kitely for their respective projects, including the Applied Research in Virtual Environments for Learning group.
Next, Kitely plans to upgrade to the latest version of OpenSim, which will allow the use of NPC commands and many other OpenSim-specific functions. After that, the grid plans to add in-world group support and megaregions.
Mini-grid sprawl
Easy-to-use versions of OpenSim like New World Studio allow anyone to set up a mini-grid on a home computer or a company or school server, no technical skill required. In  addition, improved hypergrid security, hypergrid friends and instant messaging functionality, hypergrid landmarks, and increased interest in hypergrid directories — in addition to Hyperica, The Hypergates, and Metaverse Ink we now also have Hypergrid Directory, and a new search project by Speculoos.
As a result, owners of hypergrid-enabled mini-grids can easily be part of a bigger community, able to communicate easily with friends on other grids and visit them by stepping through a hypergate — several free versions of which are available at the Hyperica hyperport.
Schools and companies who don't want outside travelers dropping in, of course, will turn hypergrid off.
And OpenSim hosting vendors are continuing to gain expertise and customers, as with the recent deployment by a Georgia school district. That school district has decided on a have-its-cake and eat it too approach to the hypergrid, allowing teachers to travel to other grids, while restricting students to the home world. In addition, foreign visitors can be excluded from any region. This technology has been added to OpenSim  by their hosting provider, Dreamland Metaverse, and is now available to all grid owners.
So it's no surprise that the number of grids is going up. This month, we've added 26 new grids to our database.
If there's a public grid we're not tracking, please email us at [email protected]. There's no centralized way to find OpenSim grids, so if you don't tell us about it, and Google doesn't alert us, we won't know about it.
However, there are statistics for one popular version of OpenSim, the Diva Distro, a four-region, hypergrid-enabled, pre-configured minigrid.
The Diva Distro has been downloaded 817 times over the past month. The total number of Diva Distro downloads now stands at 13,115. This does not mean that there are thirteen thousand mini-grids out there, however — someone might download the software but never use it, or download it once and use it to set up many grids. And it doesn't include the Diva Distros used as part of the popular, and super-easy, New World Studio distribution of OpenSim.
Diva Distro is also part of Sim-on-a-Stick, a version of OpenSim packaged to run on a USB stick. According to Sim-on-a-Stick creator Ener Hax, the USB-friendly OpenSim package has been downloaded 843 times over the past month, bringing the total of these downloads to 10,475.
Meanwhile, according to data from The Hypergates, the number of hypergrid travelers increased by 160 travelers, to 4,276, compared to the previous month, another record high. The Hypergates maintains the list of travelers, and if the gates to a particular grid is taken down, the users from that grid are removed from the totals. The total jumps increased to 3,277, and there were a total of 39 grids on the network, a small increase from last month's 36.
Not all hypergates are part of The Hypergates network — anyone can create their own hypergrid by dropping a script on any object, such as our touch or walk-through single-destination hypergate script. In addition, many people do hypergrid jumps without using any gate at all, simply by typing a hypergrid address into Map-Search. There is currently no way of tracking that traffic.
Our own Hyperica directory now tracks 80 grids that are accessible via hypergrid.
Meanwhile, Second Life lost 143 regions this past month, according to data from Grid Survey. Second Life now has a total of 30,007  regions, a decline of 1,419 regions from this time last year. The last time Second Life had this number of regions was in January of 2010.
April Region Counts on the Top 40 Grids
We are now tracking a total of 258 different publicly-accessible grids, 169 of which were active this month, and 143 of which published their statistics. Many smaller school, company or individual grids do not publish their numbers, and neither do SpotOn3D and OpenLifeGrid.
The raw data for this month's report is here.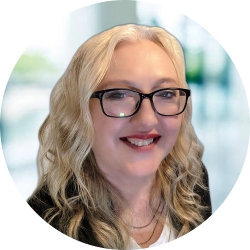 Latest posts by Maria Korolov
(see all)