For the past two and half years at my real job as the head of learning and collaboration, we've been early adopters of a virtual world product called AvayaLive Engage, developed by a company named Avaya.
It was formerly known as Web.Alive, and although I'm not a fan of the name change, that's about the only negative comment I have with the product.
If you're unfamiliar with virtual worlds, you are missing a very important aspect of workplace collaboration.
At its core, virtual worlds are online 3-D computer-simulated environments in which users are depicted by avatars and interaction between them can mimic either a given real-life scenario or in some cases a fictitious and alternative world scenario.
I won't delve into the latter and will leave that to those who specialize in such creativity.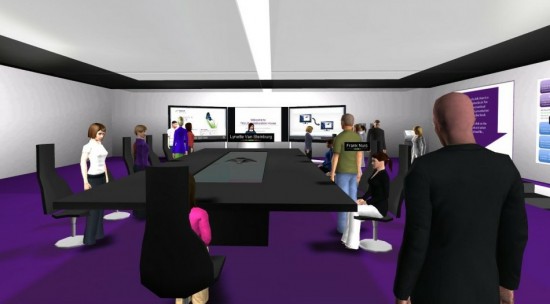 In a non-fiction, business environment, virtual worlds can be an extremely effective piece of the collaboration puzzle. Here are five examples:
Coaching and mentoring, one-on-one meetings
If your organization is struck by travel budget reductions, and you want to continue your coaching and mentoring programs, why not shift it to a virtual world environment? Using a conference call to coach or mentor someone when not in the same city is fine, but a more engaging experience is to utilize a virtual world and conduct the session in a room that simulates a face-to-face experience.
The same goes for one-to-one meetings; the virtual world is a perfect place to mimic the face-to-face experience if the two individuals are separated by distance of any sort.
Fireside chats
If you believe in breaking the hierarchy between senior management and front-line employees or individual contributors, why not initiate the concept of informal, fireside chats? No script, no notes, just an informal conversation. Better yet, to help others in geographies where they can't meet in person, why not conduct those sessions in your virtual world? It's cool, interactive and your employees will love the opportunity to mingle in such a funky way.
Induction
Are you still bringing new employees into your organization with a two- or three-day face-to-face orientation session? That's not a bad thing, but what if you did away with such a concept or at least augmented it with the virtual world? Imagine lining up a series of speakers from across your organization, who arrived in the virtual world environment to wax lyrical about his or her role, business unit or history at the company. Wouldn't that be sweet? The mingling thereafter could be powerful as well.
Customers
Without customers there really isn't a company, so why not utilize the virtual world as a way to engage with your customers directly? You could conduct focus groups, instructor-led learning sessions, widget/gadget/service demonstrations, or through the use of contests a way to recognize customers or at least appreciate their business. All from the comfort of their home.
Learning roadshows
What if you utilized the virtual world environment to drive an interactive learning roadshow across your organization? Through the use of normal teaching tools, such as polling, voting, PowerPoint (yes, I know), whiteboards, as well as webcams, videos and inline chatting, the learning roadshow could be a hit with employees. It's social, informal and extremely engaging.
I've been very impressed with the AvayaLive Engage product thus far. (And no, Avaya did not compensate me to write this.)
It has become an integral part to the overall suite of tools and behaviors I believe are necessary to drive engagement, productivity and business results in your workforce.
(Article reprinted with permission from the Brave New Org blog.)
Latest posts by Dan Pontefract
(see all)