The top 40 OpenSim grids put an end to a two-month slide in region counts, gaining 28 regions. There are now 20,826 regions on the top 40 OpenSim grids.
During the previous two months, there were a couple of major cleanups on OSgrid, the largest OpenSim grid, as well as the suspension of a couple of major social grids.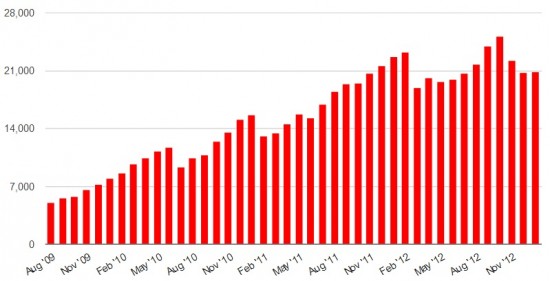 New leadership at OSgrid
James Stallings, co-founder of OpenSim hosting company SimHost and a contributor to the OpenSim code base, has taken over the leadership duties of OSgrid, he announced at a grid town hall meeting earlier this month. He is also known as Hiro Protagonist in-world.
Neither Stallings nor outgoing president Michael Cerquoni – also known as Nebadon Izumi in-world — responded to requests for comment.
"Neb's real life has changed for him such that he no longer has the time and resources to apply himself in the dedicated way that he has in the past," Stallings explained at the town hall event. "He'll still be Nebbin' around, don't worry– he just wont be riding the consoles."
According to Stallings, the University of California at Irvine decided to stop donating free server space to OSgrid in December, and Cerquoni was considering shutting down the grid entirely.
Stallings said he got low-cost replacement servers, consolidated the grid's plaza regions, and the grid stayed up.
"Neb was relieved when I stepped forward and has been instrumental in helping me accomplish everything I just mentioned without some of you even noticing that it happened," he told the town hall attendees.
OSgrid still needs to take care of some administrative issues, he added, including deciding whether to be a non-profit or set up as a business, and to get all the financial accounts transferred over from Charles Crinke, who was once closely involved with the grid but is no longer active.
Regardless of what happens, Stalling said, he has no intention of charging anyone to use the grid.
AnSky grid closes
The Christian-themed AnSky grid shut down this month.
"The behind-the-scenes problems have proved to be more than we expected, and we were left with no other option than to withdraw the grid from the Internet until such time as we can find a suitable server," said founder Andrew Simpson in an announcement. "All of our data is safe…Â If we are meant to serve this niche market of Christians looking for a safe, friendly grid to settle and explore, then the Lord will show us the way to proceed. If this is not the path that the Lord has laid down for us, then we will accept and move on, concentrating our efforts on the Second Life club on the Eternal Life sim."
InWorldz rolls out new physics engine
InWorldz has rolled out its custom-designed PhysX physics engine this month.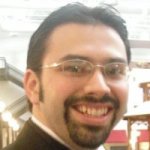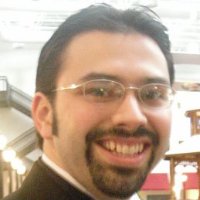 "We're satisfied the release is production ready," InWorldz partner and CEO David Daeschler said in an announcement last week. Daeschler is also also known as Tranquillity Dexler in-world.
"Having roamed the grid a bit I've seen some cars and trucks driving around and people experimenting and playing with physical objects," he told Hypergrid Business.
He added that the grid has been seeing old residents return to the grid who haven't been around in a while. "It's good to see some old faces having fun."
The default physics engine that comes with OpenSim, ODE, has limitations, especially when it comes to vehicle simulations.
Other grids either rely on the default engine, or are waiting for Intel to finish work on the Bullet physics engine, which also promises to address vehicle issues. To compensate for the lack of vehicle physics, user either write scripts to make up for the deficiencies, or turn to wearable vehicles. (Read more about OpenSim vehicles here.) Another issue with current physics implementations is problems with region crossings, which some users address by using border-less megaregions.
Kitely launches new user forums, readying marketplace
Kitely, the on-demand, cloud-based grid launched its official user forums this month, and has seen an increase in user engagement as a result, said Kitely CEO Ilan Tochner.
Kitely has also been working on a new online marketplace.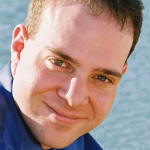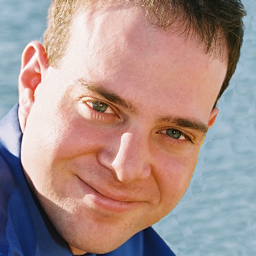 "We finished the design phase and we'll be starting to implement it in a few days," Tochner told Hypergrid Business. "I highly encourage would-be merchants to start transferring their content into Kitely. The merchant control panel will be ready in about a month and a half and there will be an incentive for people who set up their stores before our marketplace opens for business."
Kitely's marketplace will be something of a cross between the Second Life marketplace and Amazon, he said. In addition, merchants using the marketplace to sell their content will be able to change a new, fourth kind of permission setting — export. By specifically enabling or disabling the export permission, Kitely merchants will be able to easily indicate whether their content is allowed the leave the Kitely grid.
Without this setting in place, Kitely defaults to its previous mechanism for determining whether an item can be exported, relying on the other permission settings and creator status. Export permissions come into play when a region is saved as an OAR file, and will also be important when Kitely enables hypergrid connectivity.
"We plan to add hypergrid access after we finish working on the marketplace," Tochner said.
Once hypergrid access is in place, merchants will be able to use the Kitely marketplace to sell their content to any hypergrid-enabled grid, if they so wish, he said.
"It [hypergrid delivery] probably won't be implemented when we open the marketplace as we want to do that as soon as possible, but it will be implemented not too long afterwards," Tochner added.
Growing grids
Kitely, a commercial, cloud-based grid, was the biggest gainer this month, with 103 new regions bringing it to a new high of 2,995 regions. Grid Nirvana was in second place with 95 new regions, for a new total of 263 regions. Metropolis grew by 70 regions, for a new high of 1,070. AviWorlds gained 46 regions, for a new high of 119.
OSgrid was the biggest loser, with 324 fewer regions this month than last month, for a total region count of 6,969.
This month's popularity numbers
For company and school grids, popularity is not an issue — the grids are set up for a specific purpose, and if they meet that purpose, then they are successful. The same is true for grids run by niche communities.
But when it comes to social grids, the rule is: the bigger and busier, the better. People looking to make new friends will go to the grids that already have the most users. Merchants looking to sell content will go to the grids with the most potential customers. Event organizers looking for the biggest audience… you get the idea.
With that in mind, here is our listing for the 10 most popular grids this month.
Top ten most popular grids:
Many of the top grids lost active users this month, possibly as a result of the holiday season. Island Oasis lost 263 active users and fell a spot in the rankings. Craft World lost 180 active users. AviWorlds lost 167 active users. 3rd Rock Grid lost 122 active users. Avination lost 105 active users.
OSgrid gained 46 active users, and InWorldz gained 35. Kitely gained just four active users, but, as a result of losses on other grids, was able to make it back into the top-10 most active list.
InWorldz and Avination are the two most popular social commercial grids and compete directly for residents and merchants, and both lost a few regions this month.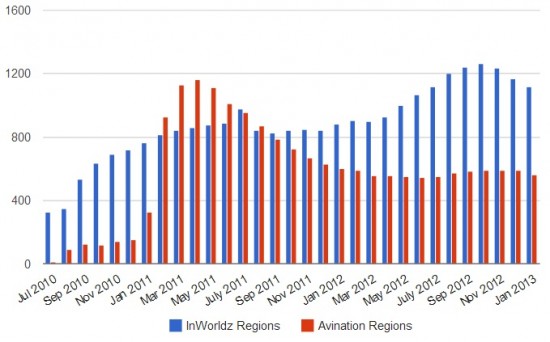 Transitions
The following grids seemed to suspended this month:  Adrianopolis,  Altera Vita, Avatar Connection,  Canaria, Carpathes-Grid, Fokides, GorGrid,  Hypergrid.dk, Marble Isle, Misfits Folly, Nicole's Place, SimValley, Startup World, Stone Grid, Swondo World, The Display Village, Uniminuto,  ValinorGrid, vCaltech, Virtual History, Virtual3D Grid, and You3D.
Several other grids that were marked as suspended last month haven't come back up since, and we have marked them as closed.
Meanwhile, we've added several new grids to our database, including makland, HRD, PoorCoding, Four Ages, METU OpenSim, DODs World, Farworldzgrid, NeverLand, SirvacEvia, araland, Vedania, Gekhu, RealWorld, VIBE: Global Health, Serenity, ADT World, Paradis Land, Superborea, VIBE: Tooth Fairy, Virtual Reality, Fearless Mysteries, Scare Virtual Training Center, and Campus-i, among others.
If there's a public grid we're not tracking, please email us at editor@hypergridbusiness.com. There's no centralized way to find OpenSim grids, so if you don't tell us about it, and Google doesn't alert us, we won't know about it.
The official OpenSim website – OpenSimulator.org – began tracking download numbers for the software last month, and this month's total is 1,472 downloads for three different versions of the packaged OpenSim software.
The Diva Distro, a more user-friendly version of OpenSim, has been downloaded 465 times over the past month. The total number of Diva Distro downloads now stands at 18,736. This does not mean that there are eighteen thousand mini-grids out there, however — someone might download the software but never use it, or download it once and use it to set up many grids. And it doesn't include the Diva Distros used as part of the New World Studio distribution of OpenSim.
Diva Distro is also part of Sim-on-a-Stick, a version of OpenSim packaged to run on a USB stick, which was downloaded 401 times since last month, for a new total of 16,847  downloads.
Meanwhile, according to data from The Hypergates, the number of hypergate jumps on their network fell by 532, to 1,793. The system now has 669 registered hypergates, up by 4 from last month, on 65 different grids.
This data is very limited, however. For example, not all hypergates are part of The Hypergates network — anyone can create their own hypergate by dropping a script on any object, such as our touch or walk-through single-destination hypergate script. In addition, many people do hypergrid jumps without using any gate at all, simply by typing a hypergrid address into Map-Search, or by using a hypergrid landmark created during a previous jump. There is currently no way of tracking that traffic.
Our own Hyperica directory now tracks 107 grids that are accessible via hypergrid. (We're running behind on adding grids to the directory.) This past month also saw 83 unique visitors to the Hyperica in-world hypergate terminals, up from 62 the previous month.
Meanwhile, Second Life continued to lose land according to data from GridSurvey, with 254 fewer regions today than the same time last month. The Second Life grid now has 27,949  regions, down 2,914 regions from this time last year, and 3,936 fewer regions than its peak in June of 2010. According to GridSurvey, the last time the grid was this small was in June of 2009.
December Region Counts on the Top 40 Grids
We are now tracking a total of 520 different publicly-accessible grids, 249 of which were active this month, and 223 of which published their statistics. There were a total of 23,147  regions, 289,489 registered users, and 27,890 active users on those grids.
Many school, company or personal grids do not publish their numbers.
The raw data for this month's report is here. A list of all active grids is here.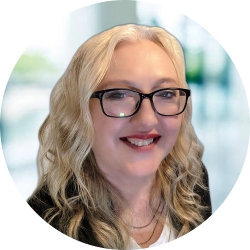 Latest posts by Maria Korolov
(see all)