The top 40 OpenSim grids gained 1,756 regions this month, the largest one-month increase since last September. It was also the second-largest increase overall, since we started keeping track in August 2008.
There are now 22,582Â regions on the top 40 OpenSim grids, 269,310Â registered users, and 17,602Â active users. The number of active users was up by 1,398 from this time last month, the largest single-month increase on record.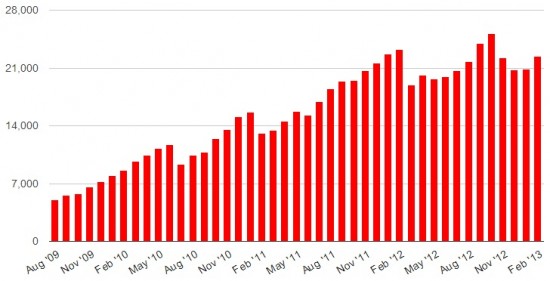 A total of 213 grids reported some statistics this month, but most had few regions. In fact, the total number of regions on all 212 grids was 24,678Â — leaving just around 2,000 regions distributed on the 172 smaller grids.
Popularity rankings
For company and school grids, popularity is not an issue — the grids are set up for a specific purpose, and if they meet that purpose, then they are successful. The same is true for grids run by niche communities.
But when it comes to social grids, the rule is: the bigger and busier, the better. People looking to make new friends look for grids that already have the most users. Merchants looking to sell content will go to the grids with the most potential customers. Event organizers looking for the biggest audience… you get the idea.
With that in mind, here is our listing for the 10 most popular grids this month.
Top 40 grids sorted by activity:
The biggest gainer was Metropolis, which moved from seventh to sixth place as a result of a gain of more than 400 new active users. Kitely gained almost 100 new active users. InWorldz and OSGrid strengthened their leading positions with gains of around 300 and 200 new users, respectively.
AviWorlds was the only grid that made our most popular list without being a top-40 grid by land area. At 55 regions, it just missed making it onto the biggest grids list.
The two most popular commercial grids, InWorldz and Avination, are the two biggest direct competitors on the list. Both have similar region costs, both have been working on physics improvements, both protect on-grid content by prohibiting hypergrid teleports and restricting exports, and both are general-use social grids.
However, when one grid pulls away from another, it can be difficult for the other to catch up since popularity feeds on itself, especially without a clearly defined niche.
InWorldz has been pulling away from Avination recently in active users.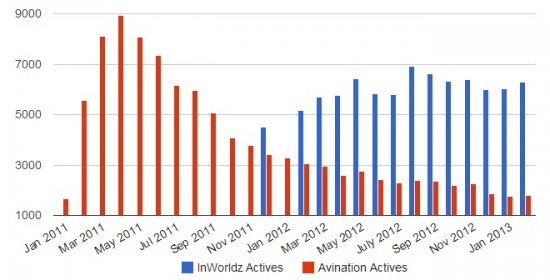 And this seems to be reflected in region rentals, which are the primary income streams for both grids.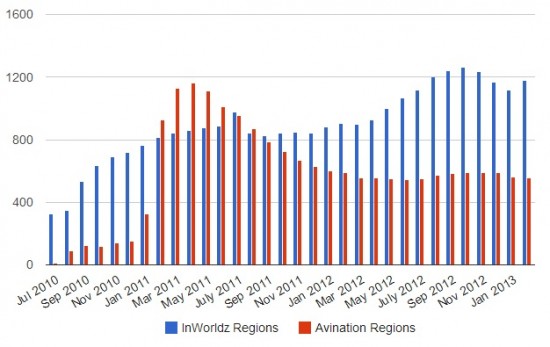 OSGrid posts gains despite controversy
OSGrid continued to face criticism about recent management decisions, including child avatars not being allowed in grid-owned plaza regions, and the end of the regular weekly town hall meetings. Some residents claim to have been banned from the grid, or from its forums, while others announced they were taking their regions away from OSGrid or demanding a refund of their PayPal donations.
OSgrid is an open grid, allowing users to connect home-based regions, or regions hosted by third-party vendors. One of the points of contention is that the new president of OSgrid, James Stallings, works for a commercial hosting company, SimHost, and some users worried that this would give SimHost an unfair advantage. However, no other hosting companies have reported any problems with the new management, and Stallings has stated that the grid will continue to be free for users to connect to.
Despite the controversy, OSGrid gained 785 new regions since this time last month, 1,022 new registered users, and 194 new active users. This could be a sign that most users welcome the new management, expect greater stability and a more sound financial and legal footing, or have simply been ignoring the dust-up.
Metropolis posts record gains
The German-language Metropolis grid got caught up in the controversy as well, since the grid was home to some of the banned avatars, who traveled to OSgrid via hypergrid teleport. OSgrid temporarily disabled hypergrid connectivity to that grid as a result. The resulting attention may have worked out in Metropolis' favor, however, since it gained 536 regions, 422 registered users, and 448 active users this month for new record highs in each statistic.
The growth was significantly larger than any previous month on record, as well. For example, the largest previous single month gain in regions was 76 regions last September. The single largest gain in active users was 167 active users last August.
Metropolis, like OSgrid, is an open grid. Users can connect their regions, or take a region that was previously connected to, say, OSgrid, and move it over. Instructions for connecting to the grid are here. Users can also rent land from the grid, or from third-party hosting providers like Dreamland Metaverse. The grid also offers free 4,096-square meter parcels.
Check your backups. Seriously, check your backups right now.
What Virtual World closed down this month as a result of a combination of hardware, database and backup problems. They had 98 regions last month, and 172 registered users. As a result of the technical problems, most of the grid's data was lost or corrupted.
"As [of] now we just have a third of the database. Most assets [dated] after November 19, 2012 are lost or partially available," said owner Guy Quicksand in an announcement on the grid's Website. Keeping the grid open wasn't an option, he said. "We will lose all residents, lose trust… So I decided to close the doors… I am sorry for all that happened, and hope eventually you can forgive me for closing the doors at What."
The grid will stay up until next weekend, he said, so that users can "gather what can be saved." After that, both the grid and the website will be completely shut down.
If you are the owner of a commercial grid, this should be a reminder to ensure that you have off-site backups of all grid database and, more than that, that you do regular testing to make sure that the backups can be recovered without problems.
Toyota sponsors road safety grid in Thailand
On a brighter note, building continues on the Toyota Road Safety grid, based in Thailand. This is an educational project titled White Road Community, sponsored by Toyota and involving faculty from Thailand's Chulalongkorn University. You can find its Facebook page here.
The grid is hypergrid-accessible, but currently under construction. I look forward to seeing what it develops into. Â I've seen grids sponsored by technology companies like Intel or IBM, or by small virtual world consulting firms, like Virtual Event Planners International, and many grids run by schools and non-profits. But this is the first OpenSim grid I've seen backed by a major, non-tech corporation that is open to the public.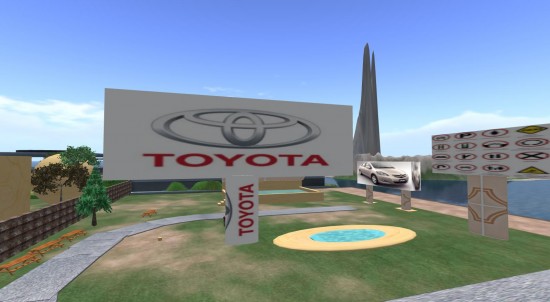 Kitely's planned marketplace attracts merchants, users
Kitely reported another month of growth, which, according to CEO Ilan Tochner, is due to the ongoing development of the Kitely marketplace.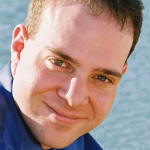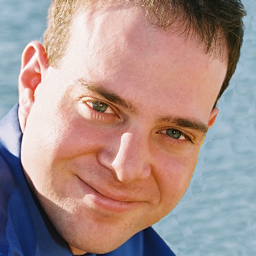 "Merchants from Second Life and other OpenSim-based grids [are] starting to upload their content into Kitely in preparation for the opening of the Kitely Market," he told Hypergrid Business. "We're seeing some merchants that have previously only sold their content in Second Life take an interest in Kitely and we look forward to seeing their content being made available to Kitely users."
Kitely stands out among the other OpenSim grids because of its unique hosting, pricing, and content management models.
All regions are hosted in the Amazon cloud, and can hold up to 100,000 prims and up to 100 simultaneous avatars, and can be grouped together into megaregions, or, as Kitely calls it, "Worlds" of four, nine, or sixteen regions each. These regions are only up and running when someone visits them, and go to sleep when their empty. This on-demand model allows Kitely to charge dramatically lower rates than other providers.
Kitely also offers a choice of standard monthly flat-rate billing, or billing based on time spent in-world.
Finally, Kitely allows content to be exported if and only if the creators allow. The new marketplace, for example, will allow merchants to specify whether the content must stay on Kitely, or can be exported to other grids — via the full-region OAR exports, or via the soon-to-be-rolled-out IAR inventory exports and hypergrid teleports.
The code for filtering out protected content from OAR exports has already been donated to the OpenSim community, and it's likely that IAR filtering code will be donated, as well. The hypergrid filters may or may not be donating, depending on whether they're part of the OpenSim basic code, or part of Kitely's proprietary grid management infrastructure.
Transitions
More than 90 grids seemed to be suspended this month, so we're not going to list them all here. Most of them are either would-be commercial grids that are in the pre-launch stages, school grids that are currently not in use, or personal grids that have been down each time we checked. If they stay down we will mark them as closed.
Meanwhile, we've added several new grids to our database, including AuroraScape, Atcradar, Tamerlane Grid, V Life Online, Flownet Village, ISV Fairfield, Novus, KTU Uzem, Swiss Grid, Housecity, Ingen Lab, NuevoBlueMoon, Fantasy-Estates, Sundbyberg, Han Held Home, and the unfortunately named Secondlife World, which is probably about to get a letter from Linden lawyers any time now.
If there's a public grid we're not tracking, please email us at editor@hypergridbusiness.com. There's no centralized way to find OpenSim grids, so if you don't tell us about it, and Google doesn't alert us, we won't know about it.
The official OpenSim website – OpenSimulator.org – began tracking download numbers for the software last month, and this month's total is 4,223  downloads for four different versions of the packaged OpenSim software, up significantly from 1,472 downloads last month. Part  of the increase was due to the release of a new version of OpenSim, 0.7.5.
The Diva Distro, a more user-friendly version of OpenSim, has been downloaded 543 times over the past month. The total number of Diva Distro downloads now stands at 19,279. This does not mean that there are nineteen thousand mini-grids out there, however — someone might download the software but never use it, or download it once and use it to set up many grids. And it doesn't include the Diva Distros used as part of the New World Studio distribution of OpenSim.
Diva Distro is also part of Sim-on-a-Stick, a version of OpenSim packaged to run on a USB stick, which was downloaded 542 times since last month, for a new total of 17,389  downloads.
Meanwhile, according to data from The Hypergates, the number of hypergate jumps on their network increased by 1,263, to 13,056, the largest increase in two years. The system now has 675 registered hypergates, up by 6 from last month, on 63 different grids.
This data is very limited, however. For example, not all hypergates are part of The Hypergates network — anyone can create their own hypergate by dropping a script on any object, such as our touch or walk-through single-destination hypergate script. In addition, many people do hypergrid jumps without using any gate at all, simply by typing a hypergrid address into Map-Search, or by using a hypergrid landmark created during a previous jump. There is currently no way of tracking that traffic.
Our own Hyperica directory now tracks 110 grids that are accessible via hypergrid. This past month also saw 76 unique visitors to the Hyperica in-world hypergate terminals, down from 83 the previous month.
Meanwhile, Second Life continued to lose land according to data from GridSurvey, with 227 fewer regions today than the same time last month. The Second Life grid now has 27,722  regions, down 2,779 regions from this time last year, and 4,163 fewer regions than its peak in June of 2010. According to GridSurvey, the last time the grid was this small was in June of 2009.
February Region Counts on the Top 40 Grids
We are now tracking a total of 540 different publicly-accessible grids, 232 of which were active this month, and 213 of which published their statistics. There were a total of 24,678Â  regions, Â 286,798 registered users, and 19,496Â Â active users on all 213 grids.
Many school, company or personal grids do not publish their numbers.
The raw data for this month's report is here. A list of all active grids is here.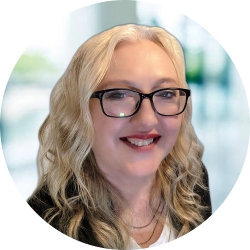 Latest posts by Maria Korolov
(see all)