Olivier Battini, the creator of New World Studio, has resumed work on the project. It will soon be available as a free download and as a paid, premium version.
New World Studio is the hands-own easiest way to set up an OpenSim mini grid. (My review of it here.) Like Sim-on-a-Stick, it is based on the Diva Distro version of OpenSim, but has a very friendly installer that automatically downloads all the needed pieces, configures them, and launches the virtual world server and the viewer software.
The current version of New World Studio is version 2.0, and was released last May based on the 0.7.3 release of OpenSim. Today, the recommended version of OpenSim is 0.7.5, and includes support for hypergrid-enabled groups and offline instant messages.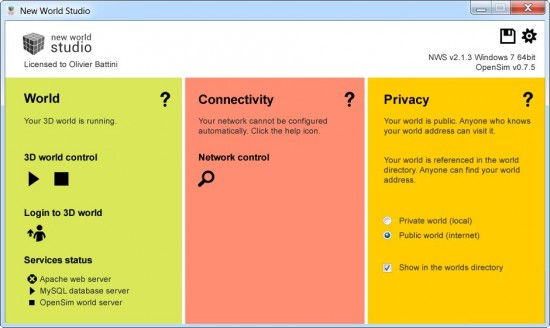 The paid version of New World Studio, priced at around US$20, will include an advanced web interface, automatic network and firewall configuration, IP address configuration, and an automatic updater, Battini said in a recent Facebook post.
All the core OpenSim and Diva Distro functionality will remain free, as per its open source license, as will region backups, avatar creation, region OAR uploads and inventory IAR uploads, viewer selection, and other configuration features currently available in New World Studio.
Future development could include multiple mini-grids from the same installer, or support for fully-fledged multi-server OpenSim grids, as well as in-world currency.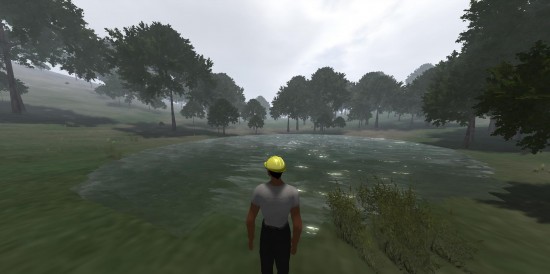 Battini is also working on a product called Virrea Terraforma for New World Studio, which generates a random terrain, with plants.
Another possibility is the automatic generation of terrains based on data from geographical information systems, and automatic generation of molecules based on data in the Biological Macromolecular Resource.
New World Grid restructuring
In related news, Battini is also working on restructuring New World Grid, a non-profit, French-language grid that allows anyone to connect home-based regions.
Most of the changes are legal — the Virtus Association that sponsored the grid is closing, and the grid will now be run by Battini's company, Virrea, a virtual worlds consulting firm.
As part of the transition, the current grid will shut down the last week of March, and the new grid will launch a few days earlier, so that members will have time to make inventory backups.
"For region owners, OAR archives will be available that we can restore to the new grid on demand," Battini said in an announcement earlier this month.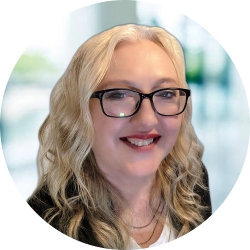 Latest posts by Maria Korolov
(see all)