Press release: Virtual Highway Expands and Upgrades Servers, Announces Partnership with Currency Exchange
Colorado and Wilmington, DE – Podex Exchange, a US company in operation since 2007, has partnered with Virtual Highway to provide a currency exchange service to the grid's residents. Terminals are available in the new member center and in various venues across the grid.
This partnership will allow residents who do not have access to US-based PayPal services to use local money transfer services for safe exchange of their currency to V$.
Virtual Highway, an OpenSim grid established in 2009, has also purchased new servers and doubled their land area to 231 regions. This made the grid the third fastest-growing OpenSim grid for the period of April 15 to May 15, according to Hypergrid Business. As part of the expansion, they have relocated the servers to a new hosting facility that will allow for better international access and stability.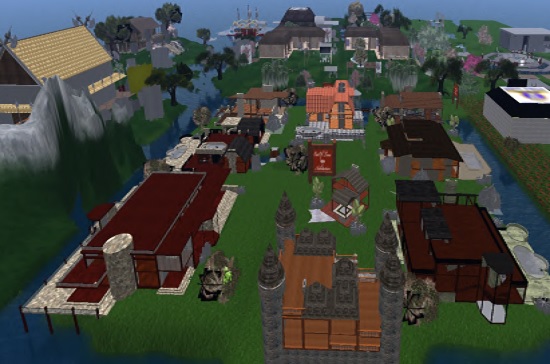 In April, Virtual Highway also reached a total resident milestone of 1,000 registered users, and continues to court new residents with entertainment and shopping options. For instance, music lovers can enjoy DJ parties and live performers at a number of new venues and clubs that have been built.
About VirtualHighway
Colorado-based Virtual Highway focuses on community and strong content protection, is voice and mesh enabled, and has a functioning economy with in-world currency (V$). The grid uses the latest version of OpenSim, 0.7.5, with a special edition of BulletSIM physics , an engine that improves avatar dynamics to enhance interaction within the world. Virtual Highway also supports media-on-a-prim, and non-player characters or bots. The grid was established in 2009.
About Podex Exchange
Based in Wilmington, DE, Podex LLC provides exchange of virtual currency for real currency. They have been in operation since May, 2007 and are committed to offering safe, accessible money exchange and land purchase through various proprietary programs. Transactions processed by Podex Exchange are rendered secure by Dotpay, Transferuj.pl, PayPal, Western Union or Moneybookers payment systems. All information exchanged to process the payment is encrypted using the SSL protocol.

Latest posts by Press Release
(see all)