Four years ago, Christer Lindstrom was looking for a way to help cities create virtual models of new urban planning projects.
The problem was that any large project has to be reviewed by a large number of stakeholders — residents, businesses, environmental groups, and others. With the cost of these projects running in the millions, the earlier in the process mistakes are caught, the better.
This is where virtual simulations come in.
"It's way cheaper to tear down a house in a virtual world, or put in a new transportation system, or solar panels, than in the real world," Lindstrom told Hypergrid Business.
The problem was finding a platform that allowed for a simulation good enough for people to really understand the project, but inexpensive enough to use very early in the process.
"The tools available were either very crude and simplistic, like children's games, or very slick, professional tools, which are very expensive and aimed at later stages of a project, when you already have full financing or are about to get it," he said.
OpenSim fit right in the sweet spot between these two alternatives. Easy enough for non-professionals to use, with enough flexibility and immersion to give people a good feel for the proposed projects.
"There are many packages out there for 3D models, but they are not immersive," he said.
With OpenSim, stakeholders can use avatars to visit the virtual environment and interact with it.
"We are making people empowered in the change process," he said. "People actually go into the model, into the virtual city, and walk around and see it from their perspective."
The open source nature of the platform was also a plus, he said.
The company helps visitors download the OpenSim viewer software, train them how to use, and guide them through the environment. But there are other ways the simulation can be used, as well.
"If you have a few people in a meeting room, together with a couple of people on line, it's quite an exciting experience," he said.
This allows a large group to experience the environment without everyone having to log in separately, but still allows for interactivity.
The simulation can also be used to create fast, inexpensive videos showcasing particular parts of the project.
Energy, city, transportation
To work on these projects, in 2008 Lindstrom co-founded Encitra, a Santa Cruz, California-based company focusing on urban planning and development modeling. His co-founders include OpenSim core developer and hypergrid inventor Crista Lopes and transportation design engineer Ron Swenson, who is also director of the California-based International Institute of Sustainable Transportation.
Lindstrom himself is active in sustainable development and transportation, and is the founder of Sweden's Institute for Sustainable Transportation. He is also currently working on the creation of the Swedish-U.S. General Transportation Fund and the establishment of an international industrial consortium for sustainable transportation. He is also active in local politics in Sweden, with a particular interest in environmental issues.
The first project was a simulation for the city of Uppsala, located about 40 miles north of Stockholm. Uppsala is the fourth-largest city in Sweden, with a population of about 140,000.
The city is considering a massive solar project, as well as a new public transportation system, and the simulation is being used to show people how it would look. By creating the simulation in OpenSim, the same builds can be reused and modified as needed, and can be used to film demonstration videos as well as to host virtual tours.
Eventually, Lindstrom said, he plans to have between five and 10 square miles of the city center modeled in one big OpenSim grid.
So far, a few areas of the city have been simulated, in four different grids. The largest is eight regions in size, or about 128 acres.
By next summer, twelve cities will have been modeled, with grids of between one and two square miles each, or up to about 80 regions, he said.
So far, the company has spent about $250,000 on the project, which includes the design costs, modeling, project management, and getting the initial data.
"Getting the data is a large job," he said. "It's a combination of getting CAD [computer aided design] data, GIS [geographic information system] data, and actually going out there and taking photos. It's a lot of work to get the information you need, and it takes a lot of time.
To help the process along, the company is also developing tools that will streamline development, he said.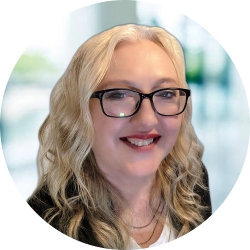 Latest posts by Maria Korolov
(see all)