The OpenSim grids are getting ready for the winter holidays this month, with calendars full of Christmas and winter-themed events.
Holiday freebies, contests and music on Virtual Highway
Virtual Highway, a closed commercial grid known for its music scene, is going all-out for the holidays this year.
"Two stunning winter holiday sims will be set in the Festival Park area for the entire month," said grid founder Gene Call. "We have snow skiing, ice skating, toboggan runs, and paths winding around the sims bordered by a beautiful Christmas Lodge, Santa's Workshop, Sweets Shop and the beautiful Chapel in the Woods. Free gifts for the residents of Virtual Highway will be set out there including Christmas trees, wreaths, and gifts from merchants of our virtual world."
Content creators also get a gift this year from the grid, with free shops in the Christmas Village on the Holiday Bazaar region.
"Come and see what they all have to offer, then curl up on a couch in front of the fireplace and sip your hot chocolate or hot toddy while you enjoy the holiday music," said Call.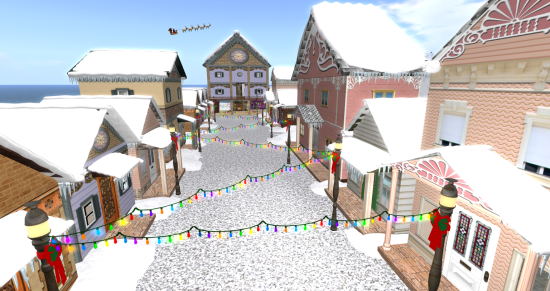 The December building contest will be Winter Holiday builds using snowmen as the common theme. The grid will be awarding monetary prizes for the top three winners.
"Just grab a building plot and the residents of the world will vote for their favorites," he said.
Live musicians will be performing throughout the celebration and DJs will be joining in to bring the holiday spirits to an all time high.

"We have hired Marketing Staff and Mentors to help us with all the exciting things we have in store for Virtual Highway," he added. "Our blog is back up and developing at this time. Watch for more and more exciting news from that team."
In other news from Virtual Highway, the grid held a three-day grand opening celebration for its Boardwalk build late last month.
"Sid Slade and Dilah Halostar performed for us and we enjoyed the musical selections of DJ Theo and DJDr Love," said Call. "The Treasure Hunt was also a success with some amazing prizes found by many. The grand prize, 5000V$ was found by Megan Cline of MC Designs."
In addition, Sid Slade's live performance was a fund raiser for the "Feed a Smile" program for Live and Learn in Kenya., a charity which finds sponsors to fund education, medical care and food for needy children. The funds raised this year will provide meals for 400 children this holiday season.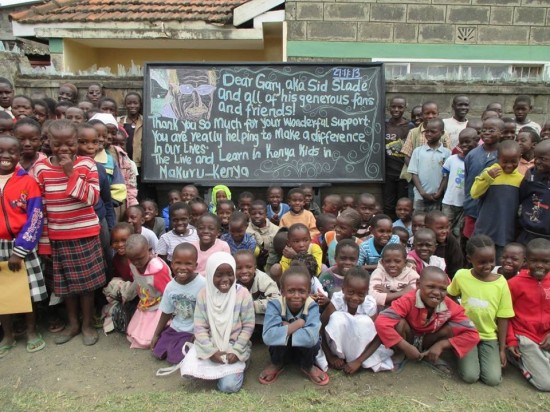 "It is a wonderful cause and we are proud of the participation by our residents," said Call.
For more information about events on the grid, including the daily music happenings, check out the Virtual Highway events calendar.
InWorldz hosts Toys for Tots Gala
This month, InWorldz will be conducting its fourth annual Toys for Tots Gala, a fundraiser which raises money for the USMC Toys for Tots charity.
The event starts on December 7 and will run through the 23rd.
"Every year, we've seen our residents double the amount donated, and we match all donations," said InWorldz founder Beth Reischl, who is also known as Elenia Llewellyn in-world. "Last year the total donation amount was US $2,000, the year before that, $1,000. We're hoping to hit the $3,000 mark this year."
The fundraiser will include a fashion show, three auctions, live music and DJ events, storytelling, an art gallery and Santa's Workshop.
The grid will also have a Grand Christmas Gala Party on December 19 on the Nautilus region, with live music and a "best in formal" contest. Another holiday-themed event is the Candy Cane Hunt on the Vodka region, which runs from Dec. 1 to 25. Â Then there's the InWorldz Dreamz & Visionz Holiday Boat Art Fest, which begins on Dec. 6 and runs through Dec. 20 on the Collaborations region, and will feature live music and more than 30 boats.
Then, for a change of pace, InWorldz is also hosting an Adult Content Creators Fair from Dec. 1 to 15 on the Bohemia Events region, with live music performances, dances and some adult-themed holiday shopping.
Check the InWorldz event calendar for more events.
Holiday music on Avination
Avination, another closed commercial grid, will be host to a series of holiday-themed music events this month.
The Dilah Halostar Christmas Special will be on the Virtuelles Koeln region on December 7 and will feature a live performance by blues and jazz singer Dilah Halostar.
On December 14, there will be the Annual Avination Christmas Concert on the Neschan Oasis region, with a variety of classical music by the Neschan Show Ensemble's philharmonic orchestra. Also on the day, on the Virtuelles Koeln region, there's the SaraMarie Philly Christmas Special, with a live performance by singer and pianist SaraMarie Philly.
The celebrations continues with the Celtic Woman Christmas Show Tribute on December 15 on the Southern Bay region.
A highlight of the month is Avination's 2013 Winter Ball at the Vintner City Theatre of Performing Arts on the Vintner Point region on December 21. The formal-wear event includes live music performances by HammerFla Magic and Saintess Larnia.
Finally, the Cologne Show Factory will present a Christmas special, the Andre Rieu Tribute Christmas Show, on December 22 on the Virtuelles Koeln region.
New winter world on Kitely
Pick up free ice skates and a snowman on Kitely region 21strom Winter. You can also get some of the 21strom landscaping items on its Kitely Market store. Most items are also available in exportable versions, so that they can be taken and used on other grids. For more holiday-themed items in Kitely Market, check out the Christmas listings and the Winterfest items.
There are now more than 1,500 items listed in Kitely Market, in a total of around 3,000 variations. This is up from 1,300 listings in 2,300 variations one month ago, an increase of 30 percent.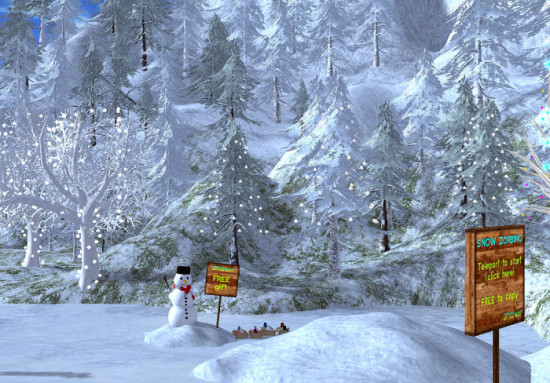 For another winter-themed experience, check out the Healing Rain Winter Retreat where you can toast marshmallows and hang out with friends by a roaring fire. 
In other Kitely news, the grid upgraded to the latest version of OpenSim and, in doing so, added some user-requested features and fixed more than 20 bugs — with the code to be donated to the community. Read more about it here.
The grid is also becoming a magnet for educational projects, as demonstrated in this Literacy Project walk-through video by F/Xual Education Services:
Dance parties, fireworks on Logicamp
Each Friday this month the mid-sized French-language Logicamp grid will be holding a dance party on a different region of the grid.
The month-long celebration will be capped by a mega dance party on December 31 on the Home Logicamp region with fireworks and champagne.
"Of course, everyone is welcome," said grid owner Didier Preud'homme.
Dorena's World opens Christmas Market
The German-language Dorena's World grid has opened its first Christmas Market, on the Weihnachtsmarktes region, accessible via hypergrid teleport at dorenas-world.de:8002:Weihnachtstraum.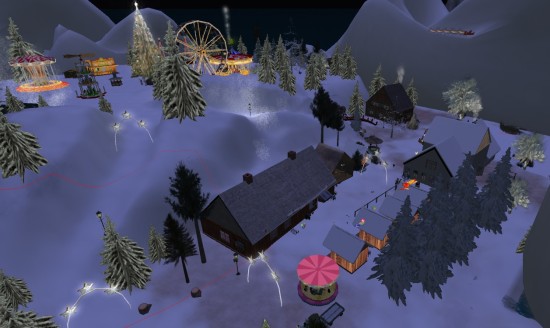 3rd Rock Grid offers free shops, holiday events
Check out 3rd Rock Grid's core community regions. Merchants can get a free shop on this region, and some holiday-themed events will be held here as the season progresses.
For more info, and to keep up with all of the grid's many music and community events, check the 3rd Rock Grid calendar.
DreamNation celebrates second birthday
The mid-sized roleplaying grid DreamNation is turning two on December 12 and is celebrating this event with a long weekend of parties, a Viking feast, and a buried pirate treasure hunt.
"When we first opened the grid there were many who confidently predicted we would not last three months, then six months, and finally twelve months," said grid owner Waki Janus. "But, here we are in robust health celebrating our second birthday."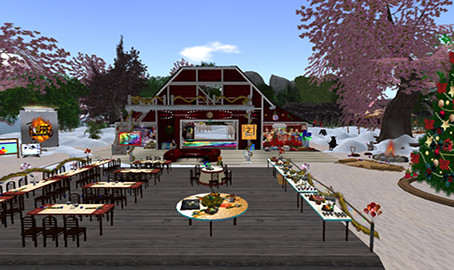 As a sign of health, Janus pointed out the grid's high ratio of active to registered users.
"Much of our achievement can be attributed to an innovative management structure that encourages a sense of ownership of the grid by all our members," said Janus. "We have a company shareholder structure with a board of directors and several management teams that oversee various aspects of the day to day running of the grid."
The grid has updated to OpenSim 0.7.6, the latest stable release of the software, as well as an updated and improved XMRE script engine, which is unique to DreamNation and Avination.
"We are looking forward to exploiting 0.7.6's improved physics capabilities to develop some exciting new vehicle concepts," Janus added.
Littlefield celebrates holidays with music, parties and shopping
The mid-sized social Littlefield Grid will be starting its live music program this month. The Sound City club is holding a grand opening on December 3 with a live performance by Khiron Ametza on the Littlefield East region. Acclaimed Argentinian guitarist Joaquin Gustav will be performing rock, tango, milonga, candoble and more at the Music Pier on the Coney Island East region. Since Littlefield Grid is hypergrid-enabled, residents of other grids can teleport to lfgrid.com:8002:Littlefield East and   lfgrid.com:8002:Coney Island South and attend the events without having to create a Littlefield avatar. For more dates and locations, see the Littlefield Grid event calendar.
Shoppers looking for winter bargains should visit the Littlefield Mall, which is now all decked out for the holidays with an ice skating area with free skates and a warm drink stand with cocoa, cider, tea and coffee for all the shoppers. This attraction will be up all winter until approx March 1st 2014. We have also added several new items to the Home for the Holiday's holiday shop for all of your Christmas Decorating. This destination is also open to hypergrid visitors, at lfgrid.com:8002:Littlefield.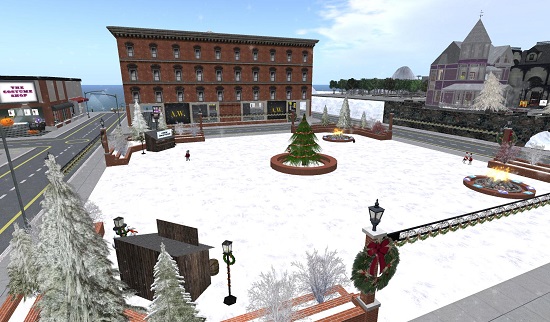 Littlefield Grid will be holding two Christmas parties this year at Stonehaven Party Isle. One is on Christmas Eve, December 24, starting at 9 p.m. Pacific, and one Christmas Night, December 25, also at 9 p.m. Pacific. There will be a live DJ and dancing both nights. They are both held on Stonehaven Party Isle, a region which also has ice skating, Santa's Toy Shop, a flying sleigh, and several other fun attractions. The region will be up and available until the second week in January, and can be visited via hypergrid at  lfgrid.com:8002:Stonehaven Party Isle.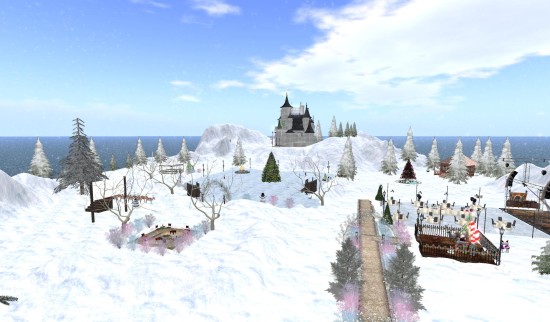 Also this month, the Turian group will be hosting their annual Christmas musical production on December 14, from 6 to 7 p.m. Pacific.
"This is a very well put together, detailed and choreographed event with all the costumes, dance routines and music directed by the Turians," grid founder Walter Balazic told Hypergrid Business. This event will be held on the Turian Outpost region at hypergrid address lfgrid.com:8002:Turian Outpost.
Finally, the grid will be holding its New Year's Eve formal on the Stonehaven Party Isle region on the evening of December 31. It will be a formal dance and party with live DJ, tuxedos, gowns, champagne, and a ball drop with fireworks at midnight, Pacific time. Again, it will be open to hypergrid visitors, at lfgrid.com:8002:Stonehaven Party Isle.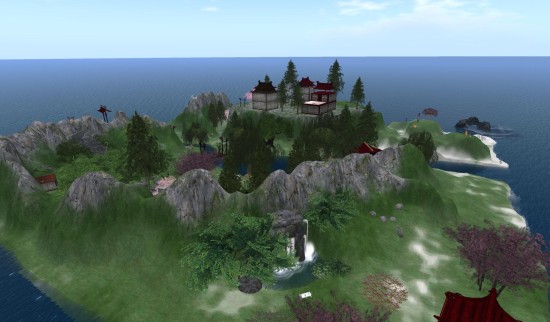 Those looking to take a break from all these holiday festivities should check out the Garden of the Rising Phoenix on the new Phoenix Rising region, with a number of unique meditation areas. For a more traditional approach to relaxation — sleep — free homes are still available on a first-come, first-serve basis. And, for devotees of shopping therapy, there is also a small shopping area on this region, which is created and maintained by Enigma Namaste. Touch the small arch at the entry so the self tour can guide you through the region in your local chat. Hypergrid teleport to lfgrid.com:8002:Phoenix Rising.
Holiday shopping on Metropolis
Check out the Atlantis1 region on the Metropolis grid for Candlelight shopping via hypergrid at hypergrid.org:8002:Atlantis1  and the Weihnachtsmarkt region for the grid's Christmas Market, both opening on December 14 with shopping, DJs, and dancing.
Free holiday rentals on OSgrid
Get a free store or apartment on OSgrid's Mountain High region, managed by the Commonwealth Grid team. Or just check out the holiday freebie shop and toy store. Hypergrid accessible, of course, at hg.osgrid.org:80:Mountain High.
For more OSgrid happenings, keep on eye on the grid's events forum page and its region showcase.
Holiday content on the web
If you'd rather create your own holiday-themed region instead, there are plenty of online resources available.
To start with, grab copies of Linda Kellie's free Winter OAR and Mountain Retreat OAR files and pick up a set of her winter holiday sculpts (at bottom of page).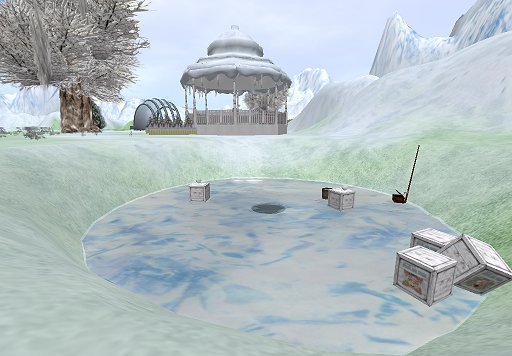 Then head over to OpenSim Creations for some winter-themed items and this Christmas tree texture.
Something completely different on Avalonia Estate
The startup, adult-themed Avalonia Estate grid is offering something completely different to hypergrid travelers and residents this month — slavery classes.
Whether you're curious about becoming a sexual slave — of either gender — or in becoming a mistress, check out Miss Juno's Slave Sculpting Academy.
"We are looking particularly for Mistresses, or simply dominant Ladies, or Ladies that may be curious to come and visit us and join us," said grid owner Justin Ireman. "I would like to point out that when people think of Femdom, quite often they picture leather clad Ladies with whips and chains. For some that is certainly part of Femdom and the Dominant/submissive lifestyle. However, it doesn't have to be that way. We are a 'broad church.' For some of our residents, Femdom is just being in a committed loving but female-led relationship. For others, it may be just enjoying the naked men in the cfnm [clothed female, naked male] gym or male strip club. It doesn't have to be hard core as it were, and we welcome those with an interest in Femdom, whether that be a very mild interest, or someone who is very serious and extreme."
Those interested in simply exploring the grid can visit via hypergrid at hg.avalonia-estate.co.uk:8002. But people who want to become members need to fill out an online application and be approved by the Mistresses Ruling Council or have a recommendation from a Mistress who is a current grid member.
Grid events are listed on the Avalonia Estate calendar or on in-world events boards.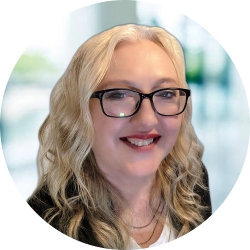 Latest posts by Maria Korolov
(see all)