Editor's note: This article was updated on 1/27/2023 to remove dead links and links to malicious sites.
The U.S. Army, with its MOSES grid, is one of the more high-profile users of OpenSim. But the military gives back, as well.
The Army's Research Laboratory Simulation and Training Technology Center has been expanding Intel's SimianGridFrontend for OpenSim, and, this month, has made their version — the MOSES Grid Manager, or MGM — available to the public as open source.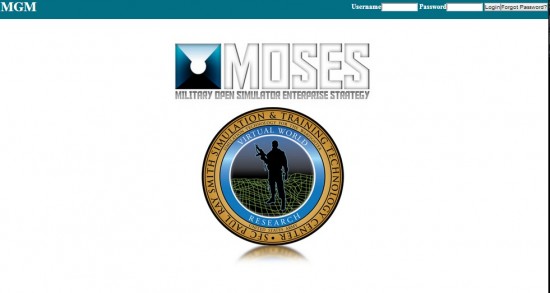 "The MGM handles user accounts, simulator functions, reports cluster statistics for CPU and memory usage, and much more," said Douglas Maxwell, the science and technology manager for virtual world strategic applications at the Simulation & Training Technology Center.
The MGM front end offers a great deal more functionality, however. For example, grid owners can sort regions by name, estate, status, or host server, which is useful for very large grids. Managers can also reassign regions to different virtual machines for real-time load balancing, and start, stop, restart and clear regions of all content. 
"Due to the flexible nature of this architecture, we can have both virtual machines and bare metal hosts attached to the grid," Maxwell told Hypergrid Business. This is useful for large grids running regions in more than one type of hosting environment.
MGM also offers more functionality for end users, as well.
"MGM is extremely easy to use," said Gwenette Sinclair, research associate at the Institute for Simulation and Training at the University of Central Florida. "Michael Heilmann did an incredible job of making the MGM user interface intuitive and responsive. MGM makes saving inventory IAR files and full region OAR files to your hard drive a very simple, fast keystroke task. Uploading IAR and OAR files are just as simple."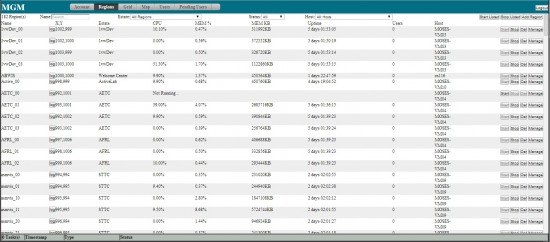 Currently, the most popular front end for OpenSim grids is the Diva WiFi interface, which shows basic statistics, and allows users to create accounts on a grid. It also allows grid owners to create default avatars and delete accounts. The WiFi interface is used on both mini-grids and larger grids as well, such as on the Next Reality grid. It comes packaged up with the Diva Distro, and is available as a separate download for grids that use the Robust grid management system. The Diva WiFi is also the default for Sim-on-a-Stick and for New World Studio.
Other Web front ends for OpenSim include jOpenSim, which is based on the Joomla content management system, and the PHP-based OpenSim Web Interface.
However, all of these work with the set of central grid services called Robust. At first, MOSES also used the Robust services, which most grids use by default. It switched to SimianGrid, the main alternative, late last summer. According to Maxwell, SimianGrid allows for easier automation of some functions.
SimianGrid is a separate project from OpenSimulator, and is not included with the standard OpenSim distribution.
Today, MGM only works with SimianGrid, and is not available for the grids that run Robust.
Porting MGM to work with Robust could be difficult, said Michael Heilmann, assistant in simulation at the Institute for Simulation and Training at the University of Central Florida.
"Off the top of my head all interactions with SimianGrid are HTTP REST calls, while Robust uses its console for tasks such as user creation and management," he said in a discussion about the new release. "I believe that is why WiFi was a module that interfaced with Robust's database directly, instead of having API calls to manipulate."
More free regions coming
In other news, MOSES will be releasing six more region files under a Creative Commons license, said Maxwell.
Currently, MOSES offers nine free region files in OAR format, which made up the Atropia simulation.
All the content on the regions is licensed so that anybody can use them, adapt them, build on them, even commercially, as long as they provide credit to the original creator and, if redistributing the content, making it available under the same Creative Commons BY-SA license.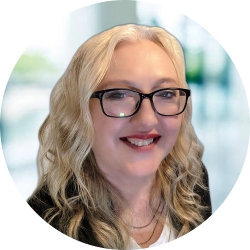 Latest posts by Maria Korolov
(see all)