Despite the dystopian predictions in Enerst Cline's Ready Player One, the future virtual reality metaverse will not be owned and governed by one single corporate entity, said former Linden Lab CEO and founder Philip Rosedale in a keynote address today to the Virtual Worlds Best Practices in Education conference.
Rosedale, who is now the CEO of virtual reality startup High Fidelity, said that open standards and scalability are critical for the wide success of a virtual reality platform.
"It has to be a lot more like the Internet than it is today," Rosedale said. "We have to be able to set up and run our own servers. The software needs to be open source, the protocols need to be inspectable."
The virtual environments, however, need the ability to link up, and even be physically adjacent to each other in a common virtual space, he added.
"I need to be able to walk out my door and look out, be able to park my educational facility next to yours," he said. "At the end of the day, the virtual world of the future, as it takes its next leap, is going to be an inter-network of virtual worlds."
If it sounded like he was talking about something like OpenSim, with its open source server software and hypergrid connectivity, it's because he was.
"OpenSim has started the work to get us all thinking about those issues," he said, but did not specify whether High Fidelity itself would be compatible with OpenSim or would be a different open standard.
Peer-to-peer scalability
Rosedale also talked about the issue of scalability. Today, to get more simultaneous visitors into a single virtual world, companies put bigger servers to work. Or, in the case of OpenSim's Distributed Scene Graph, which can handle up to 1,000 avatars on a region, the work load is distributed between several servers.
This isn't a workable solution, said Rosedale, because there aren't enough servers on the planet to get a billion people into virtual worlds.
Instead, a peer-to-peer system, similar to what Skype uses to handle voice traffic, is a more scalable solution.
"I believe — and this is what we are working on at High Fidelity — is that we can get access to everyone's machines and use them as servers," he said. "We believe that this is a completely solvable problem, and the next generation of virtual worlds can be build as a cloud of machines that are shared and borrowed from all of us."
This is of particular interest to educators, he added, since the resulting virtual worlds can be then created and run efficiently, and at low cost.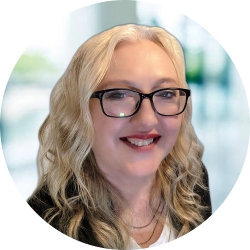 Latest posts by Maria Korolov
(see all)