Las Vegas-based OpenSim hosting company Zetamex will stop hosting minigrids on June 1, company CEO Timothy Rogers announced yesterday.
Zetamex will continue to provide hosting for individual regions and full grids.
A minigrid — technically known as a standalone — is a grid that runs entirely within a single server. It is a popular choice for small grids, and is the default configuration in the Diva Distro, Sim-on-a-Stick and New World Studio distributions of OpenSim.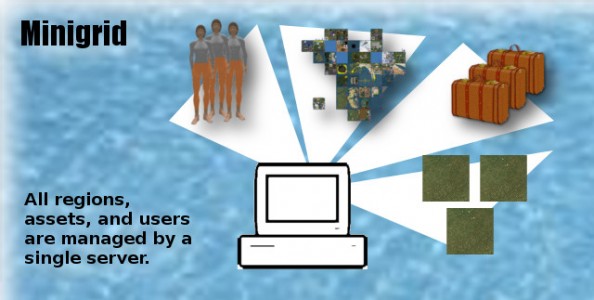 "They have never been scalable," Rogers told Hypergrid Business. "Everything runs under one single EXE file which, to an end user, is convenient, but it means it chokes really easily when they start to get a lot of visitors or inventory. It adds up and starts to choke."
A full grid, by comparison, uses separate servers for the regions and a separate server for the central grid administration, which includes everything from the maps to groups to avatar inventories.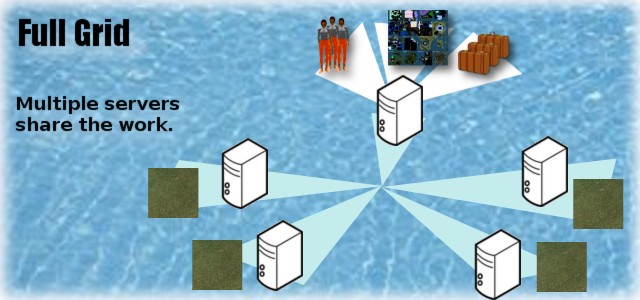 "Grid mode allows all the inventory, assets, and so on to be completely pulled away from the regions," he said. "So you can have unlimited regions. This also means crashing a region will not crash your grid."
No price change for current customers
Normally, full grids cost more than minigrids because of the extra server requirements. Prices vary by provider but, as a general rule of thumb, hosting companies usually charge as much for centralized grid services as they do for a single region.
Zetamex normally charges $25 a month for grid services.
Existing minigrid customers will not see a price increase, however, Rogers said.
"Users will be fully grandfathered and offered the same amount of service for the same price they are paying now," he said. "They will not have to worry about any changes."
The only visible difference is that the port number of the grid loginURIs and hypergrid addresses will change. A minigrid typically has a port number like 9000 after its domain name.
After the change, the port numbers will all change to 8002, Rogers said.
In effect, all existing minigrid customers will be getting a free upgrade, he said.
"The improvement will be very noticeable as the regions will no longer have the core grid functions slowing down the resources of the region," he said. "Everyone will now have the power to scale infinitely. For many standalone users, this means they get to skip the costly upgrade from standalone to grid."
New customers looking to get hosting for a small grid will see the pricing changes, however.
In addition to paying for the individual regions, customers will need to pay $25 for the core grid services. In addition, if they plan to allow self-hosted regions to connect, there is an additional charge of 10 cents per month per gigabyte over 15 gigabytes of storage. Grids that host all their regions with Zetamex will not have the extra charge, since the grid management overhead is built into the region hosting price.
To help offset the increase, customers who get a full grid from Zetamex will get a 15 percent discount on all regions, where prices range from $15 for 15,000 prims all the way to $75 for a premium region with up to 100,000 prims and more than 40 avatars.
Other hosting providers continue to offer minigrids
Customers specifically looking for minigrid hosting will still have plenty of choices, however.

Dreamland Metaverse CEO Dierk Brunner, for example, said he's never experienced scalability problems with minigrids.
"If a service provider has good service management tools and procedures in place to be able to efficiently install and manage such kind of services, there is no reason to not also offer standalone OpenSim regions," he said.
Meanwhile, minigrids users can still benefit from having the full range of OpenSim features such as profiles, groups, offline messages and user and access management.
Customers whose needs grow beyond the capacity of a minigrid can always upgrade, he said.
"Migrating to a full OpenSim grid is quite easy," he said. "In fact a number of our full OpenSim grid customers first did start with a standalone [minigrid]. We usually recommend using OAR [region exports] and IAR [inventory exports] archive files and a new, empty OpenSim grid database, but for busy standalone OpenSim regions it is also possible to do a database migration to a full OpenSim grid, if a user requests that."

Enrico Ranucci, CEO and co-founder of Florida-based hosting company SASSO, said it's common for customers to start out with one or two regions on an existing grid like OSgrid, then move to their own minigrid, and then eventually upgrade to a full grid.
He said his company has seen no problems with running minigrids and will continue to offer the service.
"It is a best seller," he said.
For example, SASSO currently hosts a dinosaur-themed minigrid airmed at teens, a regional grid with 20 regions, a 50-region tropical-themed grid and several personal and business minigrids.
The maximum size of a minigrid depends on server capacity and the amount of traffic and content.
Migrating from a minigrid to a full grid can sometimes be a chore, he admitted.
"The last migration we did took about six to eight hours, but that was just because the database was so big," he said.
Luis Miguel Rodriguez, manager of Madrid-based hosting company Hispalab, said migrations of smaller grids can take just a few minutes.
Like the other hosting companies, Hispalab offers OpenSim in all three configurations — individual regions, minigrids, and full grids, on both dedicated and shared servers.
YourSimSpot is another vendor that offers minigrid hosting.
"It is mostly used by schools,  small business and individuals for classes, demos, meetings, and model building," said company owner Anthony Gill.
Minigrids offer some advantages, besides lower costs for customers.
For example, he said, they come with build-in administration pages which can be easily edited for customers.
Some hosting providers focus mostly on providing individual regions that attach to existing open grids. All the central grid services are provided by these big grids, which include OSgrid, Metropolis, Craft, FrancoGrid, and others.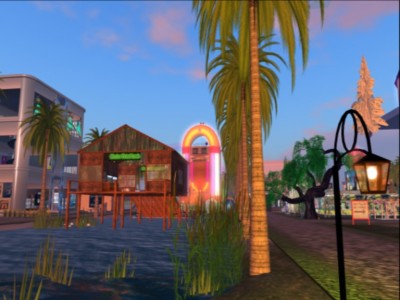 This means that set up is easy, and prices can be kept very low. Oliveira Virtual Lands, for example, offers 15,000-prim regions for just $12 a month on OSgrid and Metropolis.
"It's not easy to have minigrids — they consume more resources than connected regions," said company owner Fernando Oliveira, because of the asset databases. He does host a few minigrids, he said, with prices set on a case-by-case basis.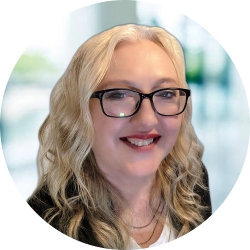 Latest posts by Maria Korolov
(see all)