Press release: Critical Mass unveils 'virtual big top circus experience' to launch Early Times' Fire Eater campaign
Critical Mass has unveiled its national product launch campaign for Fire Eater – the hot cinnamon liqueur presented by Early Times, a Brown-Forman brand.
To introduce Fire Eater, the team at Critical Mass has developed a virtual big top circus experience – using a portable Oculus Rift headset – which will be showcased during a UK tour of bars in Sheffield, Leeds, Liverpool and Glasgow.
The virtual experience will transport consumers into the fantastical 19th century circus world of Fire Eater, bringing to life "The Greatest Shot on Earth" campaign. Once inside the Oculus Rift headset, they begin the tense climb to the top of the high-board diving platform, fifty-feet above the circus crowds. Then, with the adrenalin rushing through their veins, they dive through three rings of fire before plunging head-first into a tiny pool of water.
To amplify the visually rich Oculus experience, Critical Mass also worked with Tim Bret Day, a renowned fashion and advertising photographer known for his rich, energetic style.
"Our brief challenged the team at Critical Mass to deliver a visually rich, category busting campaign," said Roisin Timoney, ‎brand manager, vodkas and innovation at Brown-Forman. "What they've delivered has more than met that brief. Integrating the Oculus Rift into the consumer experience was inspired, and Tim Bret Day's photography proved to be outstandingly rich and vibrant, truly capturing the personality of the Fire Eater brand."
"The Greatest Shot on Earth" UK tour kicked-off on May 2 with the tour hitting outlets in Liverpool, Glasgow, Leeds and Sheffield most Friday and Saturday nights. This will be supported with in-store retail displays and a new responsive website. It will continue for the duration of 2014, with film and experiential elements rolling out over the coming months.
"So much alcohol marketing these days has become beige and functional," said Matt Kwiecinski, managing director at Critical Mass. " 'Drink it with this mixer.' 'Why not try it over ice?' With Fire Eater we saw a chance to create a campaign that was about emotion and excitement. Creating an incredibly rich world for the brand, in a way that hasn't been done in this category."
The exhilarating experience was produced by Inition, an experiential production company that combines emerging technologies with high production value content for brands looking to push the boundaries of customer engagement.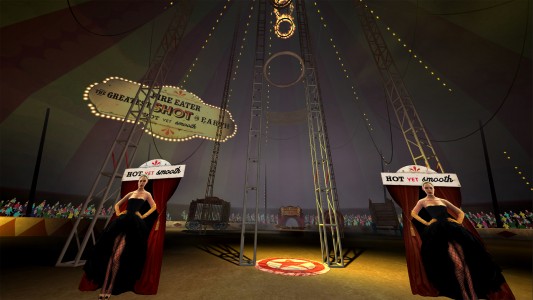 "It has been a pleasure working with Critical Mass to create a cutting edge, adrenalin inducing campaign encapsulating Fire Eater's adventurous thrill-seeking brand image and will be a sure success with the target market, comprising 18 – 24 year olds young adults," said Inition's Producer Ainsley Henn. "Virtual Reality technology continues to broaden the scope of what is deemed possible and this piece does that in a novel way – ascending participants 50m in the air and allowing them to take a high-dive. I am sure it will scare and delight anyone brave enough to try it."
This effort marks the first campaign from Critical Mass since the merger of Agency Republic, a pioneering digital creative shop, and Critical Mass, a global digital agency network known for its user experience design expertise with global brands. The news of the merger was announced 6 January, and the deal officially closed on 1 February.

Latest posts by Press Release
(see all)