I've read on Ener Hax's blog that you can use Imprudence to copy shapes from Second Life.
This month, I redid my skin — using my much-improved GIMP skills to combine an actual picture of myself with a Linda Kellie skin template. And then used that same photograph to try to my shape into as close an approximation of my actual face as I could.
I feel more comfortable with an avatar that resembles me, at least a little bit!
Importing the skin to every grid where I have an avatar was simple — I just uploaded the textures.
But getting the shape to match was trickier. I didn't want to copy down all the settings and set them manually. After all, I have avatars that I use regularly on Second Life, OSgrid, Kitely, my grid at home, and on Hyperica. I'm not going to count all the grids that I've created an avatar on once in order to visit them and then never went back again. I'm not going to bother keeping 100 avatars up to date!
I had an old copy of Imprudence lying around, logged in with it, but was unable to export my shape — the option was grayed out. I couldn't figure out why. I'd created it completely from scratch by moving the sliders around.
None of the modern viewers I loaded up had this option. If I missed one — please note in the comments! Neither did Hippo.
I racked my brain for another viewer and remembered Meerkat. And it worked!
Go into Edit Appearance > Shape and the "Import" and "Export" buttons are right there at the bottom of the screen.
Remember to use the same viewer to both export and import the shape. So it's probably a good idea to put "Meerkat Export" into the filename, so you won't forget which viewer you used.
I was able to use Meerkat to log into all the grids, including Second Life, and import and export my shapes very easily and quickly.
Now if I could only get the same hair on all the grids, life would be complete!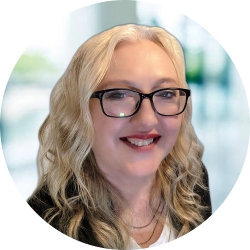 Latest posts by Maria Korolov
(see all)