After I created yesterday's Hillary Clinton Avatar and uploaded it to the Kitely Marketplace, Kitely CEO Ilan Tochner reminded me that, with an adult skin, it needs to go into the "Adult" category — I would need to create a new skin for a "General" listing.
He pointed me to a set of useful skin templates.
As I mentioned yesterday, I have no artistic skills — even painting underwear on an image is beyond my abilities. But what I can do is cut and paste.
Here is how I turned an adult Hillary Clinton skin into a safe one:
Step One: Open both the skin and the template file in GIMP
Make sure they're the same size. In this particular case, the Hillary Clinton skin was 512 by 512 and the Kitely "safe" skin template was 1024 by 1024. I resized the second one to 512 by 512.
Then copy and paste the Kitely template as a second layer over your own skin. Select the white underwear region — I use the little magic wand tool to select the back of the underwear then shift-click to select the front. Then I go to Selection>Invert to select everything except the underwear and then I hit the delete button. Ta da! Everything except the white underwear is now gone and my skin is safe for work.
For the top half of the skin, I first erased the words "Torso Front" and "Torso Back" that was written on the underwear.
Here's the result:
Download the Clinton upper skin with underwear file here, the Clinton lower skin with underwear file here, and the Clinton face skin file here. Or pick up a copy of the new Hillary Clinton Safe Avatar here.
Then it occurred to me that I could really use baked-on underwear on my own skin.
There have been so many times I've teleported somewhere and discovered I was naked. Or had to switch outfits in a hurry — always worried that I'd be naked for some part of the process.
Of course, while Hillary Clinton is an elderly lady and needs grandma-style underwear, I consider myself a young, hip gal about town.
So I adjusted the underwear a little bit to show more skin.
If you want a copy of the underwear, download my strapless bra underwear template file and my boy short underwear template file.
Since both are just white on a transparent background, they won't show up if I paste them here, but you can see the GIMP screen grabs below.
Open them in GIMP, then paste them as new layers on top of your existing 512 by 512 upper and lower skin files. These are technically based on the original Kitely templates but at this point they've been modified so much, that I don't think the Kitely guys will mind if I release them under a CC0 license.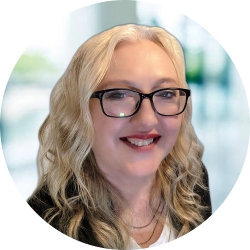 Latest posts by Maria Korolov
(see all)