The grid numbers were down this month, partly due to an outage on OSgrid, the oldest virtual world running on the OpenSim software and one of the largest grids. However, the number of downloads of the OpenSimulator software reached an all-time high this month.
The number of standard region equivalents dropped by 1,793 on OpenSim's 223 active public grids, to 50,419, while the number of active users increased by 314, to 23,208.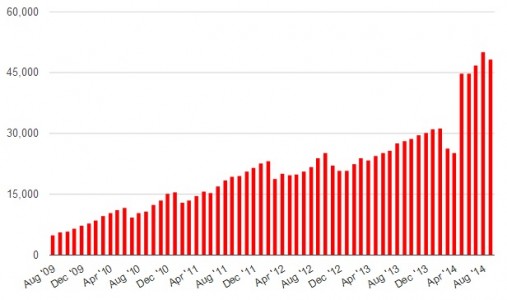 Most of this drop was due to the OSgrid outage that began August 18, and cost the grid 3,006 regions and 2,666 actives. As of today, the grid was only reporting 894 active users — the number of people who logged in last month just before the grid went down.
Meanwhile, the OpenSim software has been downloaded a record 6,507 times this past month, including a near-record 2,031 downloads of the Diva Distro, a record-high 2,196 new downloads of Sim-on-a-Stick, 97 downloads of New World Studio, and 2,183 downloads of the standard distribution at OpenSimulator.org.
According to Hypergrid Business estimates, the OpenSim software has been downloaded 204,476 times since September 2010, when we first started keeping track.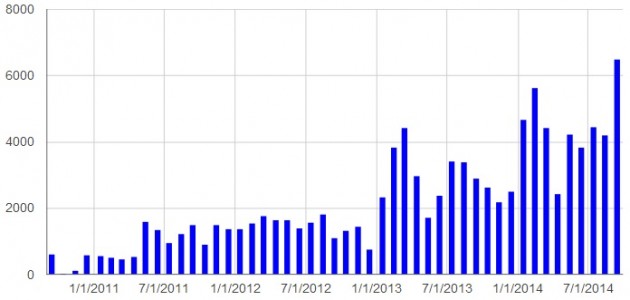 Popularity
For company and school grids, relative popularity is not an issue — the grids are set up for a specific purpose, and if they meet that purpose, then they are successful. The same is true for grids run by niche communities or that serve a special need not met elsewhere.
But when it comes to general-purpose social grids, the rule of thumb is: the bigger and busier, the better. People looking to make new friends look for grids that already have the most users. Merchants looking to sell content will go to the grids with the most potential customers. Event organizers looking for the biggest audience… you get the idea.
With that in mind, here are the ten most popular grids this month:
The biggest gainer was Metropolis, which was a top destination for OSgrid users locked out of that grid. Metropolis gained 1,240Â new active users, but 700 of those were a result of now including hypergrid travelers in the active user statistics. Since OSgrid is a major source of hypergrid travelers, Metropolis may have had even more hypergrid visitors last month — or it could have had fewer.
Hypergrid visitors are a fair way to mark a grid's activity level — in fact, some grids get most of their users from the hypergrid, but it does throw off the month-to-month growth comparison.
The closed commercial grid Avination gained 495 active users, its second high-growth month in a row. It also gained 57 regions, while its chief competitor, InWorldz, lost 60 actives and 16 regions but still retained a very comfortable lead.
Craft, another open grid that likely benefited a bit from OSgrid's outage, gained 129 active users.
World-DC, a Portuguese-language grid, seems to be picking up users from the troubled AviWorlds grid and made it into our top ten list.
The OpenSimulator Community Conference, with 648 active users, would have made seventh place in our list but, as a result of running load and scalability tests every Tuesday.  The conference began accepting registrations today for the November event. I originally had it in this top ten list, but, as readers pointed out, a scalability test often composed of alts and bots isn't a fair measure of a grid's activity.
Metropolis grid's Metroberfest begins late this month
The Octoberfest celebrations start on the Metropolis grid on Monday, September 29, and will go on through October 5, on the Octoberfest region of the Metropolis grid.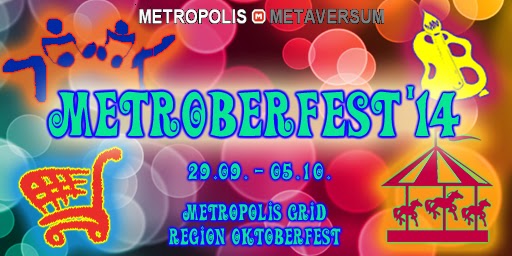 At this time, eleven musicians have already been booked to perform live, three German authors will have live readings, as will two English-speaking authors. In addition, five DJs have also been booked for the festival, and there will be a fireworks on the final day.
Littlefield celebrates Octoberfest, Avatar Social Network anniversary
For more Oktoberfest celebration, visit Littlefield's Munich region via hypergrid at lfgrid.com:8002:Munich. The event starts at 8 p.m. Pacific on September 20 and features beer, dancing, a live DJ, rides, and free Oktoberfest outfits.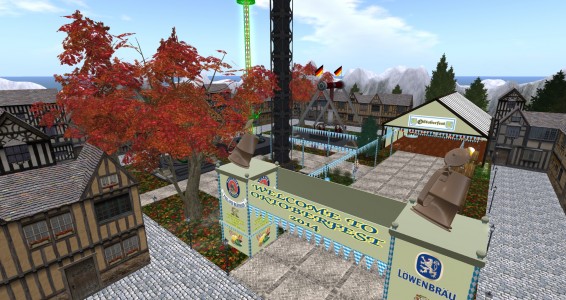 Then come celebrate the one-year anniversary of the Avatar Social Network Saturday, September 27, at 8 p.m. Pacific on the Speakeasy region — hypergrid teleport to lfgrid.com:8002:Speakeasy. Or visit the company's permanent home at lfgrid.com:8002:ASN Island.
During this past year, Avatar Social Network has grown dramatically by rewarding members for posting, moderating the forums, and by not requiring real names.
According to founder Arkad Baxton, members have written 70,000 posts, uploaded 30,000 photos and made 12,000 friends on the network over the course of the year.
In addition to the celebration on Littlefield, there will be a party on Second Life the week before, September 20, starting at 10 a.m. Pacific, on the Prim region.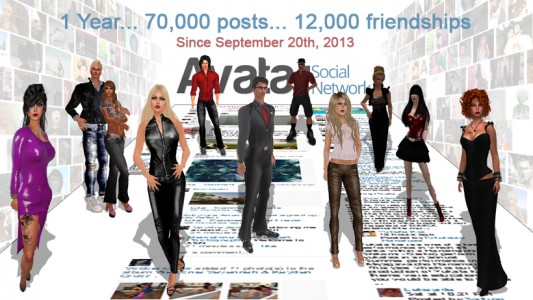 As part of the celebration, Littlefield Grid is offering a 25 percent land rental discount to members of the Avatar Social Network. This means that the grid's regular $20 regions now cost just $15 a month. The discount also applies to the variable-sized regions that the grid has added. A nine-region 270,000-prim varregion, normally $120, is just $90 with ASN membership. That works out to $10 per 30,000-prim region — with no border crossings.
Four-region varregions are also available, grid owner Walter Balazic told Hypergrid Business. Full pricing details are on the grid's land rental page.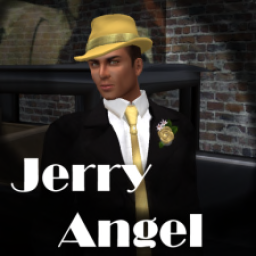 Then, on Sunday, September 28 at 3 p.m. Pacific, Jerry Angel performs live at Sound City, with classic tunes from the likes of Dean Martin and Frank Sinatra. Teleport in to lfgrid.com:8002:Littlefield East.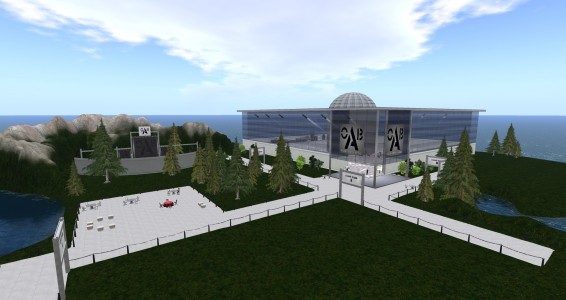 Finally, don't forget to mark you calendars for the OpenSim Builders Alliance mesh training classes with Aaaack Aardvark every Sunday at 2 p.m. Pacific on the OBA region. Teleport in to lfgrid.com:8002:OBA.
Dankoville moves to Kitely
Dankoville, a small personal grid used for roleplay and immersive storytelling, has suspended operation as a self-hosted OpenSim mini-grid for a few weeks.
It will be upgraded to the latest version of OpenSim and moved back to its own hosting but, meanwhile, it is on Kitely, and is accessible via hypergrid at grid.kitely.com:8002:Dankoville.
In other Kitely news, the winners of the RezMela photography and machinima contest have been announced, with $250 going to Joan O'Fark for a story about a lost boy.
RezMela is a company that offers an in-world framework for easily creating training simulations on the Kitely grid, with a wide variety of pre-made content related to disaster recovery and emergency services.
Kitely also reported the numbers for its Kitely Market, where exportable items continued to grow faster than listings overall. There are now 3,121 products on the market, in 6,058 variations. Of those variations, 2,552 are exportable to other grids.
"We're making good progress with the development of the various improvements we have planned for Kitely Market," Kitely CEO Ilan Tochner told Hypergrid Business. "The next major feature release is planned for public rollout in the next few days."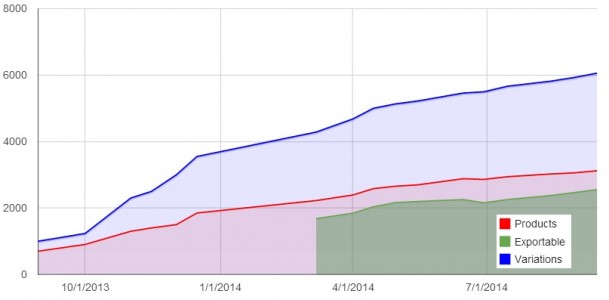 AviWorlds up? Down? Who knows!
Earlier this month, AviWorlds owner Alexsandro Pomposelli told Hypergrid Business that the AviWorlds grid was down indefinitely.
But, on Twitter, he announced that the grid was back up, accepting registrations, and would have 27 million square meters of mainland area — equivalent to about 412 standard regions.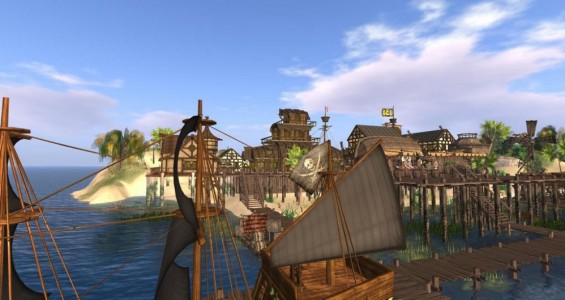 The grid's Facebook page and website are both currently down, but the Google Plus community is up.
The grid's LoginURI — aviworlds.com:8022 — does not work. But, mysteriously, lostworld-os.com:8002 does. Moreover, that loginURI's grid info page says that the grid's name is AviWorlds, and points to the AviWorld Twitter feed as the splash page.
Virtual Highway offers land deal, hosts Led Zeppelin charity concert
Until October 15, 2014, grid residents can rent a varregion the size of four standard regions for $90 that can hold up to 40,000 prims and an unlimited number of avatars. Contact Logger Sewell or Geo Falcone for more information.
"We are so thrilled with the performance of the varregions," said grid owner Gene Call. "And are setting up boat races …Â and have been testing flight scripts with fighter jets …Â The person bringing in the flight scripts is amazed with how much fun it is to fly with no sim crossings."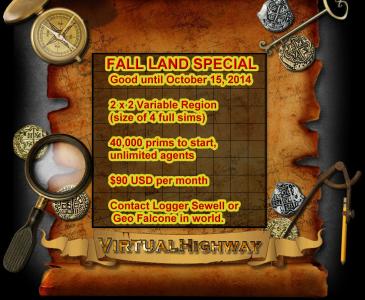 Virtual Highway now has its mainland set up as a varregion the size of 100 regular regions, including open water for sailing and boating.
"We have surfing and ocean park areas along with our beautiful Tropical Paradise and Enchanted Mermaid Isle for your enjoyment," Call told Hypergrid Business.
The grid is also helping fix a teleport problem related to these varregions by supporting Cool VL Viewer developer Henry Beauchamp.
"The main problem is with viewers dealing with teleporting from one size region to a different size one," said Call. "They look for the same dimensions when processing a teleport. What that means at this time is….. well… the song 'Hotel California' comes to mind. You can teleport in, but you can't teleport out without relogging — most of the time."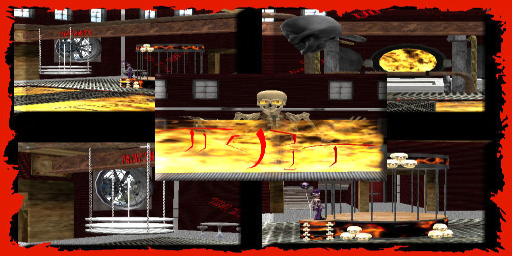 Sunday nights in Virtual Highway have fast become Trivia Night. Every Sunday, DJ gem — gemini Solano — hosts a rocking good time at The Pit, featuring excellent rock music and random trivia questions for all to answer.
"I wanted to do something different, that wasn't already being done," she said. "I like the trivia format because it keeps things lively during my event at the Pit." She gets her questions from a website that generates random trivia questions.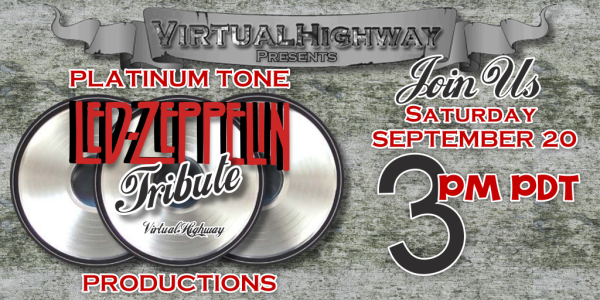 Platinum Tone Productions will be bringing several tribute concerts to Virtual Highway. This month, on September 20, starting at 3 p.m. Pacific, a Led Zeppelin tribute concert will be raising money for the St. Jude's Children's Research Center.
Transitions
We have several new grids on our list this month, including Avacon, Endivatomic World, Radioactive Grid, 2Open, Sunlight Grid, Avatopia, SRPSIM, Your World, OCGrid, IWW Wobbly World, FNV, Neadon2025 and MetaCosmo.
We're listing 31 grids as suspended this month because we haven't been able to get to their grid info pages or websites these past few weeks, including:  3D Greek Educational Area, AngelFire Grid, Another World, araland, Bubblesz, CatZones, Cryptic Rising, Dream Realms 3D, Dreama, Fantasy Estates, Insight Concepts, iSynergy3D, Myvirtworld, Next Reality, Noon Universe, Noxico, Osenia, Paradis Land, Planet Einstein, Pleasant Retreat, Smxy, Speculoos, Tellus, The World of Begabungs, Tu Lugar Virtual, Virtual France, Virtual Harmony, vmetu, VRealm, W3DC-World, and Your Alternative Life.
If there's a public grid we're not tracking, please email us at [email protected]. There's no centralized way to find OpenSim grids, so if you don't tell us about it, and Google doesn't alert us, we won't know about it.
I'm not going to list the Second Life region losses this month. I just don't have the heart for it.
September Region Counts on the Top 40 Grids
The list below is a small subset of existing OpenSim grids. We are now tracking a total of over 859 different publicly-accessible grids, 223 of which were active this month, and 175 of which published their statistics.
All region counts on this list are, whenever available, in terms of standard region equivalents. Active user counts include hypergrid visitors whenever possible.
Many school, company or personal grids do not publish their numbers.
The raw data for this month's report is here. A list of all active grids is here.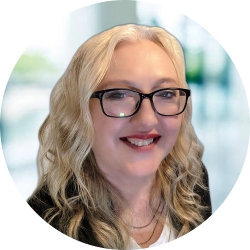 Latest posts by Maria Korolov
(see all)