Island Oasis pulled in the highest overall scores in the fifth annual OpenSim grid survey, narrowly edging out The Adult Grid for first place.
Island Oasis is a top-ten grid by active users, making its high score even more surprising, since scores tend to diminish over time as grids get larger and owners struggle to keep up with technology, support, and community relations.
The last time Island Oasis took the lead in this survey was in 2011, back when it had only 43 regions, about 800 registrations, and only a couple of hundred active users.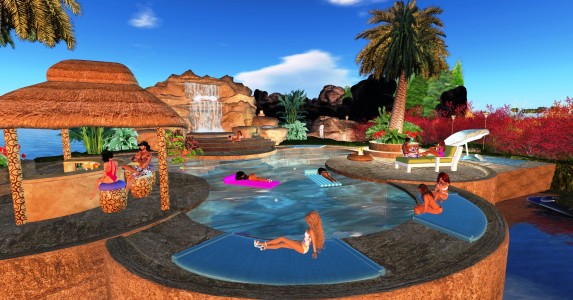 Today, the grid has more than 200 regions, nearly 8,000 registrations and close to 1,000 active monthly users. In addition, 94 percent of respondents said that they would "absolutely" recommend this grid to others, and 34 percent of all voters said that they had visited the grid, which is a closed, commercial world.
Island Oasis renters also submitted detailed comments about what they liked about the grid, touting its value, stability, people, and customer service.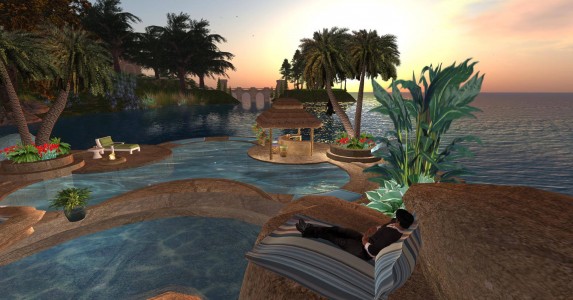 Island Oasis charges $35 a month for a 15,000-prim region, which is nearly half the price of the some of the larger closed commercial grids.
"I do ask my friends in other grids to come to Island Oasis," said one resident. "And those that do seem to stay.  The management of this grid is very helpful and the people that are members of the grid are for the most part mature and thoughtful of others."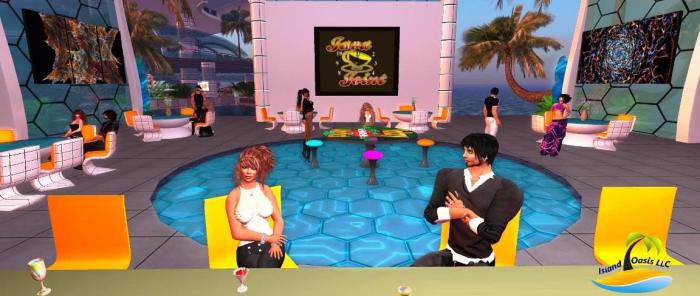 "Since we opened for business — almost four years ago — we've strived to provide a quality product at a fair price coupled with world class customer service," said Island Oasis grid co-founder Karl Dreyer, who is also known as Damean Paolino in-world. "In addition to that, we offer many perks, features and tools to our residents that many of our competitors do not."
He said that he feels that the grid's residents are his community and part of his family.
"We care deeply for our residents and we are committed to ensuring that they are satisfied and happy in Island Oasis," he told Hypergrid Business.  Truthfully, without them there would be no Island Oasis."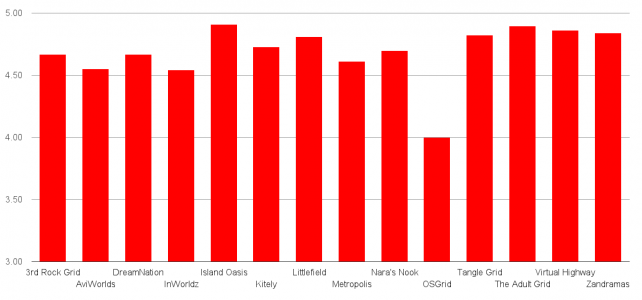 Scoring the results as 1 for "Very Poor" and 5 for "Excellent," Island Oasis came in with a 4.91 average. The Adult Grid was second with 4.89, followed by Virtual Highway with 4.86 and Zandramas with 4.84. Tangle Grid was in fifth place with 4.82.
The Adult Grid is a new, small closed commercial grid with 64 regions and around 2,300 registered users. It does not release its active user counts but it is probably pretty busy since there were just 988 registered users two months ago, when we first started keeping track of this grid.
OSgrid, which has been down since late August due to technical difficulties, unsurprisingly scored the lowest in this survey, with a 4.0.
InWorldz, the busiest of all the OpenSim grids, came in at 4.54. It was just below AviWorlds at 4.55 — a steep drop from last year, when AviWorlds ranked second overall.
Kitely, last year's top-scoring grid, was near the middle this time around.
Lost Paradise, which rated highest in 2012, received fewer than the minimum number of votes this year, despite having four times as many active users.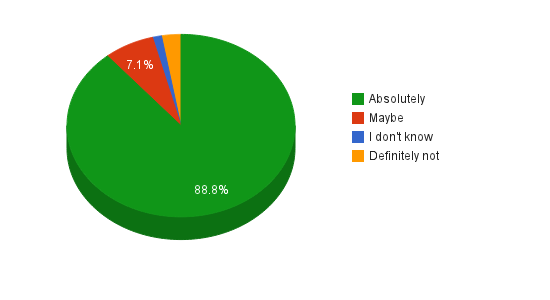 Overall, 89 percent of survey takers said that they would "absolutely" recommend their grids to others.
Four grids — Nara's Nook, Virtual Highway, Tangle Grid, and The Adult Grid — had perfect scores in this category, with every single respondent willing to recommend their grid.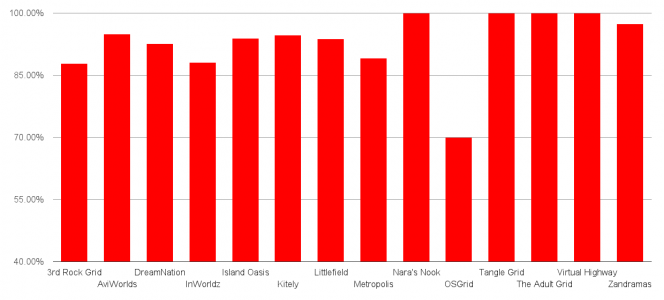 Meanwhile, InWorldz was the grid that had both the most respondents and the most visitors.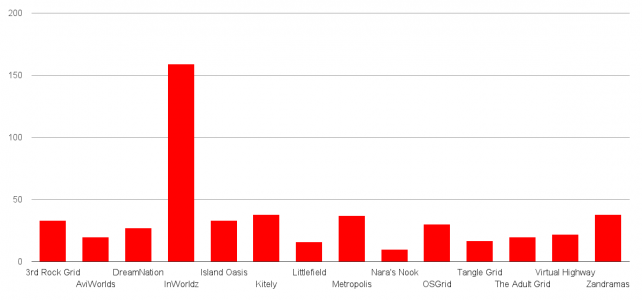 Of September's top ten grids, only Craft and World DC didn't have enough respondents to make it onto the survey. There were only two responses for Craft, and none for World DC. Since these grids are based overseas, it could be a matter of not learning about the survey in time.
For the most part, the percentage of respondents who said that they visited a particular grid roughly corresponded with that grid's traffic numbers the last few months.
InWorldz, as to be expected, was in the lead, with a full 78 percent of respondents having been to that grid. OSgrid was in second place, with 62 percent, followed by Kitely with 39 percent.
The chart below doesn't include visitor numbers for write-in grids such as Nara's Nook, only the grids suggested by name in the survey.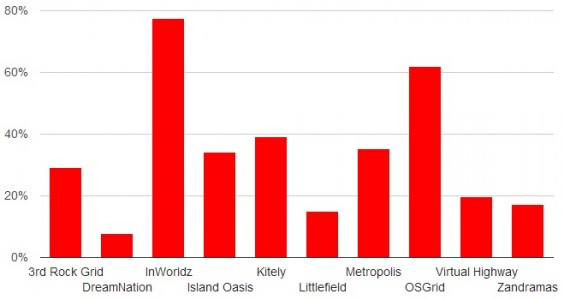 Best community
Invitation-only Zandramas grid pulled in a near-perfect 4.95Â score for community this year. This was the second year in a row that Zandramas scored highest in this category, evidence that last year's showing was no fluke.
One possible reason could be that Zandramas was careful to expand slowly, limiting growth by requiring recommendations from existing users. Over the course of the past year, its active users increased from 100 to 185, and its area increased from 148 to 215 standard region equivalents.
Residents raved about the community feeling, the sense of safety and fairness, the quality of communication from grid owners, the unlimited prim regions, the fast support, reasonable prices, and fun events.
"Zandramas is a safe place for the people that are tired of the big grids and want more of a safe life," said one resident.
The invitation-only policy in particular was remarked on favorably by many voters, who cited it as the reason the grid is free from copybotters and griefers.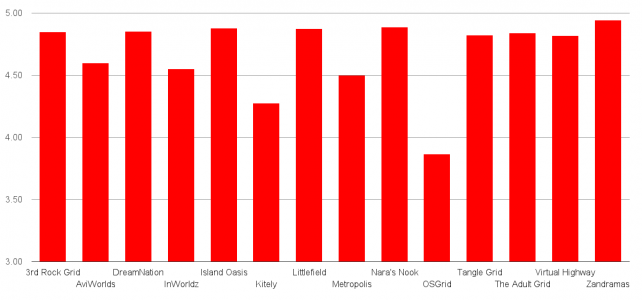 After Zandramas, the next eight grids were all within a few hundredths of a point of one another — Nara's Nook, Island Oasis, Littlefield, DreamNation, 3rd Rock Grid, Tangle Grid, and Virtual Highway.
Kitely scored second lowest for community this year, a sign that the grid is still having problems coming together socially.
Best Support
Zandramas also came out on top for support, with a perfect store of 5.0.
While Zandramas runs its own servers, OpenSim hosting company Zetamex provides technology services.
"This grid's customer and technical support is like nothing I've ever experienced on the web let alone in a virtual world," wrote one Zandramas resident.
"I love that fact that this grid has such fast inventory rezzing, minimum of lagging, multiple sims without any sim crossings, and awesome staff quick respond to any problem," added another.
"Having the possibility to reboot the sims is fantastic!" raved another, referring to the Zandramas control panel tool that takes the idea of restarting a region to a completely new level.
Most grids run several regions inside a single instance of the OpenSim server software, explained Timothy Rogers, acting CEO of Zetamex. As result, when regions are restarted, the actual software itself is like running — it's like closing a single webpage in a browser, without shutting down the browser itself.
"Unlike many grids, Zandramas runs one region per simulator, providing the absolutely best performance," Rogers told Hypergrid Business.
That makes it possible to shut down the entire OpenSim application, and Zetamex created a custom tool for Zandramas that provides this shutdown ability for the grid's region owners.
It's a true, full restart, he said, which "allows you to completely and securely fully restore the region."
"Since implementing this, we have not had a single user ever have to contact us to fix their sim,"  Zandramas manager and co-founder Suzan De Koning told Hypergrid Business. "It's like turning your PC off and on again."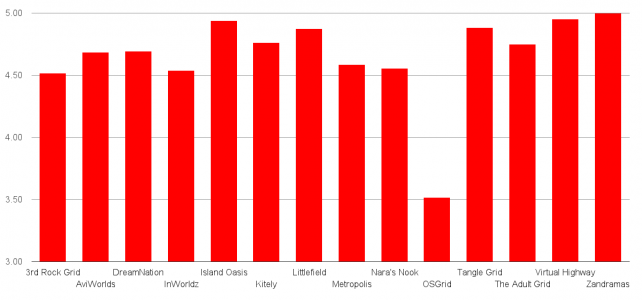 Virtual Highway, a closed, commercial grid, was in second place with a 4.95 score, followed closely by Island Oasis with 4.94. Tangle Grid, which recently launched an expo series, tied for fourth place with Littlefield, both at 4.88.
Best Technology
Kitely ranked at the top here, as well, with a close-to-perfect score of 4.95, up from second place last year.
Kitely is known for its on-demand cloud hosting, and the hypergrid's only multi-grid marketplace.
"Kitely has functionality in the marketplace that no one else has," said one voter.
"Overall I think Kitely has a great set of innovations and excellent tech support," added another.
"Kitely is truly innovative, they wisely invest their time in features that are useful and appeal to their users — such as advanced worlds on demand, cloud storage, the Kitely Market —  instead of wasting their time on gimmicks," said a resident. "Kitely doesn't use their customers as beta testers. When they release something, it works. Regressions and rollbacks are unheard of in Kitely."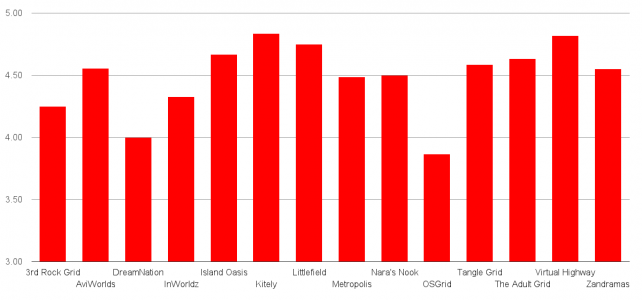 Virtual Highway ranked second in technology, with a 4.82 score, followed by Littlefield with 4.75, Island Oasis with 4.67 and The Adult Grid with 4.63.
Best Content
Nara's Nook, a grid that got just enough ratings — ten — to be included in this write-up, scored highest in content in this year's survey.
Nara's Nook has just 13 regions and 75 active users. It is a place for writers to experiment with interactive fiction, to hold readings, or just hang out while they work. It is hypergrid-enabled.
The grid is best known for the Greyville Writer's Colony, where there's usually someone in the cafe across from the landing zone. The region includes settings and characters from the books created by the authors of the grid.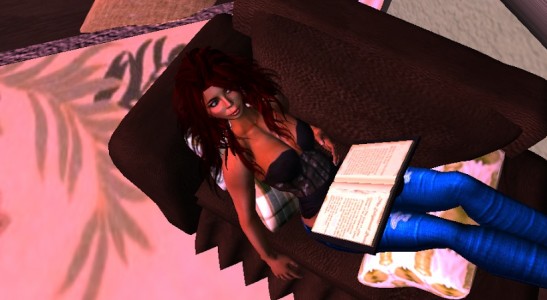 Nara's Nook is not a big commercial social grid that tries to be all things to all people. And, by doing just one thing very well, it may well be a model for the future development of the hypergrid.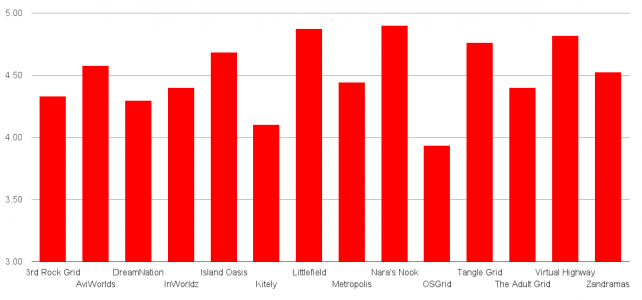 Littlefield, another popular hypergrid destination, came in a close second for content with 4.88, followed by Virtual Highway at 4.82, Tangle Grid with 4.76 and Island Oasis with 4.69.
Kitely scored second lowest in content, despite the growth in the marketplace.
"The owners of Kitely, who appear to be very tech savvy, seem to be most focused on big features, like the marketplace and the hypergrid," said one resident. "I am sure these features will give Kitely greater standing among more experienced virtual world enthusiasts, but I suspect their value will be lost on less experienced virtual world explorers who are likely, at least initially, be more concerned about how their avatar looks, how they move, where to find basic resources, etc. And I think it is these new people who Kitely will have to attract, and retain, in order to grow the Kitely population."
Comments about the grids
The following is a representative sample of some more of the additional comments offered by the respondents.
3rd Rock Grid
"I have only been n the grid for six months but I find it fun, relaxing and educational."
"3rd Rock Grid is a wonderful grid run by wonderful people. The service is perfect — sometimes I get a reply to my tickets within 15 minutes, and so far every problem was solved. The owners are online too and keep contact with their users."
"I hope that some more creators will join the grid so that we can get more shops and high quality stuff there."
"It is an absolute drama free grid."
I have seen many grids, but 3rd Rock became my grid of choice."
"Have made my home in 3RG for three years now. Been in open sim from 2010 and Second Life since 2005. In my opinion 3RG is the grid you graduate to. In other words it's the grown ups' grid. Intelligent conversation and nearly 99.9 % griefer free. In fact, mean and narrow minded people seem to make a hasty retreat."
"What 3rd Rock Grid needs to excel is for more people to join and generate cash flow. We have fantastic sims  that don't see as much traffic as they deserve. On the positive side, the drama is way low. Once we come up to v0.8.0, we should see a drastic upturn in popularity."
"For me and my needs, this place seems to be ideal!"
"Enjoy music with a congenial community of people, or help build a new world! If you like to create or contribute, there are many opportunities in this still growing, hassle free, grid."
"One of the warmest communities I've found."
AviWorlds
"AviWorlds is a grid that is in the beginning but even starting grid is the one that's free for users build, land and also has an optimal stability without lags or bugs. I recommend this to all who enjoy online gaming and who have the desire to create new and unique things."
DreamNation
"The community of people is its strength, after playing Second Life for so long I was a bit spoilt so the content seems a bit old but it is getting better by the day. I consider DreamNation my new home after many years in Second Life."
"Unfortunately I leave my last sim at SecondLife at end of year. Second Life is too expensive for me, renters left, DJ income dropped end worse is Linden Lab claims all rights on uploads. Because I am a designer and developer on and off grid I do not agree to the Linden Lab Terms of Service and quit my shop too. "
"The few spots that I did not rate excellent are due to DreamNation still developing and growing. The technology is getting there and it is a bit more fun for me to be in at the ground floor so to speak."
InWorldz
The InWorldz residents have contributed enough comments to fill a book, with the majority firmly on the positive side.
"In the past two years Ive made amazing friends, become a region owner of two beautiful residential sims, and I actually prefer the content to Second Life — especially since the Knitting Circle and Fashion District arrived. In the past two years InWorldz has grown like crazy and I love every minute I spend there."
"I've been in InWorldz since 2010 and it keeps getting better. Is it perfect? No…what world is? However, it's run with alot of respect for its creators and residents and this is what makes for a happier world despite any minor flaws. It also amazes me what a small company like this can accomplish! Very simply put: if InWorldz didn't exist, I more then likely would have left virtual worlds totally."
"I love InWorldz so much that I know have three full sims and two scenic ones. The cost of InWorldz is much less than Second Life which is where I originated in avatar form."
"The only reason I would hesitate to recommend InWorldz to others, is that I fear an influx of people will some day turn it into just another Second Life. InWorldz is unique because of it's founders' attention to doing things right rather than raking in the dollars, and because residents are emotionally invested in making this a livable community."
"Greatest advantages over Second Life are affordable land prices, high prim counts, customer support and involvement by grid founders. Several popular builders from Second Life also have stores in InWorldz. Closed grid, protection of intellectual property is an advantage over the OpenSim hypergrid. Perfect grid for experienced builders who just want to build. Few learning opportunities."
Some respondents, however, took the opportunity to vent.
"They are so far behind the times it is like visiting Second Life eight years ago. Physics are very iffy and they need to get on the mesh bandwagon in the clothes and accessories area. Do not even get me started on the scripting issues 🙁 Over all I don't see this grid going anywhere but just remaining a place stuck in the Second Life glory days of prims."

"I have finally run out of patience with InWorldz. I am tired of waiting for all the bugs to be fixed. I am tired of waiting for inWorldz to catch up to OpenSim. I am tired of InWorldz announcing things that never come to be. I am tired of waiting for a response from InWorldz support… I am tired of excused. I am tired of InWorldz."
Island Oasis
"Island Oasis has more for your money than any other grid out there. And their customer service is second to none. Can't beat it."
"Island Oasis is a great grid.With a lot to offer. I hope we get more creators such as myself to come over and explore and help this grid to grow."
"I fell in love with Island Oasis a few years ago and I love it!!!"
Kitely
"Kitely works. It uses the latest and greatest OpenSim version plus exclusive, leading edge features developed by Kitely. The cheapest fixed-price world option costs just $14.95 per month. If you are paying more than that for a sim somewhere else, and it lacks the features Kitely offers, you are wasting your time and money there. Give your wallet a break, move to Kitely and see what you have been missing."

"The only 'problem' with Kitely I have experienced is the usual on Open Sim worlds — low concurrency. But the people there are great, and the builds seem very innovative. I've enjoyed my time there, and have had my home on OSgrid and Metropolis as well in the past."
"Kitely is unique on its overall features and flexibility — the right place to invest time and money."
"Kitely provides great value at low cost: Very stable grid, lots of ressources for my money, very fast response in case of issues, a great market. What it still needs is to increase size of community and further develop social activities."
"I love Kitely, but the pricing structure is confusing to new users."

Littlefield
"I live, work and play in Littlefield. It is my virtual home. The emphasis in Littlefield is on community with excellent content and technical support providing a stable base for that community. I have lived in Second Life, InWorldz, OSgrid. I enjoyed them all but Littlefield is the first where I have both a home and a family."
"Littlefield is all about community. No commerce makes the grid less stressful, it's all about creating, being part of a community and having fun with no drama."
Metropolis
"Metropolis is an artists' Mecca, is full of friendly and nice people, is a non-commercial, no-currency grid on the hypergates."
"Metropolis has an outstanding community and their admins are very dedicated, even though they have limited time. Metropolis has a lot of big events going on and everyone is friendly and helpful."
"Too bad that I do not find Metropolis years earlier."
OSgrid
Despite the outage — which is now in its second month — many respondents had only positive things to say about OSgrid.
"Amazing community, free land, free uploads. I love this grid and split my time between Second Life and OSgrid."
"I love how friendly and helpful the people are on OSgrid. I love how they work hard to advance their their technology and so willingly gives to other grids for free! I love that idea that you can use your own servers."
"Other grids owners are temperamental and ban people at will — even for little perceived insults. They don' t have the number of sims to travel to — the shopping experiences are dull — OSgrid has it all! Other than this serious outage issue we have been happy there for almost four years."
Some residents, however, were concerned about backups and communication issues.
"Unless OSgrid comes up with a better backup solution I don't think anyone should do anything but testing on that grid. For a large number of people it is their production grid and the OSgrid management was well aware of it but let it slide."
"The OSgrid community is pretty poor in that there does not exist any in-world or off-world fora that mass communicate to its users at any regular times, and the forum is very tech driven and not particularly informative at times. "
"RAID [drive]Â failure is not the worst — lack of communication, direction, risk management."
"I was a faithful OSgridder until it abruptly disappeared in late August…Â Since then I have been gridless, and I think I will stay that way. I have not been at all impressed by the drive crash and its aftermath. I am hearing a lot about how it is a 'test' grid. This is news to me."
Tangle Grid
"I really like the expos that have been running on Tangle."
"Tangle Grid is a forward thinking grid. It has the tech and the technology and the community to move forward and is building a great world."
"Totally awesome place recomend it to anyone. Their prices are very hard to beat, too, and every one are just so nice at Tangle Grid."
The Adult Grid
"The people her are amazing and even though we are lacking in content compared to the "almighty" older grids, for something that is just starting they are off to an awesome start!"
"The best grid I have visited in a long time, customer support is wonderful, and the people are always willing to help out a real family community, people caring about people."
"Friendliest grid and best founders thus far from all the grids i have been on."
"Just a small adult themed virtual world. Adult-minded grownups enjoying ourselves and having a good time. Not complicated or expensive but has backups daily and offsite back ups for just in case and is easy on the wallet for those who just enjoy having a good time and hate going broke."
Virtual Highway
"I have been to multiple Opensim grids over the past three to four years. I was very suprised of the content Virutal Highway had to offer. I believe over time if this grid stays consistent, it will be one of the most popular grids in OpenSim."
"The way they protect content creators' rights and IP is very important."
"Best support ever. Fair price for land. Friendly people. Helpful. Well organized."
"Best grid I have been in. Great people, nicely laid out."
"Virtual Highway is pushing the new Opensim technology and working hard to help iron out some of the wrinkles in it. When had problems with the new variable sized regions, [they] asked Henri Beauchamp from Cool Viewer for some assistance and insight and put a varregion at his disposal, as well as the other varregions already being set-up. His results and subsequent changes to Cool make it the best viewer to use for any grid with varregions."
Zandramas
"Quite a bit of time and effort was spent on Zandramas long before it launched to determine the best possible and most stable configuration for the grid setup in order to ensure good reliability. After launch more effort was spent on trying to automate user services to help enable users to take care of many things themselves. Some of the larger grids will have many of the same features but most smaller grids will not. I am continually impressed with Zandrama's leadership and dedication to the user experience."
"The fact that Zandramas is a closed grid, gives me the feeling of safety. The community — yes, Zandramas has in fact a community –Â  is very helpful and caring, something IÂ did not see on other grids, where I faced jealousy, backstabbing, poor costumer support. At Zandramas, the people can vote, they have a vote in making decisions."
"It is worth mentioning that they support sending payments to avatars in-world from the website, without having to log into the world. I believe it is an amazing an innovating idea. Smart and lovely people run that place."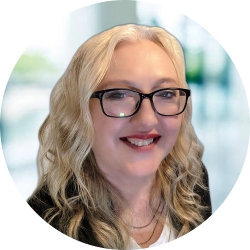 Latest posts by Maria Korolov
(see all)