The total number of regions, registered users and active users all hit new record highs this month.
The total land area on OpenSim's public grids rose by the equivalent of 1,943  standard regions to 54,123, the grids gained more than 8,000 new registered users, and the number of active users rose by an even 1,900 this month in large part due to a successful OpenSimulator Community Conference.
AviWorlds was the big land gainer this month, with a series of recent mergers with others grids as well as a free land giveaway. Altogether, 22 different grids gained land this month.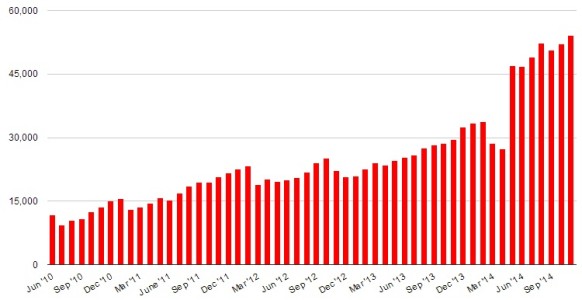 The OpenSim software has been downloaded 1,940 times this past month, including 614 downloads of the Diva Distro, 1,128 new downloads of Sim-on-a-Stick, 31 downloads of New World Studio, and 167 downloads of the standard distribution at OpenSimulator.org, which seemed to have a glitch in its counter this month.
According to Hypergrid Business estimates, the OpenSim software has been downloaded 213,715 times since September 2010, when we first started keeping track.
Popularity
For company and school grids, relative popularity is not an issue — the grids are set up for a specific purpose, and if they meet that purpose, then they are successful. The same is true for grids run by niche communities or that serve a special need not met elsewhere.
But when it comes to general-purpose social grids, the rule of thumb is: the bigger and busier, the better. People looking to make new friends look for grids that already have the most users. Merchants looking to sell content will go to the grids with the most potential customers. Event organizers looking for the biggest audience… you get the idea.
With that in mind, here are the ten most popular grids this month:
We did not include the OpenSimulator Community Conference numbers in previous top-ten lists since the grid was simply running scalability tests. But this month, the conference grid deserves to be on the list, because the conference was actually held, and the grid was packed with real, live attendees.
The conference grid wasn't the only gainer, however. A total of 70 grids gained active users this month. On our top ten list, Metropolis gained 63 active users, Kitely gained 33, Craft gained 70, 3rd Rock gained 39, FrancoGrid gained 82, Lost Paradise gained 14, and Islands of Enlightenment — an educational grid based in upstate New York — gained 243.
Logicamp launches Web boutique
Logicamp, a low-cost grid based in Belgium, has posted a few hundred items online in its Web Boutique market.
It's based on the same principle as OpenSim Creations, which is currently down because of technical issues.
"People can download the archive containing the XML file and import it into OpenSim or SecondLife with the Imprudence viewer," grid owner Didier Preud'homme told Hypergrid Business. "Improvements will soon be made to enable content creators to bring their items for sale in the Logicamp shop."
The grid also hosts a party every Friday on its Condensation region, at noon Pacific. Teleport via hypergrid to logicamp.org:8002:condensation.
3rd Rock Grid add rent-free malls
3rd Rock Grid has added two new shopping malls with rent-free stores. To claim a store, merchants should contact Tommy Rock or Sunny Tomorrow in-world.
The grid has also given away several free "First Land" regions, grid owner Terry Ford — also known as Butch Arnold in-world — told Hypergrid Business. These regions are free to new residents for the first 30 days, then cost just $8 a month for 15,000 prims after that.
The grid has also added two new staff members, greeter Paige Stormblade and website blogger Peebles Rock.
Oil painting exhibit at Dorena's World
French oil painter Prodyck Theas is exhibiting landscape paintings through the end of the month on the Beeblebrox region of Dorena's World grid. Teleport in via hypergrid to Dorenas-world.de:8002:Beeblebrox.
Kitely market adds features, product listings
The number of exportable items on the Kitely Market shot up 20 percent this month, with more than 500 additional product variations now enabled for delivery to other grids. The number of non-exportable items actually shrank this month.
The Kitely Market now offers 6,794 variations of 3,316 products, a record high, and the biggest single increase in variations since the market first became hypergrid enabled in March.
A presentation about the Kitely Market was also the most popular event in the Business and Enterprise track at the OpenSimulator Community Conference earlier this month. You can watch a taped recording of the presentation here.
"We made several significant upgrades to Kitely Market this past month, adding an advertising system that is integrated with our analytics system, upgrading the merchant product management tools and adding an advanced related products feature to product listings," Kitely CEO Ilan Tochner told Hypergrid Business.
The Kitely Market is currently the leading marketplace for hypergrid-enabled grids.
"That is the main growth driver and most new merchants who come to Kitely Market do so in order to sell to the metaverse," said Tochner. "Two thirds of the items that are bought in Kitely Market are ones that are exportable. Even Kitely users prefer buying exportable items, so it's not surprising that even merchants who originally sold only unexportable items are beginning to sell exportable items as well."
Virtual Highway opens business park, North Pole region, holds Queen concert
Virtual Highway, a mid-sized commercial grid known for its music, is holding a Queen tribute concert on November 21 to benefit the St. Jude Children's Research Hospital. The concert will run from 5 to 6:30 p.m. Pacific on the Central Park region.
Virtual Highway CEO Gene Call, also known as Logger Sewell, will himself be performing on the guitar as Freddie Mercury.
Virtual Highway has also completed construction of its 49-region Asgard Business Park.
"This beautiful area centers around a magnificent fountain and with the extraordinary and picturesque backdrop of the city skyline it is a perfect place to meet with clients, customers and sales reps," Call told Hypergrid Business. "The center hub is bounded on three sides by our three beautiful malls; Adventura, Valhalla Plaza, and the new Portico Piazza, a little touch of Italian design to brighten every day life."
Full regions are available for $55 per month, with smaller parcels and individual offices also available.
Finally, the grid has begun work on its holiday-themed variable-sized region, The North Pole. Free stores are available for merchants to sell Christmas items.
Transitions
We have five new grids on our list this month, including Excelsior Station, Bearly a Grid, Home of Xerdar, AnjWorld,  and Atek Grid. Atek is a new commercial open grid, a joint project between Tangle Grid and the folks behind the CloudServe OpenSim hosting company.
We're listing 14 grids as suspended this month because we haven't been able to get to their grid info pages or websites these past few weeks, including: Atcradar, Bess Research, Brillyunt, Dracsoom, Grid Empire, HewittSim, iSynergy3D, New World Grid, OCGrid, The Itakos, The World of Begabungs, Universidad, VIBE: Tooth Fairy, and Your World.
And we're marking a few grids officially closed because they've been down for a while and show no signs of coming back.
If there's a public grid we're not tracking, please email us at [email protected]. There's no centralized way to find OpenSim grids, so if you don't tell us about it, and Google doesn't alert us, we won't know about it.
I'm not going to list the Second Life region losses this month. I just don't have the heart for it.
November Region Counts on the Top 40 Grids
The list below is a small subset of existing OpenSim grids. We are now tracking a total of over 885 different publicly-accessible grids, 226 of which were active this month, and 185 of which published their statistics.
All region counts on this list are, whenever available, in terms of standard region equivalents. Active user counts include hypergrid visitors whenever possible.
Many school, company or personal grids do not publish their numbers.
The raw data for this month's report is here. A list of all active grids is here.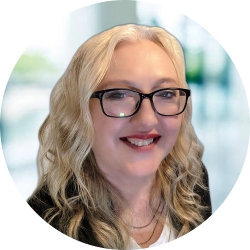 Latest posts by Maria Korolov
(see all)