It was a three-way competition between Dreamland Metaverse, Zetamex and CloudServe in this year's hosting providers survey, since the OSgrid outage took a lot of the smaller hosting providers out of the running.
Despite the outage, the total number of responses was up by 62 percent compared to last year. Zetamex had the most ratings, followed by Dreamland, and then CloudServe.
3D Hosting, Oliveira, 3DLES, AviLabs, Digital Worlds Group, Hispalab, MA Rentals, Sasso, SirinHGpole and TomaHost had three or fewer responses each and were not included in this report. Other hosting providers in our directory had no ratings at all.
Dreamland on top in each category
Dreamland Metaverse, the oldest of the OpenSim hosting providers, score the highest in each category, including a perfect score for support. Zetamex was in second place for stability, performance, and support, and came in third after CloudServe for its user interface. However, Zetamex is currently redoing its web management panel.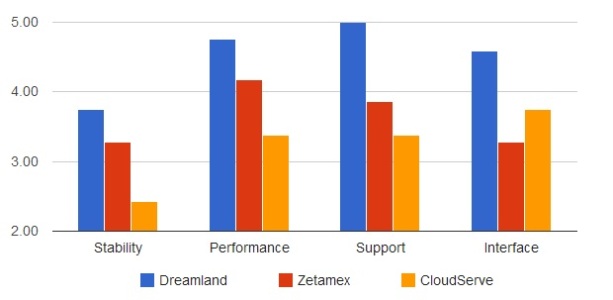 Dreamland Metaverse is based in Switzerland and offers support in both English and German, with data centers in Europe, North America and Asia.
They are known for running private grids for educational institutions and companies of all sizes, including Fortune 500 firms — in fact, according to our survey, Dreamland customers said they rent more land at a time than either Zetamex or CloudServe customers.
But Dreamland does also provide hosting for individual regions on OSgrid and standalone mini-grids.
Dreamland also came out on top on another score — a full 100 percent of its customers say they would "absolutely recommend" it to others, compared to 72 percent for Zetamex and 67 percent for CloudServe.
However, CloudServe did well in the pricing question, with 67 percent of respondents calling it a bargain, compared to 58 percent each for Dreamland and Zetamex. The rest of Dreamland's customers said that the prices were reasonable for the services provided, as did other  Zetamex customers — except for one Zetamex customer who said it was overpriced.
Tomorrow, I will post a follow-up article about what features people most appreciate — and most miss — in OpenSim.
Dreamland customer testimonials
Most of the ratings for Dreamland were accompanied by customer testimonials. The following is a representative selection of the comments.
"We have been with Dreamland Metaverse for almost five years and cannot praise them highly enough for support stability and overall experience. We have had excellent advice and help with almost immediate response and would recommend them to all without hesitation."
"Best out there. Incredible service and support. You get what you pay for."
"Dreamland Metaverse is truly an excellent service provider — we get the buck for the price."
"Snoopy has been exceptional in addressing client concerns and issues. I would highly recommend Snoopy's hosting services to anyone who is willing to get involved in the metaverse business."
Only one customer had a complaint, but pointed out that the problems were not Dreamland's fault.
"I had to return to Second Life based only on inventory availability," the customer wrote. "Wish OpenSim had that type of selection variety or I wouldn't be wasting a lot of money in Second Life as I need innovative tools for training, customizing and providing a high end business service."
Zetamex customer testimonials
Fewer voters, proportionately, left comments about their Zetamex ratings.
"Zetamex had a rough start for me as I had just gotten a place located on OSgrid right before OSgrid went down. This of course was no fault of Zetamex — and I tried to wait it out. I now have my region located in Zetamex [they probably mean Zetaworlds, the new grid run by Zetamex] and couldn't be happier. Of course with all the issues that have happened for Zetamex, the population on Zetamex is pretty low right now, but I am confident, in time, this too will change."
"We are very happy with our hosting provider Zetamex. They come up with good ideas, new features. They think WITH you, take initiative and are very trustworthy. Their costumer service is excellent.  And Zetamex is very affordable."
"Customer service at Zetamax is very poor in my experience. Lacks the ability to download or upload my region or inventory. I appreciate my experience in the lack of the ability to backup or upload my region or inventory is not the norm for OpenSim. On the plus side when my region is up, performance is excellent."
"I feel 3 dollar regions are too cheap, though I have one that performs excellently. I think 10 to 30 dollars is a good target range for a fair price to consumers and quality hosting performance."
"Tim is really good, but it sometimes takes him a while to respond to things."
CloudServe customer comment
Only one of CloudServe's customers left a comment along with their vote.
"I just love my mini grid, I can hypergrid anywhere I like and be sure that my avatar inventory gets automatically backed up daily."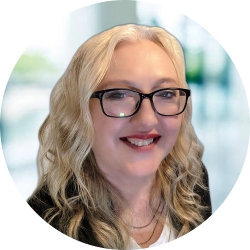 Latest posts by Maria Korolov
(see all)