OMC helps establish an economy for the XMIR grid
OMC allows hypergrid travelers to make payments
OMCs can be purchased with the widest variety of payment options
To help establish an economy for the grid, the recently-launched commercial Xmir grid has added support for in-world payments via the OMC currency from Virwox, a virtual currency exchange based in Switzerland
With over 340.000 registered users, Virwox provides a wide variety of options for trading virtual currencies, including the hypergrid-enabled OMC currency, Second Life's Linden Dollars, Avination's C$ and BitCoin, and allows several different payment methods.
"Many European virtual world users are not able to make payment transactions with PayPal, and Virwox was therefore a natural choice as a currency for the grid," said Xmir founder Gavin Hird.
In addition to standard credit cards and PayPal, Virvox lets people transfer money via Sofort Banking, paysafecard, Ukash, Skrill from Moneybrokers and OKPAY.
Users with avatars in Second Life and Avination can also transfer money between L$, C$ and their OMC accounts.
People with the ability to mine or make transactions in Bitcoin can also exchange crypto currency funds to other virtual currencies including the OMC, said Hird. This can make it more attractive for some to participate in virtual world economies.
The Xmir grid also sells content through PayPal on the Xmir store on the Kitely Market. But not everyone can make payments with PayPal — something that limits the reach of products sold there, said Hird.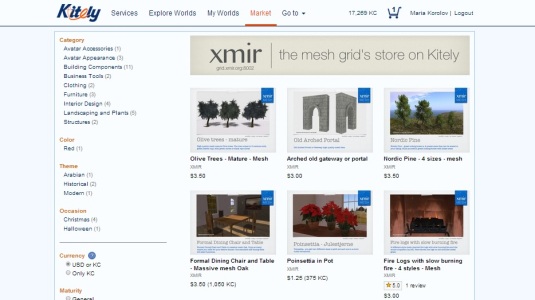 "Adding the OMC gives us more flexibility to reach more customers with our products in addition to facilitating the establishment of other merchants and services on the grid," he said.
OMC trading volumes have been falling this year due to a lack of support from Virwox, grids switching to their own, proprietary currencies, and the news that Virwox was charging an inactivity fee of the equivalent of 2 Euros a month for accounts that had been inactive for more than twelve months.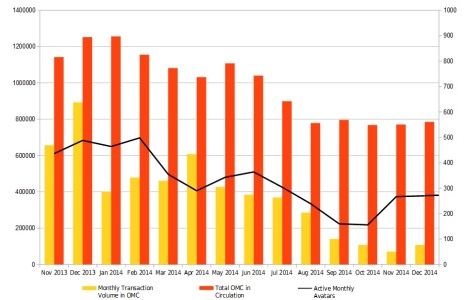 However, OMC usage began growing again over the past few weeks, and the OMC module for OpenSim now works.
"I took it from the git repository that Virvox directed me to and compiled it myself," said Hird. "The I followed the installation instructions. I have found one issue that for free items they get delivered two times."
Virwox came out with an immediate fix that has resolved the problem, he added.
The paid-for deliveries work as expected, he added. Whenever a user is on a region that is enabled for OMC, their OMC balance shows up in their viewer, but all payment processing actually happens on the Virwox website. This is similar to how PayPal payments work — any website or grid can choose the accept the payments, but all transactions require a separate confirmation step. A user only needs to have one Virwox account, which they can access from any OMC-enabled grid.
In addition, all legal liabilities are handled by Virwox, with no compliance or other regulatory issues affecting the grids themselves.
"We believe that establishing solid virtual economies outside the for now de facto Second Life economy is important both for content creators and the ability of many new residents who don't have the time or inclination to build everything they require for their virtual existence from scratch," Hird added. "Establishment of such economies is paramount to providing Second Life residents viable alternatives as Second Life reach maturity and Linden Lab develops their second generation virtual world which will be less compatible with the vast selection of virtual content that exists, while OpenSim for the foreseeable future will retain close to 100 percent compatibility with it."
About Virwox
Virwox is a virtual currency exchange operated by Virtual World Services Gmbh based in Austria. Founded in 2007, it is one of the oldest and largest exchanges trading in the Linden dollar.
About OMC
Unlike most other in-world currencies, which can only be used on one grid, the OMC is a multi-grid currency. According to Virwox, it is currently accepted on 59 grids, used by 14,212 Virwox account holders, and has 785,952 OMC Â — about US $3,478 — Â in circulation.
About Xmir
Xmir is a new commercial grid focusing on mesh content that launched earlier this fall. It currently has about 30 regions and 75 active users, almost all of whom visit the grid via hypergrid teleport.

Latest posts by Press Release
(see all)