We seem to be hitting the inflection point on the old hockey-stick curve when it comes to the adoption of virtual reality technology.
Consider these headlines, from just the past few days.
First, the media-related news, since I'm in the media, and pay more attention to this than pretty much anything else.
Oculus VR Releasing Four Movies Made For Oculus Rift In 2015
Oculus VR announced Monday that it was developing films. The first movie from its Oculus Story Studio is a short one called "Lost," which stars a robot.
Annapurna Pictures Forms Virtual Reality Division
This the studio that produced "Foxcatcher," "American Hustle," "Her" and "Zero Dark Thirty."  They're partnering with VRSE, a new virtual-reality focused production company. Which has an app also called VRSE, available for both iOS and Android devices. Use in combination with a cheap Google Cardboard kit. Or upgrade to a Samsung Gear VR headset.
Vice Uses Virtual Reality to Immerse Viewers in News
There is now a virtual reality news channel from Vice News, and you can be transported right into the news events on the VRSE app.
Which brings us to…
Qantas Will Use Samsung Virtual Reality Headsets to Entertain Flyers
According to ABC News, Qantas will begin offering Samsung Gear VR headsets to first-class passengers, providing an immersive virtual reality experience. Beginning in March, first-class passengers with cabin fever on long-haul flights from Sydney or Melbourne to Los Angeles. That's a very long flight. I can see how a virtual reality headset can help break it up a bit.
Other companies are also looking at using virtual reality. Lots and lots of other companies.
Like…
DC Startup Showcases the Biz Potential of Virtual Reality
Washington, D.C.-based Agora VR is looking to show just how powerful this new wave of virtual reality could be—particularly for businesses — with new software that aims to let users attend seminars, university lectures or business meetings on an Oculus virtual reality headset.
Oculus Rift headset helps nursing students improve communication skills
"We are exploring how this can be used for learning, and have now created a virtual operating room. Today's specialist nurses and medical students have less and less patient contact because patients are sent home as soon as practicable. As a result, they get less and less training in communicating with patients and with each other. A virtual hospital allows them to train as much as they want," says Ekaterina Prasolova-Førland, an associate professor in the Learning with ICT program at the Norwegian University of Science and Technology.
Meanwhile, the number of virtual reality confererences is expanding.
UK Based 'South West VR' Conference Announced, Guests Include Oculus, Aardman and Unity
The UK South West VR conference will be held on February 24, in Bristol.
But wait, there's more. There's SPIE's Engineering Reality of Virtual Reality 2015 conference in San Francisco February 8 to 12. The ART Days 2015 AR and VR conference in Murnau, Germany March 5 to 6. The VR 2015 IEEE Virtual Reality conference March 23 to 27 in Arles, France. The 2015 International Conference on Virtual Reality in Los Angeles April 9 to 10. The Augmented World Expo 2015 in Santa Clara, June 8 to 10. The International Conference on Virtual Rehabilitation 2015 in Valencia, Spain June 9 to 12. The 17th Human-Computer Interaction conference in Los Angeles August 2 to 7.
Or check out one of the 166 — and growing — Virtual Reality MeetUp Groups.
The porn
But if you really want to see a technology take off, just let the porn industry get its hands on it.
Specifically, there's a lot of action — ha, ha, action — on the VR video front. This is where actors are filmed with new 3D cameras and the viewer puts on any 3D headset — even a cheap-o Google Cardboard — and feel like they're right there, in the middle of the porn set.
This is not interactive virtual reality. You just sit there and watch, maybe turn your head to look at stuff — ha, ha, stuff — from different angles. But that also means less processing required of the headset, and less nausea for the viewer.
To see what happens when people watch virtual reality porn for the first time, watch the video below. The really dirty parts are covered up, but you probably don't want to watch it at work, anyway.
Want to check out some of that virtual reality porn for yourself?
If you have an Oculus Rift, go to Huccio's Oculus Porn page — definitely not safe for work. The company also has versions for Gear VR and Google Cardboard.
Then there's the VR Porn Game and Apps Directory — also very much not safe for work!
Want to know how they film this stuff?
The Insane Camera Rig Being Used to Shoot 360-Degree Oculus Porn
Apparently, shooting virtual reality video is really tricky because the camera is shooting in all directions at once — so only the actors can be in the room while it's filming.
We probably don't have the bandwidth yet for live virtual reality streaming video. Though now that the thought has occurred to me, it's probably coming — and a lot of people are going to be yelling at their cable companies to get them gigabit Internet now, goshdarnit.
And interactive virtual reality is likely to stay animated for quite a while, since photo-realistic animation isn't really there yet. Unless, maybe, you're director James Cameron.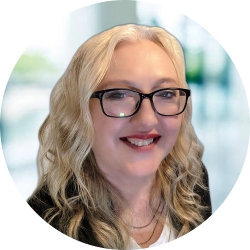 Latest posts by Maria Korolov
(see all)