The Firestorm viewer — by far the most popular viewer in both Second Life and OpenSim — has a new release out, with a very long list of bug fixes and interface improvements.
After removing the previous version of the viewer from your computer, you can download the new version here.
Inara Pey has a nice review of the new features on her blog, Living in a Modem World.
In particular, I appreciate:
Being able to set default permission settings for new builds and other content.
The new snapshot preview window.
All the stability improvements.
Region tracker
Probably the most significant new feature is the region tracker, which lets you see how many avatars are on other regions.
Just open the map, find a region, and click on "Region Tracker" on the bottom right.
That region then gets added to your list of tracked regions, which you can access via World>Region Tracker.
The Region Tracker lets you add both local regions and hypergrid ones, and if you click on their names in the Region Tracker, it will trigger a teleport.
However, it will only show a visitor count if you are currently on the same grid as that region — and if you added it while you were on that grid.
So, for example, if I'm standing on Hyperica, and I search for hg.osgrid.org:80:lbsa plaza on my map, I can find it, and I can add it to the region tracker, and if I click on it, I can teleport there. But it won't show the visitor count. But after I've teleported to OSgrid, I can find LBSA Plaza in the map and add it to the region tracker, and now, whenever I'm on OSgrid, it will show me the number of avatars that are on that region — but then I can only teleport there from within OSgrid itself, because it's now saved as a local teleport.
In fact, the issue of local versus long-distance teleports is still a problem in OpenSim.
Clicking on a hypergrid teleport link in the Hyperica directory, for example, or the in-world destination guide only works if you're on a different grid. If you're on the same grid, you need to copy and paste the region name into the Map, instead.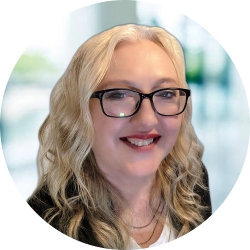 Latest posts by Maria Korolov
(see all)