Sony is currently leading the virtual reality patent race, according to a new report from Houston-based patent consulting firm LexInnova,
According to the firm's analysis of nearly 12,000 patents or patent applications, Sony has 366 virtual reality patents or patent applications. Microsoft is close behind, with 365, followed by Samsung with 348.
Sony is the maker of the Project Morpheus virtual reality headset, due out next year. Microsoft is the maker of the HoloLens, an augmented reality headset, with no release date announced. Samsung is the maker of the Gear VR headset, available for the Galaxy Note 4 and Galaxy S6 smarphones for $200.
Apple didn't even make the top 15 list. According to LexInnova, Apple has just 21 virtual reality-related patents or patent applications.
However, Microsoft has the strongest patent portfolio, based on a ranking of patents by value.
The top 15 list is heavily dominated by hardware companies, but nobody has a lock on the market just yet. According to LexInnova, the top three patent holders — Sony, Microsoft, and Samsung — together account for just 9 percent of virtual reality patents and patent applications.
Not growing as fast as other industries
The number of new virtual reality patents being filed is increasing, the company said. But the increase isn't at the same scale as that of other fast-growing sectors, such as the Internet of Things.
"This means that virtual reality technology is still in its nascent stages," said Rana Pratap, LexInnova's technology expert. "However, as lots of companies have started investing in this technology, we expect it to mature rapidly and also account for lot of patent filing activity in the near future."
There were 2,526 patents or patent applications in 2014, up from 563 in 2010.
"The technology is still developing, and a lot of research is expected to happen in the near future," he told Hypergrid Business. We can also expect a lot of patenting activity from individual inventors."
The patent applications are one of the signs of increased corporate interest in the virtual reality space. In addition, a large number of patents are being filed by small companies and individual investors.
LexInnova also pointed to the increase rate of investment in small startups, such as Facebook's $2 billion acquisition of Oculus VR, and Google and Qualcomm's investment in Magic Leap.
LexInnova's analysis also shows that virtual reality patents are not too broad.
"Based on our analysis, a majority of the patents assigned to the major analysis have an average claim broadness," said Pratap.
Interface development single biggest focus
LexInnova also sorted the patents based on type of technology, and interface arrangements accounted for 2,041 of the patents, making it the single largest category.
It was followed by 3D modeling, with 1,727 patents or applications.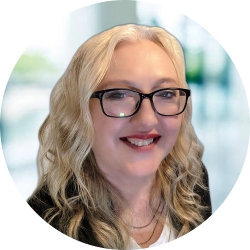 Latest posts by Maria Korolov
(see all)