OSgrid has received legal recognition as a non-profit, the grid's administrators announced earlier this month, just in time for the grid's 8th birthday celebrations this weekend.
OSgrid is the oldest grid running on the OpenSim software, dating back to the summer of 2007. For much of its existence, it has also been the largest and most popular of all the grids.
However, the grid has faced some challenges in recent years, including management changes, concerns about its legal status, a backup failure last year that resulted in several months of downtime, ongoing server issues, and significant communication problems.
There was not much information about OSgrid's eigth birthday celebrations, other than that they are scheduled for this weekend, Saturday, July 25 and Sunday, July 26, and will be held on the Event Plaza region and on three exhibit regions — OSG8BN, OSG8BW, and OSG8BE.
Official recognition
OSgrid, Inc. has now officially been recognized as a tax-deductible, non-profit corporation headquartered in the state of Texas, OSgrid secretary Lawrence Roberts, who is also known as Albertlr Landar in-world, announced at the grid's annual meeting on July 5.
Roberts said that the non-profit status was granted as of May 15, 2015, but is retroactive — it also covers all contributions made as far back as February 19, 2013.
"You will have to file an amended tax return to have those funds refunded to you," he said in a post on the grid's forums.
The annual meeting was also attended by grid treasurer Dan Banner and grid administrator Michael Emory Cerquoni, who is also known as "Nebadon Izumi" in-world.
Grid president James Stallings, also known as "Hiro Protagonist," was not in attendance, according to the posted transcript of the meeting.
The grid was registered in Texas because it is tax-friendly.
"You have to make at least one million to pay taxes," said Roberts.
Also, two of the board members — Stallings and Banner — live in Texas.
This might cause issues down the line, since the law requires that at least two board members live in Texas, and OSgrid has term limits for its board members.
Banner shared a link to a page summarizing OSgrid's monthly technology expenses, but the administrators ducked questions about publishing the full accounts.
"Look, almost all expenses go towards the servers," Roberts said. "That's it."
He added that the grid has filed tax returns for 2013 and 2014.
"We have a public inspection file located at Hiro's address to satisfy both federal and state requirements," he said.
He also addressed rumors about the grid.
"We are not broke!" he said. "And we are not closing down!"
However, searching Google Plus for "OSgrid" brings up dozens of recent event announcements and region — there were 38 screens of overwhelmingly positive posts before a post about OSgrid concurrency, and posts mentioning OSgrid's financials pointed to OSgrid's own May announcement calling for donations. They might, however, have been referring to a recent thread on the OSgrid forums, "The Black Hole In OSgrid."
In general, OSgrid has seen very dramatic fluctuations in region numbers during the seven years Hypergrid Business has been tracking its statistics, fairly steady monthly active user numbers, and steadily declining numbers for new user registrations.
However, OSgrid's share of all OpenSim regions and users has been changing much more dramatically as other grids have grown.
In particular, five years ago, OSgrid accounted for about two-thirds of all the land area on public OpenSim grids, and half of all active users. Today, it is down to 10 percent of both.
This is not necessarily a bad thing, however. In fact, since OSgrid is officially a testing grid for OpenSim, most users would probably be better off having their avatars and regions on a grid running the recommended versions of OpenSim instead of the experimental ones, and offering support, mentoring, and other services.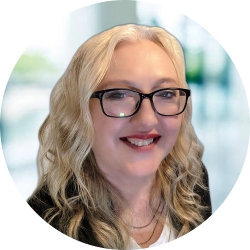 Latest posts by Maria Korolov
(see all)