My cardboard-based Google Cardboard is getting a little worn from use — and is just barely large enough to hold my new Samsung Galaxy S6 Android phone.
So today I upgraded to the $40 Sunnypeak headset, which I ordered on Amazon.
I ordered it on July 7 and it came today, so less than four days to ship. And I got the shipping free, since I also threw in a new protective case for my new phone.
I chose this headset because there were two adjustments for the lenses — you can move the lenses closer to each other or further apart, and you can also move them back away from your eyes.
Opening the box wasn't as sensually satisfying as, say, opening a box of an Apple product — or even my Samsung Galaxy box.
It was more of a typical box that a toy would come in.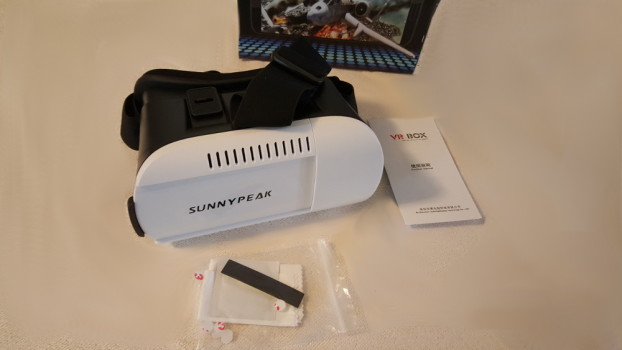 Inside the box, once you remove the plastic wrapping, there's the Sunnypeak headset, a tiny little manual in English and Chinese, and a little packet of stick-on little plastic dots and a lens cleaning cloth.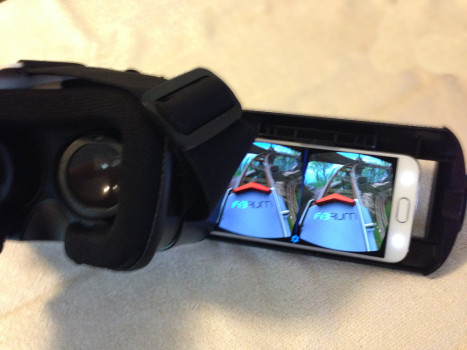 The way you put in your headset is you slide out the tray inside. The instructions say that the white panel comes apart, but it didn't come apart for me.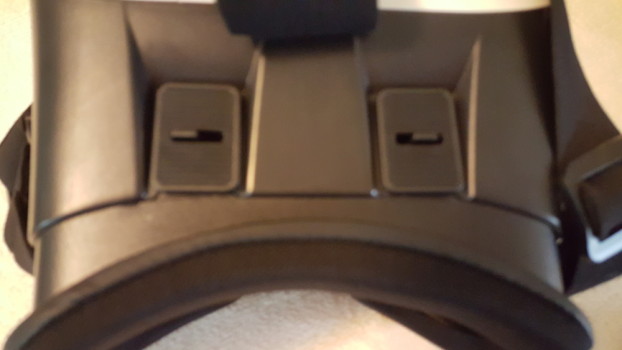 Once I slid in the phone, and put on the headset, I used the buttons on the top of the set the move the lenses to where the picture was nice and crisp. It took just a second to adjust it, so it's a good device to share with other people.
The headset is significantly bigger than the cardboard one I have — in all directions. That means that the phone is a little further away from your face, which means that your field of view is narrower.
If you have a small phone — like my iPhone 5 — you might not want to get this headset because it looks like you're walking through a telescope. A short telescope, but still.
On my Galaxy S6, however, the field of view was nice and wide.
The adjustment options, in particular, means that the picture was nice and crisp.
You can use it to watch movies in wide-screen format, as well as for all the new 360-degree videos and virtual reality apps. If you do a lot of that — as I do — it was definitely worth the $40.
The instruction manual actually said "VR Box" on the front, and it looks like the same headset is sold under other brand names as well, at a variety of prices. On Amazon, for example VR Box headsets range from $24 to $58, but the reviews vary as well. Â The lowest price, $24, is on Amazon from Bessky. It's also available under the Teefan brand name and Dreamthinker.
The latter in particular might work well for companies that want to put their own logo on the front.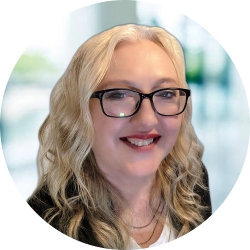 Latest posts by Maria Korolov
(see all)