Update: In August, I bought a FiiT VR 2S, and that is now my new favorite. Another headset I'm recommending is the BoboVR Z4 headset, which has a 120-degree field of view, built-in headphones, and a built-in control button.
A new virtual reality headset came in the mail for me today, the C1-Glass from Goggle Tech, and they're now officially my new favorite headset.
These are easier and faster to set up than cardboard headsets, very light-weight, and nice and cool in the summer.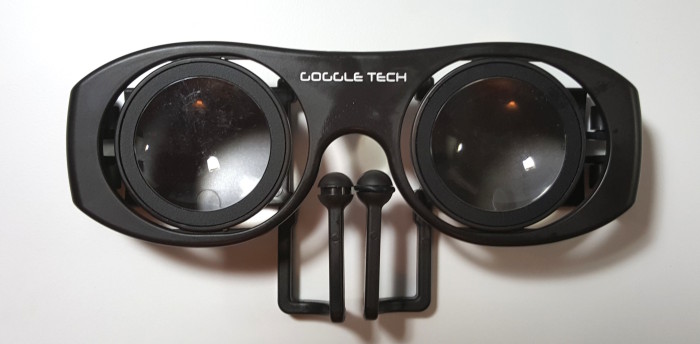 They're actually bigger than life-size in the picture above, if you're reading this on a large monitor.
These goggles are about the size of a regular pair of reading glasses — and weigh about the same, too. Â These are my reading glasses next to the Goggles.
And they're smaller than my smartphone, the Samsung Galaxy S6.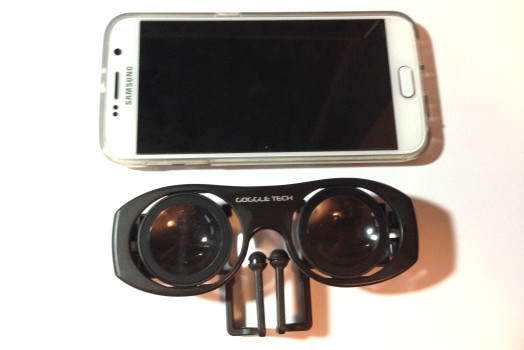 To use them, open them up.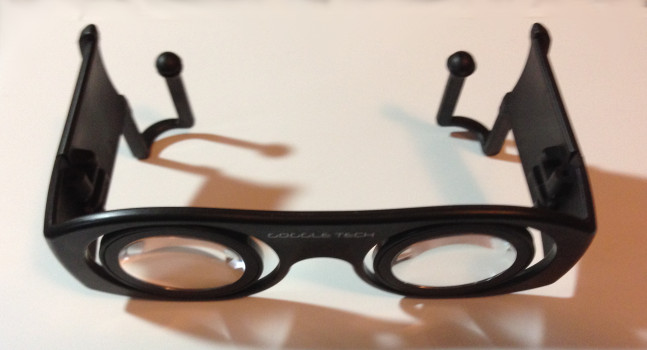 And slide the smartphone down in front of those little handles.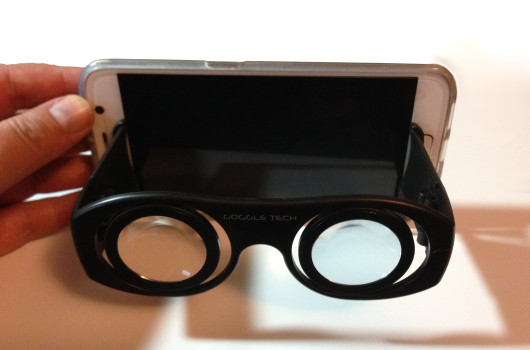 That's it. It doesn't block out light from the sides, but it does offer a nice, wide point of view and I found that I was distracted by what was going on around me at all.
I find them to be much more comfortable than my other headsets. My only quibble is that you can't change the distance between the lenses — though you can slide the whole set up or down your nose to find a more comfortable viewing distance.
There's no button to press but you don't need it — just tap on the screen when you need to activate anything.
In addition to games, these Goggles are a great personal cinema. Here, I'm playing the first episode of Scream, the new TV show, using the VRTube app.
Once you're done playing with them, you can put them away in their own little case.
You can order these babies from the company's official site for $22, or, for the same price, from Amazon. The Amazon version also comes in green, white and red.
The company that makes these Goggles also makes a few apps. Go4D World has a nice collection of virtual reality games, videos and video player apps.
But, best of all — and totally unexpected — the Go4D VR Spaceship app is the best virtual reality app I've played so far.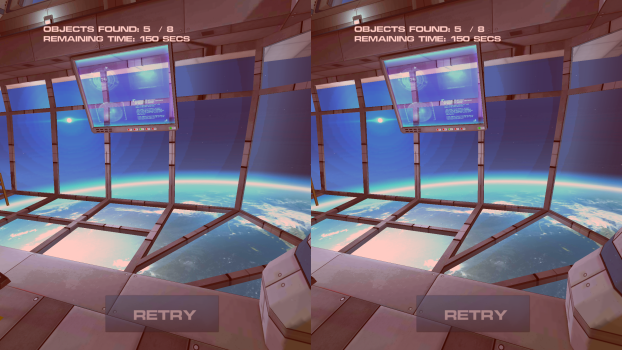 You're on a space station, and you have to walk around and find a bunch of boxes. It's not a particularly difficult game and the boxes are easy to find. Look down at you feet to start walking, look down again to stop, and look in the direction where you want to talk.
The view of the planet below is just stunning. You really do feel that you are there. The proportions all felt right, and the windows felt real. Every view from an exterior window was awesome.  And experiencing this app on the Goggles felt brighter than on my Cardboard or Sunnypeak headsets.
Whether or not you get the Googles, do try out the app.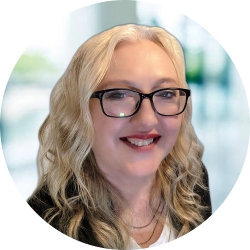 Latest posts by Maria Korolov
(see all)