There's been a recent trend with real estate companies to create virtual walk-throughs of properties for prospective customers.
But one company, eXp Realty, has taken this a step further and actually has its offices in a virtual environment.
"We don't have any physical bricks-and-mortar office of any significance, other than to comply with state rules," said founder and CEO Glenn Sanford. "I'm in my home office in Washington. Jason [Gesing, company president] is in Massachusetts. We're recreating what it means to be a brokerage."
All 800 employees of the agent-owned eXp Realty LLC, work for home or small satellite offices, and meet in the company's virtual environment. That environment, based on the AvayaLive Engage browser-based immersive platform, is where agents hold meetings, go through new hire orientation, take care of paperwork, attend training and coaching sessions, and gossip in the hallways and gardens of the virtual campus.
"Really, everything that takes place in a bricks-and-mortar real estate brokerage other than meeting with clients," Sanford told Hypergrid Business. "And its not that we couldn't meet with clients in some capacity, but it's more efficient to visit them at home or at a Starbucks to do the paperwork."
Every week, between a quarter and a third of all agents stop by the virtual offices, he said.
But some employees are there throughout the week, including Jodi English, the director of the transactional department, and her staff.
"Each of the coordinators here can assist our agents and brokers with the paperless platform we're currently using," she said. "We're quite spread out, but our office works very well with us in the cloud office to collaborate and work together."
English is based in North Carolina and others department members are in Oklahoma, Alabama, Maine, Austin, and other parts of the country.
The company itself does business in 31 states and Canada.
Why go virtual?
It all started back in 2009, when the housing market crashed and the company was forced to close two of its three offices.
With video conferencing — as with regular phone calls — the interactions between employees aren't as smooth as they could be.
"You feel like you're interrupting someone," said Sanford. "That creates friction in the collaboration. One of the big benefits, in my opinion, of bricks-and-mortar is the ability to walk down the hall, have a conversation, how are the kids doing, those social conversations that create the bonds of friendship."
Phone and video calls are more transactional, and more efficient.
"But we wanted to create a community," he said. "We really wanted to create that ability to be able to walk across the campus, across the office. Create that social learning component that comes from having random conversations."
"For me, this is an environment that really comes to life and makes you feel that you're among your peers," said Gesing.
There are also other benefits to having a virtual office.
By not spending money on traditional office space, brokers and agents can benefit from higher listings and sales with lower overhead costs. That means more money in their pockets.
Plus — no long commute to the office.
The business model seems to be working.  In the first half of 2015, revenues were up 52 percent compared to the same period the previous year, and the company attracted new agents at an increased rate, and also saw an increase in retention.
"In addition to reduced overhead and generally higher compensation for agents and brokers, agents and brokers are attracted to education, technology, revenue sharing, and the opportunity to build an ownership stake in the public company," Sanford said in the company's most recent earnings report.
Platform comparison
The company has also used Teleplace and its successor, 3DICC, before switching to AvayaLive Engage.
"Teleplace went out of business," Sanford said. "The technology team gave us a great deal to switch to 3DICC. The platform however starts to have issues when the avatar count gets above 35 or 40, which limits the ability to have larger meetings."
Currently, the company has a license for 100 simultaneous users, and can upgrade up to 150 people in a single location.
"This platform is less customizeable than previous platforms," Sanford added. "You have to go to developers and create places to import photos or create plants. There are some limitations about that. But we do have those conversations every couple of months — how to have this space more attractive and efficient."
So far, the brokerage has only used the platform in a browser, but there is work being done to add support for virtual reality headsets, he added.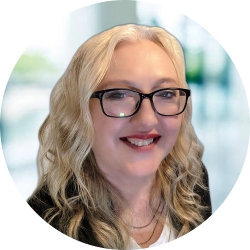 Latest posts by Maria Korolov
(see all)