The on-demand Kitely grid passed 10,000 regions this month for the first time, and the Great Canadian Grid hit the 1,000 region mark.
They helped boost OpenSim to a new record high of 71,360 standard region equivalents, an increase of 326 regions since last month.
Overall, OSgrid, Kitely, the Great Canadian Grid and DigiWorldz were the biggest gainers in land area this month, with 1,263, 314, 227 and 131 regions added, respectively.
The biggest loss was on Metropolis, which shrank by 977 regions. However, the grid cleaned 1,400 regions off its map as part of a regular housekeeping effort and actually gained more than 400 regions outside that cleanup. The grid also passed a milestone this month, hitting 10,000 registrations — it now reports a total of 12,109 registered users.
For those who are new readers, OpenSim is a free, open source virtual world platform that's compatible with the Oculus Rift. It allows people with no technical skills to quickly and cheaply create virtual worlds, and then teleport to other virtual worlds. Those with technical skills can run OpenSim worlds on their own servers for free, while commercial hosting starts at less than $5 a region — compared to $300 a region for the same land in Second Life. A list of hosting providers is here. Download the recommended Firestorm viewer here. And find out where to get content for your OpenSim world or region here.
Last month, in preparation for the 2015 OpenSim Community Conference, I contacted OpenSim hosting providers to get an estimate of the percentage of grids running in private mode — company grids only accessible to employees, for example, school grids running behind firewalls, restricted government grids and personal grids accessible only to friends and family members.
Based on the data from the hosting companies, roughly four-fifths of OpenSim deployment is not accessible to the public.
That means that the total OpenSim metaverse consists of the equivalent of 355,170 standard regions, 284,136 of which are private.
These grids do not get listed in directories, and do not publish their statistics. As you can see from chart above, the dark metaverse is also growing significantly faster than the public OpenSim metaverse.
Popularity
When it comes to general-purpose social grids, especially closed grids, the rule of thumb is: the busier, the better. People looking to make new friends look for grids that already have the most users. Merchants looking to sell content will go to the grids with the most potential customers. Event organizers looking for the biggest audience… you get the idea.
The public OpenSim grids reported a drop of 902 active users this month, for a new total of of 33,258 active users. Most of the drop, however, was due to just one closed grid. On the hypergrid, there was actually an increase, of 304 active users, for a new total of 22,324 actives.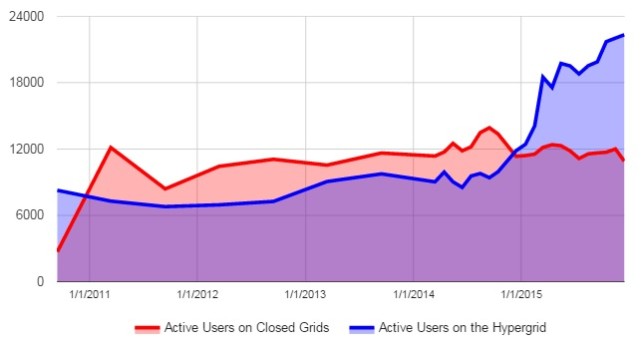 Top ten most popular grids:
The biggest change this month on the top ten most active grids list is that the PNA Grid, based in France, has dropped from more than 1,000 active users to just six. The grid's administrators had not responded to repeated requests for comment about the activity on their grid, which was previously the Sunlight Grid. The grid had previously reported a sudden increased in active users without a corresponding increase in news or social media activity — and was barely a blip on this year's OpenSim grid survey. And it seems from their website that the name of the grid has changed again, to "Shadow of Your Mind."
None of the other top-ten grids by popularity posted any big changes in active users. InWorldz, the Great Canadian Grid, and GreekLife lost 60, 43 and 40 actives, respectively. Craft gained 58 users, Kitely gained 38, DigiWorldz gained 37, OSgrid gained 27, and Metropolis and Island Oasis gained seven active users each.
Outside the top ten list, Littlefield was the big gainer, with 190 active users. In addition, the OpenSimulator Community Conference grid saw a temporary spike to 541 active users due to the conference early this month.
Transitions
We have three new grids added to our database since this time last month: Baller Nation, Utherworldz, and ZomboLand.
The following 27 grids were suspended this month: Adrianopolis, Alternate Open Worlds, Blissful Shores, Dawn Grid, DigiGrids, Dream Realms 3D, Drexel, German Grid, Isle of Nod, Ital Vybez, Jnix World, Meridian Grid, MetaCosmo, Model Center Demo, Nebadon2025, NextWorld, Olimar, Prommise, Ravengreen, ScienceCircle, Secrets of Nuub, Stagma World, Stoners World, Tertiary Grid, Vulcanicus, XTR-13, Yugen World.
Grids that have been suspended for more than two months are marked as closed. If your grid isn't on the active grids list, and not on the suspended list, and is marked closed when it shouldn't be, please let us know.
And if there's a public grid we're not tracking, please email us at editor@hypergridbusiness.com. There's no centralized way to find OpenSim grids, so if you don't tell us about it, and Google doesn't alert us, we won't know about it.
By "public," we mean grids that allow hypergrid visitors, or have a website where people can register for or request accounts.
December Region Counts on the Top 40 Grids
The list below is a small subset of existing OpenSim grids. We are now tracking a total of 1,111 different publicly-accessible grids, 299Â of which were active this month, and 212 of which published their statistics.
All region counts on this list are, whenever available, in terms of standard region equivalents. Active user counts include hypergrid visitors whenever possible.
Many school, company or personal grids do not publish their numbers.
The raw data for this month's report is here. A list of all active grids is here.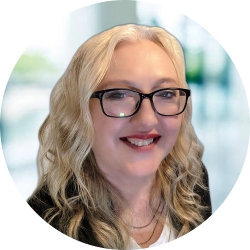 Latest posts by Maria Korolov
(see all)