I just received the Dscvr virtual reality headset in the mail, from manufacturer I Am Cardboard.
At $30, this headset is a reasonable-priced upgrade by I Am Cardboard standards, which sells a plain cardboard headset for $20.
But compared to the other headsets on the market, the Dscvr is too little headset, for too high a price.
Features
The headset comes in a nice plastic case with a clear top. It's made of study, colorful plastic. Half the case is white and the rest is either blue, yellow, orange, red, green, or black.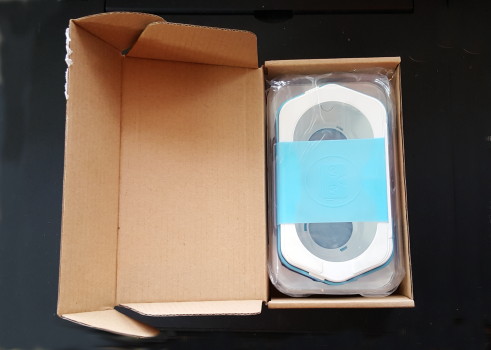 There's a touch button on top, the QR code printed on the side, and a wide silicone flap to hold a smartphone in place.
The headset is compatible with all Google Cardboard-style games and applications that can run on your smartphone, as well as 360-degree videos. It can hold phones with displays of between 4 and 6 inches.
The lenses do not adjust, and there is no headstrap.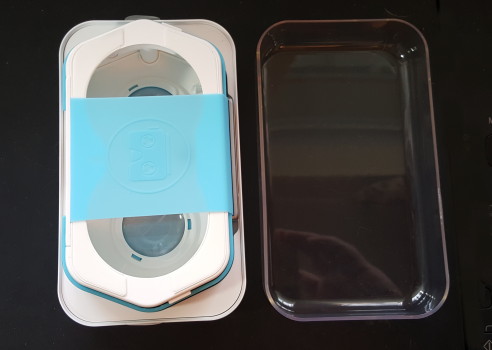 To use the headset, take it out of its case, unhook the wide silicone flap, and push two little plastic buttons on the sides. That makes the sides of the headset spring out a little bit. Then put the smartphone against the headset and hook the silicone strap back on.
Be careful not to drop the headset or your smartphone while doing this — after I dropped my phone once, I learned to hold the case against my body when taking the phone in and out.
Since this is an all-enclosed headset, you will need to take the phone in and out in order to switch apps or queue up videos.
The image is nice and crisp, and the field of view is reasonably wide — it feels like around 96 degrees or so — about the same as the Gear VR.
Its weight is 9.3 ounces, or 263 grams. It does fold up somewhat. It's almost three inches wide when in use, and a little under two inches when retracted. And it's about as big length-wise as my Samsung Galaxy S6 smartphone. So this is not the kind of headset you'd carry around with you in your pocket. If you want something that you can carry, check out the Goggle Tech C1-Glass.
This headset is all hard plastic, so not particularly comfortable to hold for a long period of time. Its design and color scheme indicate that it might be aimed at kids, so the closest competitor would be the Mattel View-Master. Since the View-Master costs less, and is a much, much better headset, get that one, instead.
The only use I can see for this headset is if you are looking for something very easy to clean that is a very small step up from a headset made out of cardboard. I Am Cardboard does make custom-branded headsets, as well, so companies might be able to get sets to give out to customers, or to keep on hand for virtual demos. Real estate companies, for example, might keep a couple on hand for virtual property tours.
The headset is also available from Amazon for $35.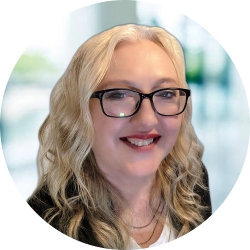 Latest posts by Maria Korolov
(see all)